"I am not a watchmaker," Marcel Zalaznik says emphatically. "I am a watch repairer."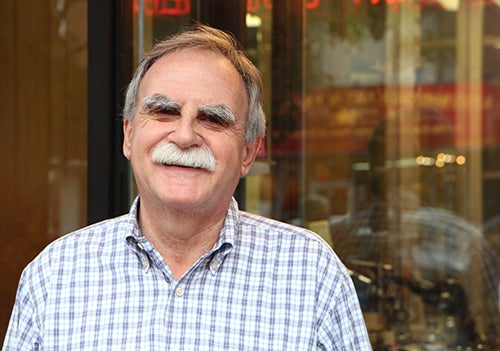 A watchmaker, he explains as he sets a tray of gold rings in the window of Grand Jewelers, can build a timepiece from the center wheel up.
His father, Jack, who owned the shop before Marcel knew how to tell time, was trained to do that.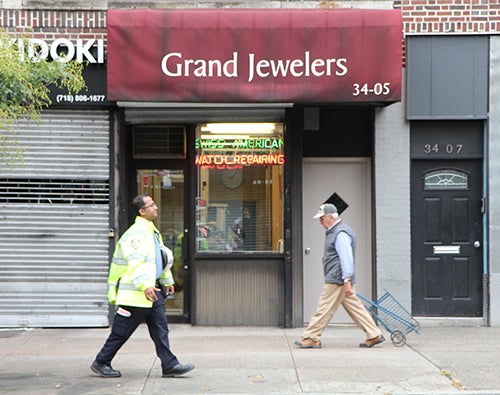 A repairer such as Marcel merely makes sure the watches keep running on time.
"It's like being a doctor," he says, a holding a Rolex that's awaiting rehab. "You have to study the watch to find out what's wrong with it before you can make a fix that lasts."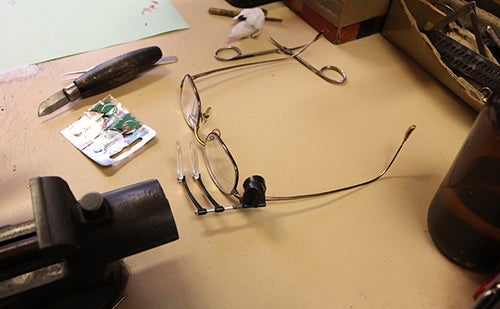 There aren't many watch repairers in Astoria.
In fact, Marcel is probably the only one left.
When you drop your watch off at a jewelry store in the neighborhood, it's more than likely to end up at Marcel's beat-up bench at Grand Jewelers on 30th Avenue at 34th Street.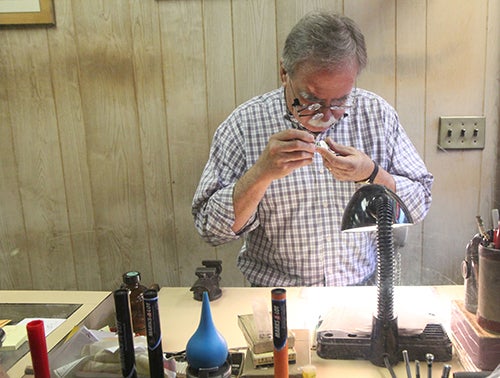 "I don't depend on walk-in traffic," Marcel says, adding that he guesses he fixes about 3,000 watches a year, which comes out to about 60 a week. "I do a lot of wholesale repairs."
Marcel, a trim man with a snow-white mustache, mutinous brows and a Bulova Accutron strapped on his left wrist, has worked in the shop for nearly a half century.
He and his twin sister were born in Paris and were 2 when their parents, who left Czechoslovakia after World War II, came to America.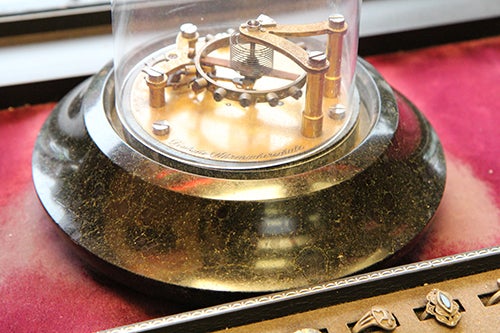 They started out in Chicago, which Marcel's father wasn't fond of, and ended up settling in Bayside.
For the first five years, Jack worked on watches for Omega.
In 1957, he bought Grand Jewelers, when it was on the other side of the El on 30th Avenue.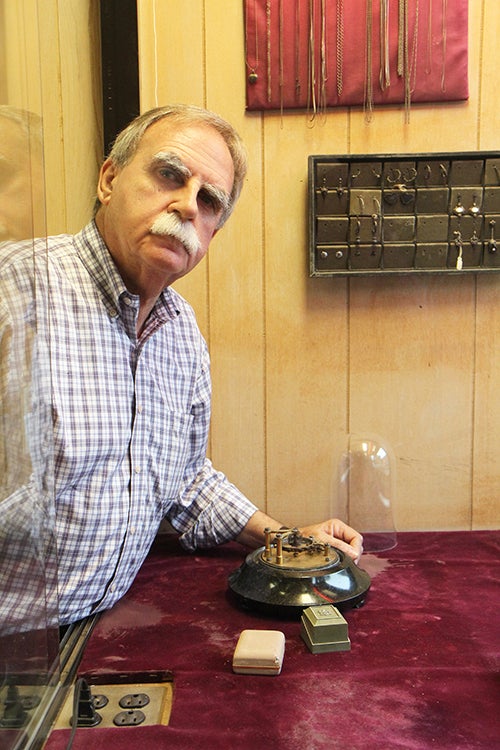 Marcel isn't sure how old the business is, but he thinks it may have opened in the 1920s or the 1930s.
As far as he knows, it's always been called Grand Jewelers.
At any rate, Marcel didn't learn anything about watches or jewelry from his father.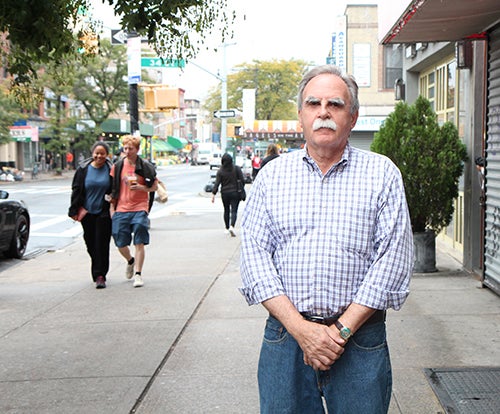 "I was an errand boy for the shop," he says. "My father didn't think it was a good idea for me to learn things at his knee."
When Marcel graduated from the University of Maine – he majored in history – his father presented him with an Omega Chronograph, and he embarked upon a teaching career.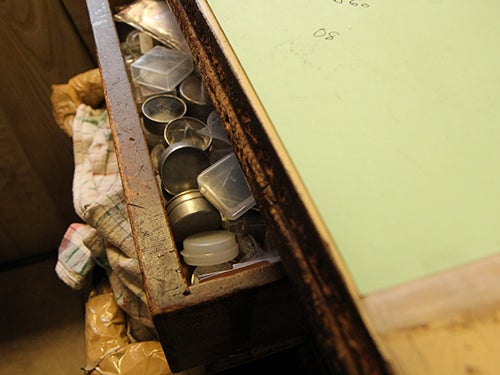 He quickly learned something that changed his life: He didn't like teaching.
So it was easy for his father to persuade him to go to watch-repair school.
After 14 months at the Bulova center in Woodside, Marcel joined his father at Grand Jewelers full time.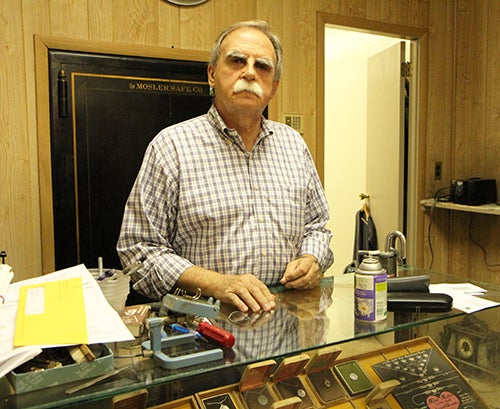 He was 23. He points to the Bulova Accutron that he wears on his wrist every day. He bought it for $71 when he graduated.
"It had a metal band," he says. "But I took it off immediately and replaced it with a leather strap."
Despite his profession, Marcel isn't a watch collector. His Rolex DateJust, the only other watch he bought for himself, is almost never on his wrist.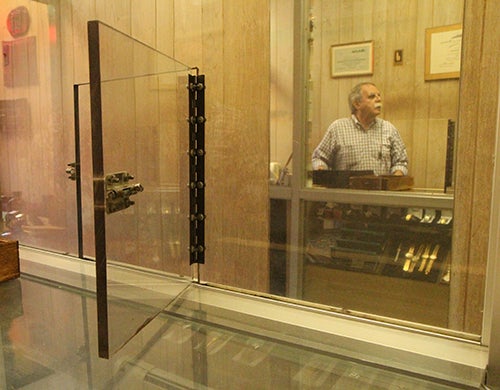 "I don't really like it," he says. "And I cherish the Omega from my father too much, so I never wear it."
Father and son manned the shop until 1997, when Jack died at 87 after 40 years behind the counter.
They never had hired help, and these days, Marcel's is a solo act.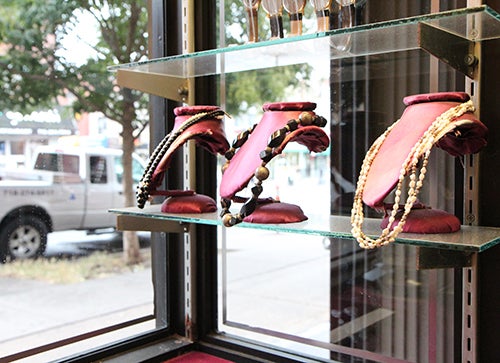 "My father never used his watchmaking skills in America," Marcel says. "He loved the retail part of the job. He spent most of his time selling jewelry while I repaired the watches."
After Marcel had been there 10 years, Grand Jewelers moved to its present place in 1984.
"The other building was sold, and we lost our lease," he says. "I had bought this building as a security blanket, but I never intended to move Grand here."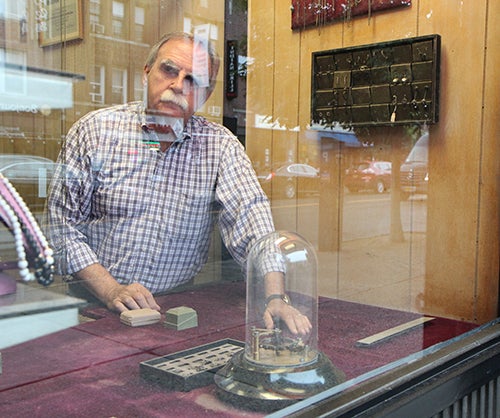 Grand is anything but grand, which is just fine with Marcel.
The space is half a storefront; a door divides it from the ramen noodle shop next door. There are apartments upstairs.
It's so small and unassuming that it's easy to miss the maroon awning and neon signs that mark its front window, which is filled with what Marcel calls "old jewelry."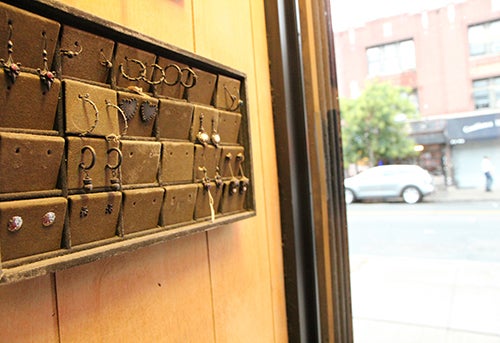 "I really don't work on selling jewelry," he says. "This is just what's left over from my father's time."
The shop, which has light-brown paneling on the walls and an ancient steel safe that is taller than Marcel, is divided down the middle by a floor-to-ceiling plastic bulletproof partition.
The passageway is so narrow that customers are forced to come in single file.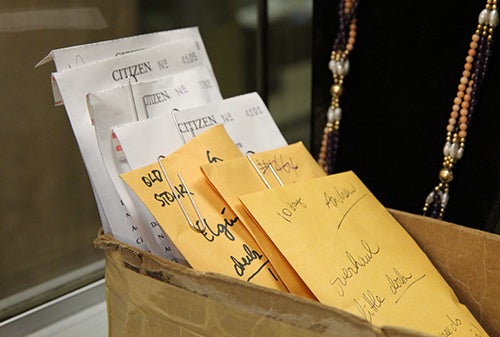 Marcel, standing on the inside, opens a small door in the enclosed display cage to accept their watches.
"We moved here in the 1980s when things were different," he says. "At the old location, we had been broken into a couple of times and once were held up at gunpoint at noon."
Marcel, who says he's at "the twilight" of his career, has never tired of tinkering with timepieces.
"I kept at it because I'm good at it," he says, adding that he mans the shop six days a week, commuting from his home in Roslyn.
Although he has two grown daughters and three grandchildren, Marcel knows that time is running out for Grand Jewelers.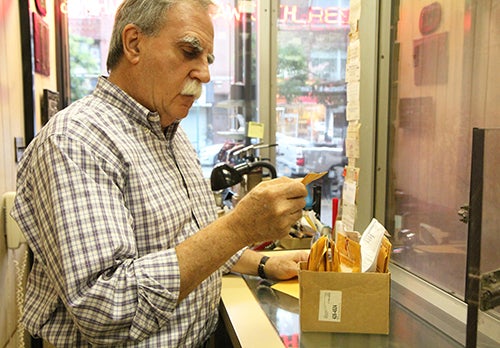 He says it doesn't bother him that nobody in his family is interested in taking his place.
"I never was one to eat, sleep and breathe watches," he says. "I put in my time here and go home."
Although he's 67, he's not ready to call it quits yet.
When it's time to go, he won't have to consult his Bulova Accutron.
His internal clock will let him know.
Nancy A. Ruhling may be reached at Nruhling@gmail.com; @nancyruhling on Twitter; nruhling on Instagram, nancyruhling.com, astoriacharacters.com.
Copyright 2017 by Nancy A. Ruhling
Related
Popular in the Community