Strong sunlight streams onto the circular coffee table, illuminating a pyramid-shaped amethyst crystal and a white candle that sends out the scents of lemon and verbena.
Golda Poretsky settles herself on the plush red-velveteen sofa and places her tarot cards on the table. After asking the universe, in the name of the Cosmic Mother and the Cosmic Father, to bless the reading, she slowly shuffles the deck. Flip, flip, flip, she turns over the oversized, sapphire-color cards. She pushes her long dark hair behind her ears and adjusts her purple eyeglasses to put them closer to her all-seeing eyes.
Golda, a Libra on the cusp of Scorpio, doesn't like the word psychic. "I prefer to be called intuitive," she says. "Everyone is psychic, but only some of us, like me, grow our talent and connect with it."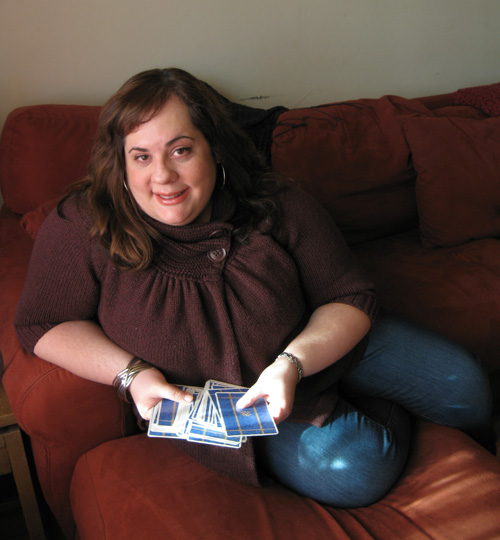 Photo by Nancy A. Ruhling
Golda can tell you how to play your life cards.
Psychic, intuitive, it doesn't matter which word you choose; neither one really fully describes Golda, a 21st-Century Renaissance goddess, who is a real estate lawyer, health counselor/reiki healer/nutrition consultant, tarot card reader and writer/blogger/podcaster. (She used to do improv, no joking! But that's a different card in her life deck.)
"I've always been interested in lots of things," she says unapologetically. "I've never stopped taking classes. I like learning - it's my favorite thing. In a way, it feels like everything I'm doing now embodies the universal four elements: the real estate work is the earth; the health work is my passion or fire; the tarot readings are my water and the blogs/podcasts are my air."
To understand Golda's present, you don't have to look at the tarot cards. All you have to do is look at her past. Golda, who grew up in Freeport, Long Island, was put on a diet at age 4 because she was considered too heavy. "The kids made fun of me, and the overarching theme of my life was that I couldn't just be me," she says. "When I got into body-acceptance movements, I found out I wasn't alone, and now I am helping people heal from a diet culture." (See www.bodylovewellness.com.)
When she was 19, she developed arthritis that was so severe she couldn't walk without a cane. "I went to a chiropractor who helped me change my diet, and the pain went away," she says.
Ever since Golda can remember, she's dreamed of living in the big city. So she studied super hard and won a full scholarship to New York University, where she earned a bachelor's degree in history and Hebrew and Judaic studies then a law degree.
"While I was in college, I had worked in a music law firm where everyone wore jeans and attended shows, and I thought, 'I could do that,'" she says. "But after 9/11, jobs were scarce, so I ended up in real estate law, eventually working for three large firms."
Eager to determine her future, she began reading tarot cards when she was about 15. "It was a way to connect to the intuitive world that had meaning for me," she says. "And it's an amazing way to connect with people; I have clients all over the country who call me for phone consultations." (See www.goldenintuition.com.)
While she was working as a full-time lawyer, she earned a degree in health counseling and integrative nutrition from the Institute for Integrative Nutrition. In 2008, she shifted her law schedule to only part time - she negotiates commercial leases for landlords and tenants - and began her body-love-wellness crusade.
"Very few people can achieve permanent weight loss," says Golda, who's writing an anti-dieting book titled Stop Dieting Now: 25 Reasons To Stop, 25 Ways To Heal. "The idea is almost a myth. So my message to the world is: If you hate your body weight and you feel that you must lose a certain amount of weight before you can do X, Y or Z, I'm here to tell you that you don't have to wait. It's important for you - and for the world - to change your view."
At first reading, Golda's interests may seem unrelated, but the dots do sometimes connect. "When I read tarot cards, everybody wants to know about three things - love, career and health," she says. "So I can bring in my holistic knowledge to help people."
As for her own future, Golda doesn't need to consult the tarot cards. "I want to do more speaking out about body acceptance," she says. "You have to be happy with yourself, because if you're not, nothing feels right. I want to help other people get to happiness. The more satisfied you are with how you look, the more people respond to you. It took me a long time to get there, but I can help people do it faster."
Nancy A. Ruhling may be reached at Nruhling@gmail.com.
Copyright 2010 by Nancy A. Ruhling
Calling all HuffPost superfans!
Sign up for membership to become a founding member and help shape HuffPost's next chapter