Houston struck early, scoring two runs in the first inning off Dodgers' starter Yu Darvish, then chasing him in the second after scoring three more runs, including a two-run homer by center fielder George Springer.
It was Springer's fifth home run of the Fall Classic, tying a World Series record shared by Reggie Jackson of the 1977 New York Yankees and Chase Utley of the 2009 Philadelphia Phillies. (Utley is now on the Dodgers.)
He also set a World Series record with 29 total bases.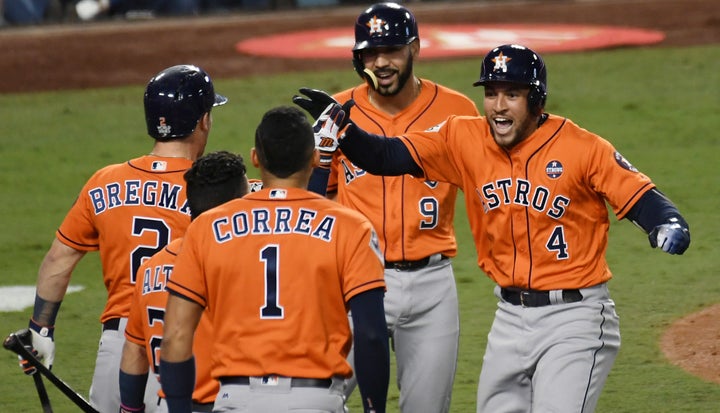 The Astros' victory came after an epic World Series that went the full seven games. Two games were pitching duels that ended in 3-1 scores, while two went into extra innings, including a 13-12 Game 5 slugfest on Sunday night.
There was also some controversy along the way.
Astros first baseman Yuli Gurriel made a racist gesture at Darvish after hitting a home run off the pitcher in Game 3 last week.
When Gurriel came to bat against Darvish in the first inning of Wednesday night's Game 7, he paused and took off his helmet in a gesture of apology.
"He's still sorry," Astros manager A.J. Hinch said prior to the game. "He's still regretful. He's still remorseful. He's still got a penalty to pay."