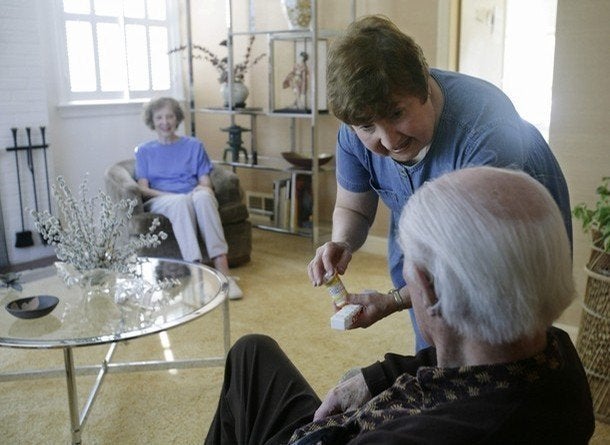 Medicare Advantage plans -- publicly funded but privately administered Medicare plans -- are regularly accused of tricking the elderly into giving up their Medicare coverage for an Advantage plan that doesn't suit them.
In response, are they now tricking old folks into signing letters to local newspapers, hoping to create the impression of a grassroots movement in support of maintaining funding for Medicare Advantage?
That's the charge being made by local newspapers that have gotten suspicious letters from old folks defending funding for Medicare Advantage. The group behind the letters says it's a misunderstanding.
In March, the Huffington Post wrote about Medicare Advantage scams and asked readers to share stories of run-ins with MA companies, which have been known to dupe old folks into signing up for coverage that doesn't include their own doctor or otherwise leaves them battling to get their medical bills paid.
The plans are under attack by the Obama administration, which thinks it can wring some $177 billion out of the budget by cutting back on subsidies for the companies.
The companies' response is backfiring -- big time. The health insurance lobby, America's Health Insurance Plans (AHIP), hired Dewey Square Group, a powerful PR firm with close ties to Democrats, to gin up a "grassroots campaign" in defense of Medicare Advantage. The tactic of choice: letters from satisfied elderly patients.
Matthew Nadler, editor of the Pembroke Mariner & Reporter in Massachusetts, received one such letter and sensed a fraud. He called the number on the letter and the elderly man on the end told him he had no idea what he was talking about.
A few days later, a young man called asking if the letter had been published. Nadler gave him an earful and figured out through caller ID -- the kid declined to say where he was calling from -- that he was from Dewey Square.
The same thing happened to the Eagle-Tribune , which got three letters from elderly folks calling for Medicare Advantage to be protected. When contacted, they denied having anything to do with the letters. Later, a young man called, claiming to be one of the non-letter-writer's grandsons. He, too, turned out to be from Dewey Square.
One of the letters to the Eagle-Tribune was said to have come from William Morin, nearing 89 years old. Reached by the Huffington Post at home, he changed his tune a bit, saying he got something in the mail about a month ago asking him to sign on to a letter.
"At 89, I don't have much disagreement in me left," he said. "It was something that came in the mail, and I think I agreed with it, and I sent it out."
Morin, though, seemed to think he was signing a letter calling for broad healthcare reform. "I'm low income, a veteran, so I do fairly well" with regard to health coverage, he said. "There are other people not doing so well. That's why I sent it in."
A Dewey Square representative said that the firm hadn't done anything fraudulent. Dewey Square sent packets of information to some of the members, asking them to sign letters to members of Congress or letters to the editor.
Dewey Square sent the Huffington Post the following statement/apology, pinning responsibility for the follow-up calls on a college intern. "More than 190,000 seniors in Massachusetts have Medicare Advantage health plans and we have worked with 22,000 Massachusetts members of the Coalition for Medicare Choices to help save the program that provides them with important affordable health care benefits that are within their limited budgets," said the statement.
"We take seriously any concern about our business practices, and in this case a concern about contact with Massachusetts seniors, so we immediately reviewed our internal practices and we are confident that we have acted in good faith. We apologize for the unfortunate error in judgment on the part of a college intern and we take responsibility for that management. We have taken internal actions to make sure this does not occur again. It was regrettable, unnecessary and unrepresentative of the work we have done."
A fundamental problem with the campaign, if Mr. Morin is representative, is that the volunteer soldiers in the Medicare Advantage army can have a hard time remembering their orders -- or whether they've already carried them out. Indeed, in a gem of a paragraph in the Eagle-Tribune story, Dewey Square suggested that the old folks may have forgotten signing the letters: "Perhaps, suggested Dewey Square's Mary Anne Marsh, the time that elapsed between the meetings when the seniors saw the letters and the letters' arrival at the newspaper may have clouded some memories."
In response to a query from the Huffington Post, AHIP spokesman Robert Zirkelbach offered the following statement:
"Seniors are overwhelmingly satisfied with their Medicare Advantage coverage and more than 800,000 seniors across the country have voluntarily joined the Coalition for Medicare Choices to advocate in support of the program," Zirkelbach wrote in an email. "The Coalition contracts with local field organizers who work with seniors in their states and help them in reaching out and sharing their stories. Over the next few weeks, hundreds of seniors will be gathering in community meetings in states across the country to express their support for choices in Medicare. We do not agree that seniors' voices should be silenced on this issue because of an isolated mistake by a college intern in one state."
Huffington Post readers were certainly eager to share their experiences with Medicare Advantage plans.
"My father worked for Armstrong in Lancaster, PA for most of his working life," writes one. "He had a union bargaining for his benefits, and when he retired, he got a defined-benefit pension based on his years of service, and he got to keep his health care coverage. He had old-fashioned health care with no co-pays. Most things were fully covered, including his dialysis three times a week. I'm not sure what arguments were used to get him to switch to a Medicare Advantage plan, but one might have been that they would simplify his claims process, and another may have been that they would pay $500 toward a hearing aid."
The plan, however, had higher co-pays that added up to $2,400 per year. "Since my mother has a good chance of living to 100 or more, where will the money come from for her care?" he wondered, worried that the increased expenses -- and now the threatened cuts to the program -- could cost his parents their home.
He also noticed a political undercurrent at work. Because his parents were on an Advantage plan, they stopped identifying with Medicare, which gets its political pop from the vociferous support of the elderly who depend on it.
"Another aspect of this that I found disconcerting is that my parents (both approaching 80), were convinced that they no longer depended on Medicare. It was a real battle to convince them that the 'advantage' plan was subrogating every claim, and that Medicare was without a doubt still paying the bulk of their claims. Was this intended to reduce voter support for Medicare? In the strongly Republican area where my parents live, not depending on the government may also have been a major argument to take the plan," the son wrote.
Another reader wrote to explain why it is that a Medicare Advantage plan would go out of its way to trick a sick and old patient - the least desirable, from a financial perspective - into joining. The key, he said, is that some agents are not vested in the outcome and are only paid per patient enrolled.
His e-mail has been very slightly copy-edited: "I am an Independent Insurance Agent with a vested interest in my business, I receive full commission and residual income from all the insurance carriers I represent. I am also directly accountable to the Medicare Advantage Organizations I represent. A Solicitor Agent is NOT vested in their business...These Solicitor Agents have no vested interest in the work they do and make 1/2-1/4 the commissions an Agent with a direct contract would make. They also don't receive residual income. So many of these "Agents" lie and cheat beneficiaries for the fast buck...If all agents had a vested interest there would much less of these shenanigans because they would be directly accountable to the Medicare Advantage Organization... Please look into Independent Agents v Solicitor Agents, and know the Solicitor Agent is usually a very green young person getting started in the industry who many times is a victim of the [company] they work for. These [companies] are laughing to the bank at the expense of the Medicare beneficiary and the agent."
Other readers wrote of how their parents could no longer go to their longtime doctor -- or any doctor nearby. "My 90+ year old father ended up in the program somehow (not sure exactly what transpired). Legally every physician that takes Medicare is supposed to take Advantage patients, but at least half will not do it. He is currently driving (yes, he is a good driver, but still) all the way across Phoenix to see one physician since no one closer to home will take him," one wrote, calling Medicare Advantage "truly a scam."
Another reader told of how her mother, in January 2008, shortly before she had a stroke, "was either talked into a HealthNet Medicare policy over the phone or she responded to an ad on TV or in a magazine -- we don't know. (My mother falls for every trick in the book.) She dropped traditional Medicare for HealthNet for the vision coverage and prescription plan. Well, that's fine and dandy, but for some inexplicable reason, they also advised her to drop her gap insurance, which she did when the HealthNet policy was activated. Her primary care physician does not accept HealthNet, so it is now my task to send in her doctor bills for reimbursement. She also pays substantially more out of pocket. As soon as she changed policies, she wanted to "go back to what I had." I highly doubt, at this time, that Blue Cross/Blue Shield will issue her another gap insurance policy since her stroke, so we don't even try. I'm not even sure we can pursue this legally as so much time has passed."
Even relatives of doctors aren't exempt. "My experience is through my uncle, a 78 y.o. Korea era vet with bilateral amputations," wrote Dr. Denise Arnelle. "As in your story, he was apparently approached in his home. Unfortunately, he lives alone, and was just beginning to be forgetful. There was no reason for him to change from traditional Medicare as his secondary insurance was as a government retiree. What made his switching all the more suspicious is that he did not call me, his niece, as I am a medical doctor and he would call me about this. We discovered that he changed after he was admitted to the hospital for hypoglycemia and required a rehab stay. We were also able to prevail as he was still in the open period to change back to traditional Medicare."
Arnelle appended a few suggestions for folks who inadvertently find themselves or their relatives disenrolled from traditional Medicare: "Your loved one has 2 weeks to rescind after signing; Medicare allows 1 change during the open period, usually the end of March; Medicare also has a fraud line to call with these complaints; Notify also your State Attorney General (consumer affairs) and/or Insurance Commission."
She added, correctly: "It is also my understanding that Medicare Advantage is not allowed to solicit door to door."
Dr. Arnelle said that shortly after she got her uncle's problem straightened out, "Evercare approached my uncle again two months after we disenrolled him and [we] were able to stop it. They are still trying to charge him for his rehab stay because it was 'out of network.'"

Popular in the Community