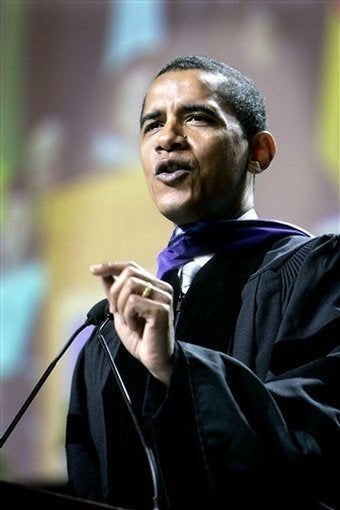 TEMPE, ARIZONA - Arizona State University President Michael Crow apologized today for the "confusion" surrounding the customary honorary degree typically awarded to commencement speakers but originally denied to President Barack Obama who will be delivering the ASU commencement speech in May.
Still no official word on whether Obama will have the honorary degree conferred on him. With worldwide media attention focused on ASU, university officials are suddenly being atypically tight-lipped. Yesterday, though, the grapevine within the upper echelons of the ASU administration was surmising that the political snub was really a bureaucratic snafu.
Crow said this morning, in an official statement,
It has always been our intention to recognize and honor President Obama's accomplishments during his visit, but we had not yet determined the best or most appropriate way to do so. Although the focus and attention of the media and others has been on an honorary degree, we never felt that was the only or even the best means of honoring his tremendous service to our country.
Crow went on to apologize and said that ASU invited Obama to speak at the commencement "out of the greatest respect for him as an individual and world leader" and that "the entire ASU community has been electrified with excitement" since Obama accepted the invitation.
We hope that the recent discussion of honorary degrees will not detract from the honor and thrill that ASU and indeed all of Arizona is experiencing in anticipation of his visit. I am honored, as are our faculty, staff and students, that President Obama will give his first commencement speech as president of the United States at ASU.
ASU is naming and expanding the ASU Advantage program -- what it calls "its most important scholarship program" in honor of Obama. The program is part of the Sun Devil Promise that supports low-income students. Going forward, the program will be called the "President Barack Obama Scholars" and will expand to offer thousands of students with the greatest financial need the opportunity to go to college.
[The program] is an honor befitting not only the president's exceptional achievements but also his values as an individual. The President Barack Obama Scholars program will be a legacy that will endure and inspire others for generations to come.
ASU expects to enroll more than 1,000 Arizona students in the President Barack Obama Scholars program. The program will cover the full cost of tuition, fees, books, room, and board for students who come from families with the greatest financial need, typically those unable to attend a university.
Are you an ASU student or alumnus? HuffPost wants to hear from you. What are people saying on campus? As an alumnus, will this effect your decision to donate to your alma mater? Write us at submissions+ASU@huffingtonpost.com.
Calling all HuffPost superfans!
Sign up for membership to become a founding member and help shape HuffPost's next chapter