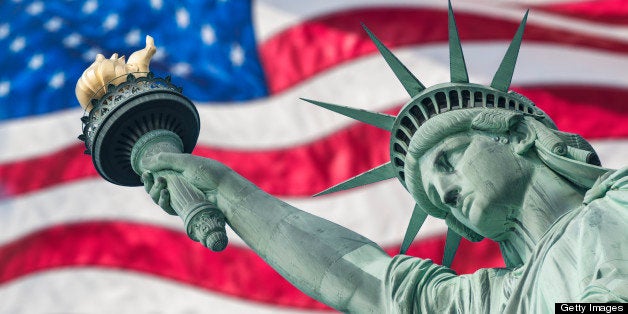 The United States offers protections to individuals who have suffered persecution, or fear that they will suffer persecution, due to their race, religion, national origin, political opinion, or membership in a particular social group. These protections are part of the Universal Declaration of Human Rights which guarantees a "right to seek and enjoy asylum from persecution."

What types of persecution qualifies for asylum?
Persecution is defined as "a threat to life or freedom." Harm due to persecution may be physical, although it need not involve permanent or serious injury. Harm need not be physical, but must be more than harassment. Harm can constitute, for example, severe economic deprivation, forced medical examination as part of a population control policy, disclosure of certain confidential information, or being stripped of one's citizenship. A single incident can be sufficient to amount to persecution.
Can political opinion be imputed?
To qualify for asylum based on persecution due to political opinion, the relevant factor is what the persecutor believes your political opinion is, irrespective of your actual opinion. For example, it was sufficient that a lawyer in Gujarat, Pakistan, who represented a rival political party, was perceived as having a politically adverse opinion to the persecutor irrespective of the lawyer's actual political opinions.
Does your social group qualify for asylum?
Membership in a particular group is broadly defined, although large groups that would "open the floodgates" have been discouraged from qualifying. Qualifying groups include those made up of individuals who share particular characteristics, such as color, kinship ties, or sexual orientation, or those individuals who share a particular experience, such as former gang or military members, former police officers or prosecutors, or former land owners. The common characteristic need not even be real as long as it is perceived as so by the persecutor. Persecution based on gender is also covered, allowing some women to obtain asylum due to forced marriage, forced religious dress code, FGM, or domestic violence.
Does my country of origin have any responsibility?

Your home government must be unable or unwilling to control the persecutors. The persecution must take place in your country of nationality unless you are stateless. If you cannot prove your nationality, this is not a reason to deny asylum, but you must let the authorities know your stateless status in a timely manner. If you hold dual nationality you must demonstrate that the second country will also deny you protection, and you should not have been firmly resettled in a third county prior to coming to the United States.
What about your spouse and children?
You may include your spouse and children on your initial asylum application, or at any time until a final decision is made on your case if they are already in the United States. To include your child on your application, the child must be under 21 and unmarried. If your spouse or child is abroad, you may petition to bring them to the United States once your asylum is granted. However, you must apply to bring them to the United States within two years of being granted asylum, barring humanitarian reasons to excuse the delay.
You should apply for asylum within one year of your arrival to the United States. This time limit does not apply to unaccompanied children under 18 years old.

An individual does not need to be in legal immigration status to apply for asylum. If you are in legal immigration status, with for example a valid B1/B2 visa, you should not let your current immigration status expire merely because you have applied for asylum. If your current immigration status expires, and then your asylum application is denied, your visa may automatically become void under INA Section 222(g).
Translation

To prove your case, you must provide, and pay for, your own language interpreter and translator, if needed. The United States government will not provide you with one.
You may work in the United States immediately once your asylum application is granted. You may apply for employment authorization earlier if certain conditions are met.

You can obtain lawful permanent residence (LPR or a "green card") one year after you have been granted asylum.

Once you have obtained your asylee status or LPR status through asylum, one should note that your status can be terminated for certain crimes and you can become deportable. Although in a lot of cases, asylees in removal proceedings may still have defenses and forms of relief from CAT claims to withholding of removal.

--
Note: This feature is intended only as a forum for general information and discussion. Any information provided is not in the nature of legal representation and is not intended to establish any attorney-client relationship. Any information provided should not be relied upon without consulting an attorney to discuss the specific facts relevant to your situation.
Calling all HuffPost superfans!
Sign up for membership to become a founding member and help shape HuffPost's next chapter