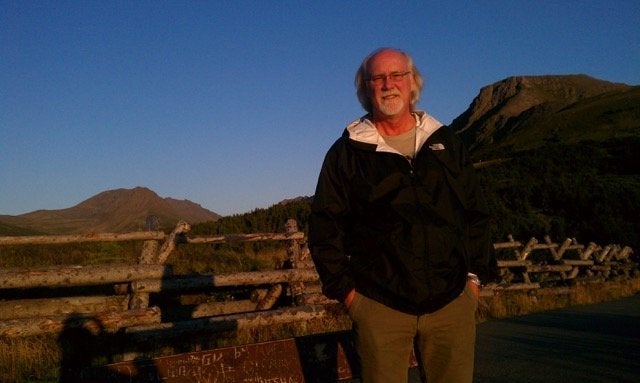 Joe Eckdahl, by his own admission, is an ink-stained wretch. As a young man, he fell in love with what has become a shrinking -- some say dying -- industry: print newspapers. For sure, the digital age hasn't been kind to print publications or those who spent their careers toiling in their newsrooms. 
Eckdahl, now 55, lost his job of 20+ years at the Los Angeles Times two years ago. He was given one of those "gun-to-your-head buyouts," and despite The Times trusting him to be the Assistant Managing Editor of its page one news, he was shown the door. It's a familiar story with many parts unpretty. But in Eckdahl's case, it's a story with not only a happy ending -- it became a chance for him to fulfill a life-long dream: Move to Alaska, the last frontier -- but it's also a story that can serve to inspire older workers who find themselves out of a job.
Eckdahl began his newspaper career as a cub reporter at the Hollywood Reporter. Eventually he became the second-string film critic and landed a job at the Hearst-owned L.A. Herald Examiner, a scrappy  publication that thrived back in the day when big cities could support multiple competing newspapers. The Herald-Ex  folded in 1989 and Eckdahl was there for the wake.
He spent the next three years at The Houston Post (also now shuttered)  in an executive news editing job and when a job offer came from the Los Angeles Times, he took it. It was back to Los Angeles for the next 20-something years until that day in July 2013 when what felt to him like the end of his much-loved career.
"You do what you have to do," Eckdahl said. For him, that included getting a forklift operator's license and working at minimum wage for the Home Depot unloading trucks.
"Blue-collar jobs were all that were out there, so I went straight for it," he said. It was all about the paycheck and keeping his family afloat. His wife works as a teacher's aide in a special ed classroom and he had two kids in college at the time. He also did some public relations work and press release-writing jobs as they came up. Whatever it was, he did it.
But in his heart, he knew what he most wanted was to get back in a print newsroom. What were his chances? In 2007, there were 52,600 professional full-time news jobs at newspapers. In 2012, that number had dropped to 38,000, said the American Society of News Editors. Since 2012, the drumbeat of lay-offs has continued.
"I applied to a lot of jobs only to be told they wanted digital natives, people with direct online experience," he said. And then serendipity struck.
"I was making the rounds, talking to [news]papers where I had connections. I went on a few interviews even -- but nothing came together," he said. Then he lit on a posting on journalismjobs.com for a news editing position in Alaska.
"I was like, 'Holy Smokes!!'," he said. "I have always wanted to live in Alaska. The idea of the 'last frontier' really gets to me. Even as a teenager, I wanted to run off and work on the pipeline."
He applied on the spot, sending in his resume and cover letter online and hoping it wouldn't fall into the great abyss as so many online applications do. This time, someone actually read it and responded.
"Let's talk," said the email from the Alaska Dispatch News editor.
The two had several phone conversations and Eckdahl made his way up the hiring food chain, talking to other editors in subsequent calls. They then invited him up for a few days of face-to-face meetings. He made a good impression and shortly after he returned home, they called with a job offer. Would he be willing to handle the print operation -- a job with way more responsibility than the one he had originally applied for.
"I'm thrilled to be back in the saddle," he said. Eckdahl is impressed with the staff -- a mix of older print warhorses and younger digitally-savvy journalists.
"These are really smart people," Eckdahl said. "They really just want to tell the story of the last frontier; the issues up here are important." President Obama just visited Alaska, underscoring the magnitude of those concerns.
The story of the Anchorage Dispatch News runs counterintuitively to the story of newspapers in general. While so many media companies are slashing their print budgets and expanding their digital presence, Alice Rogoff -- who worked once as an assistant to Washington Post publisher Donald Graham -- paid $34 million last year for the Anchorage Daily News, the largest newspaper in Alaska by circulation. She didn't buy it to shutter the print newspaper, but operate it in concert with her online news site, Alaska Dispatch. Rogoff told the New York Times that she decided to buy the paper because "Alaska is one of those unusual places where community-based newspapers in print are still a business model that readers and advertisers care about."
It was music to Eckdahl's ears.
So how does a 55-year-old uproot and move his life to a place where the summer sun barely sets and the winter sun makes a fleeting appearance, a place known for harsh winters and rugged outdoors, a place where Mother Nature either crushes or dominates the spirit?
"I am thrilled to be here," he says. His wife is remaining behind in greater Los Angeles for the time being, continuing to work at her job. He is in corporate housing for the moment but is planning to rent an apartment in mid-city Anchorage. He threw some stuff into the trunk of his car, drove it to Seattle and watched it load on a ship headed for Anchorage. "That was about it," Eckdahl said.
"I will miss friends, of course," he said, "And while I think I am intellectually prepared for winter, I'm not sure you can ever be prepared for all that darkness." But, he added, "It is really refreshing and encouraging to be desired for the old school values. They really wanted someone who knew how to put out a  newspaper. This gives me a chance to teach younger staff what I've learned, to share my experience and love of journalism and news."
He said: "I've been given an opportunity to give back. And I can't think of a more exciting second chapter."
PHOTO GALLERY
10 Great Ideas For Retirement Jobs