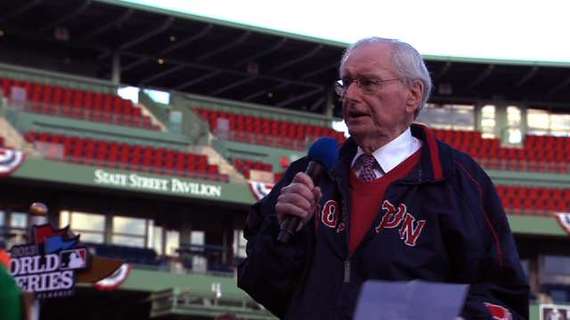 Photo credit: www.mlb.com
Everybody knows the Boston Red Sox boast three World Series rings in ten years, the oldest ballpark in the majors, and the most rabid fan base in organized baseball.
Who knew they also had a poet laureate?
At 78, Dick Flavin, Fenway Park's house poet, gives no sign of slowing down.
A cancer survivor, he sports a genuine 2013 Sox World Series ring, inked a Sox-related book deal with HarperCollins, and even serves as public address announcer for two dozen day games a year at Fenway Park.
Flavin began his career as a newscaster and noticed his reports caught more attention when they rhymed. His 22 years on camera earned him a place in the Massachusetts Broadcasters Hall of Fame.
As the news industry morphed into celebrity-driven nonsense, Flavin left and hit the speakers' circuit. The loneliness of life on the road, however, didn't sit well with him.
So he came back to Boston and developed a relationship with the Red Sox that would be the envy of any fan.
"When I went on the 'disabled list' with throat cancer," Flavin says, "I didn't know which side of the grass I'd be on. But now the Sox have commissioned me to write a play about the history of the team for a traveling exhibit, and I'm deeply involved with the team I love. Isn't this a great country?"
Flavin says his peers are obsessed with their tee times and little else, but his poetry and performing keep him young in mind and body. His experiences with some of the most famous Red Sox would be the envy of anyone from Pawtucket to Penobscot.
For example, when Red Sox legend Ted Williams was dying, Flavin took a road trip from Boston to Florida with Johnny Pesky and Dom DiMaggio. The road trip was memorialized in The Teammates: A Portrait of a Friendship by David Halberstram.
If you have to ask who those men are, you're clearly not Red Sox Nation material.
Along the way, Flavin created "Teddy At The Bat," a poem he recited for Williams in the slugger's home and since for audiences all over New England, which ends thus:
Oh, somewhere in this land of ours the sun is shining bright,
The band is playing somewhere, and somewhere hearts are light,
And somewhere men are laughing, and somewhere children shout.
And they're going wild at Fenway Park 'cause Teddy hit one out!
Flavin says Williams was the most charismatic ballplayer he ever met, and also the most profane. He tells the story of a young boy excitedly trailing after Williams, who was firing off F-bombs like line drives to center field. The boy's mother tried to hustle him away from the expletive-spouting ballplayer.
"But Mom!" the lad protested. "That man's the greatest f&@#ing hitter of all time!"
Speaking of kids, Flavin bemoans the high cost of attending a game at Fenway Park. "The dirty little secret of all pro sports," Flavin says, "football, basketball, and now baseball - is that the ticket buyers are primarily corporate. A family of four going to a game could spend $400, and that just doesn't seem right."
He takes to verse to decry the matter:
Take me out to the ballgame.
First, let's stop at the bank.
I'll need a mortgage so I can pay.
Parking the car is another outlay.
And you pay big bucks for a hot dog,
The cost for beer is insane.
For it's Oh My! Prices are high
At the old ballgame.
Flavin's concerns extend beyond the Red Sox. He has written and performed a one-man play depicting the life of Cambridge's beloved Tip O'Neill on two separate engagements, for a total of about fifty performances. Ken "The White Shadow" Howard also performed the role.
"I think about getting up and doing it again myself," Flavin says. "But a hundred pages of script? Without anyone to cue you if you miss a line? Talk about working without a net!"
Instead, if you attend a game at Fenway in one of the luxury suites, you're likely to enjoy a visit from Flavin, who will recite his Red Sox-related verse, which he modestly describes as "one small step above doggerel."
If you ask nicely, you might even get to try on his diamond-studded World Series ring, with Flavin's name engraved above an artful representation of Fenway Park.
But if Flavin's verse is any clue, his grip on that ring is tenuous, due to the cost-conscious style of Red Sox ownership. As he versifies:
My God, I've got a Series ring.
Please, do not wisecrack.
If Lucchino hears about this
He'll make me give it back.

I am not a home run hitter,
Don't have a great curveball.
I run real slow and I can't throw
And I don't play at all.

I'm the designated dreamer.
I think up funny rhymes.
I sit up in the PA booth,
At least I do sometimes.

I really must be going now.
I do not dare to linger.
Larry will take back the ring
And then give me the finger.
(Poems reproduced with permission of the author.)
Related
Popular in the Community