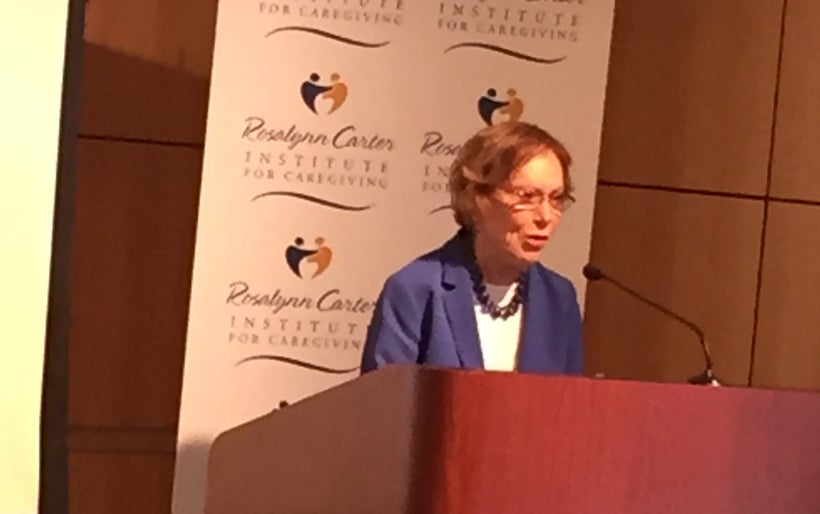 Three decades ago, loving family members who were caring for their aging parents or disabled spouses never called themselves "family caregivers." They regarded themselves as good daughters and wives. It took a social movement to brand their caregiving as a societal resource and to create an infrastructure of effective services to support it. Launching that movement took a leader of vision, visibility, and impeccable benevolence. Former First Lady Rosalynn Carter was and is that leader.
The 89-year-old, Georgia-born matriarch recounted the origin story of her namesake organization to a rapt and adoring audience at last week's 30th Anniversary Rosalynn Carter Institute (RCI) Caregiving Summit at Georgia Southwestern State University in Americus, GA. She related that in 1987--after advocating for the mentally ill for over 15 years as the wife of a governor and President--she decided to hold a meeting specifically for family members who cared for individuals with schizophrenia, bipolar disorder and other psychiatric illnesses. The topic was burnout. "It was the most emotional meeting that I ever attended," she said. "Everyone cried." That outburst of shared feeling spurred her and others to launch RCI as a national organization dedicated to advocacy, education, research and service for both family and professional caregivers.
The Family Caregiver Alliance in California had preceded RCI by almost a decade. Other national caregiver organizations—including the National Alliance for Caregiving and the Caregiver Action Network—followed strongly in the '90s. But Mrs. Carter, in many ways, remained the public face of the growing movement. In its early years, she supplied it with a memorable quote around which many caregiver advocates still rally:
"There are only found kinds of people in this world—those who have been caregivers, those who currently are caregivers, those who will be caregivers and those who need caregivers."
As Mrs. Carter stood at the podium of the 30th Anniversary celebration last week, reading and ad-libbing effusively, she looked out at a packed auditorium of the movement's diverse and impassioned constituents. There were dementia caregiver coaches and military caregiver counselors, academic researchers and mental health practitioners, along with a smattering of faith leaders, health system innovators, politicians, social service students, nurses and physicians. The mood in the room was that of a homecoming rally. We gave her a rousing standing ovation, congratulating her and ourselves for championing the caregiver cause.
The cause has fairly flourished. The term "family caregiver" is today part of common parlance and ongoing policy discussions at the highest levels of healthcare reform. Caregivers support programs have sprung up in nearly every American community. Laws recognizing and empowering caregivers have recently been passed in 39 states and soon will be on the federal level.
But this victory lap at the RCI Summit also felt premature to some in the room. As the panel discussions that followed Mrs. Carter's introduction demonstrated, the caregiving movement is yet young and has more work to do. What was clear to the attendees is that it is no longer enough to raise the profile of caregivers in the national discourse. Speaker after speaker on the conference stage detailed how caregiver support services are spotty and disjointed throughout our society, including the various helping sectors:
--Epidemiologist Mary Mittelman, creator of the New York University Caregiver Intervention, talked about the difficulties of convincing local communities to adopt her well-established, evidence-based program for better supporting dementia caregivers.
--Psychologist Tim Elliott of Texas A&M expressed frustration that state lawmakers sometimes blithely ignore research findings about care recipient and caregiver needs while fashioning social service legislation and regulations.
--Meg Kabat of the Department of Veterans Affairs made mention of its innovative and extensive caregiver support programs. But her description only underscored how poorly non-military health systems, in contrast, address the needs of patients' family members.
-- At a workshop the day before on the faith community's response to the caregiving crisis, there was extended discussion about the need to join the forces of healthcare and social service professionals to the power of churches, synagogues and mosques to provide support that's more comprehensive and coordinated.
There are always funding issues, too. There is the perennial challenge of persuading caregiving family members to accept help that's offered to them. There's the need for tailoring services to the idiosyncratic circumstances of particular families and communities. And there's the necessity of continuing to produce outcomes studies to prove that all the help that's proffered is actually helpful.
For our first 30 years, Mrs. Carter has been an inspiration. Her dignity and compassion are the values that will continue to grace the caregiving movement long after she bows out. But the next 30 years will require much more refinement of what we do and integration of how we do it. As the Summit speakers made clear, this milestone is but a signpost. This victory lap was warm-up for a much longer run.
Barry J. Jacobs, Psy.D. is a clinical psychologist, family therapist and the Director of Behavioral Sciences for the Crozer-Keystone Family Medicine Residency Program in Springfield, PA. He is the co-author (with his wife, Julia L. Mayer, Psy.D.) of AARP Meditations for Caregivers—Practical, Emotional and Spiritual Support for You and Your Family (Da Capo):
Follow me on Twitter: @drbarryjjacobs
Email: barryjjacobs@gmail.com
Calling all HuffPost superfans!
Sign up for membership to become a founding member and help shape HuffPost's next chapter
This post was published on the now-closed HuffPost Contributor platform. Contributors control their own work and posted freely to our site. If you need to flag this entry as abusive,
send us an email
.