Known the world over, Angkor Wat is now one of the most popular tourist spots in Asia. With 1.6 million square metres of temples, tundra and tourists, knowing where to start can be tricky.
Armed with a tuk-tuk, map and pen, I spent a couple of days seeing the world's largest religious monument, and pulling together this guide on what to see - and what to skip - during your Cambodian adventure.
Angkor Wat: The site's namesake, this temple alone covers over a kilometre with the central towers rising 65m into the sky. Go at the beginning or end of the day before it's too hot as there are a lot of stairs to reach that iconic view.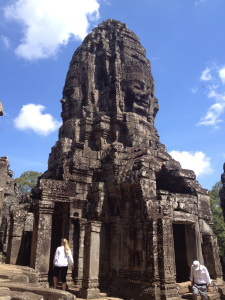 The youngest state temple, over 200 giant Buddhas smile on visitors. As it passed between kings, it also changed religions serving as both a Buddhist and Hindu place of worship throughout its lifetime.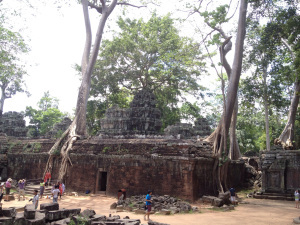 Get ready to embrace your inner Lara croft. Made famous by Tomb Raider, Ta Phrom will live up to your film set expectations. Be prepared to share it with the crowds though, and to wait in line if you want a picture with the snaking tree roots (I wasn't that patient).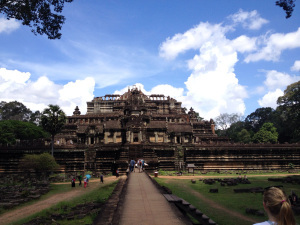 This temple was built to make an impression. Its symmetrical design and long bridge make it striking from a distance. If you're feeling energetic, you can climb the steep stairs to get a good view of the park - just make sure you save enough energy for the main temple stair climb though!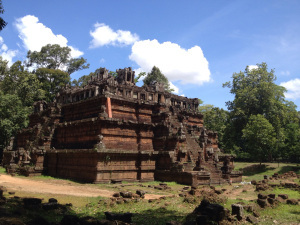 This former royal place of meditation emerges through the trees. It's remarkably intact, though you can't venture inside like most of the other temples. Look out for the two swimming next to it - sorry guys, yours is the small one!
Elephant terrace and Terrace of the Leper King: Marked separately on the map, these two are actually one site and... easy to miss. Once grand viewing platforms, they're now reduced to raised mounds that I probably wouldn't have noticed if it weren't for my guide. The statue of the leper king is also a small replica rather than the original.
Sra Srang (in hot season): Put it this way, we didn't know we'd passed the lake! In the rainy season I'm sure it looks beautiful, but be aware if you're there at a hot/dry time of year, it's pretty much non-existent. There are restaurants along the banks though, so it's a good place to head for lunch.
This was just my take on Angkor Wat. Do your research to find out what's right for you - online forums such as InterNations can be a great place to ask locals and other travellers and help plan your perfect trip.