"Home" is a loaded word. For many people it evokes memories of warmth, nostalgia, safety, and security. For others, the home in which they grew up may invoke nightmares of hunger, poverty, disease, and domestic abuse.
Baseball fans think of home plate. Diners often enjoy home fries with breakfast. Web surfers visit one home page after another. And yet, two of our most popular clichés about home stress that:
There's no place like home.
You can never go home again.

A curious bit of scheduling has San Francisco's American Conservatory Theater simultaneously staging two very different plays about home and the family values one associates with one's home. One is dark, brooding, and filled with menace. The other starts off on such a perky note you'll be tempted to smack a few characters just to bring them back down to earth. Needless to say, when reality bites both families, it bites down hard.
Harold Pinter's dramedy, The Homecoming (1964), seethes with repressed anger, reptilian power plays, sibling rivalry, and macho jealousy. Four men live in a depressing, loveless shell of a London home (designed by Daniel Ostling and beautifully lit by Alexander V. Nichols) that features an incredibly long and tall stairway leading to some level of hell where familial demons go to sleep. They are:
Max (Jack Willis), a 70-year-old retired butcher who boasts that his late spouse, Jessie (a "slutbitch of a wife") taught their three sons "every single bit of the moral code they live by." Crude, sadistic, and extremely misogynistic, Max is every bit the aged gorilla trying to maintain his position as king of the mountain. His crass behavior and rancid bluster make it clear that he is not an esteemed member of the House of Windsor.
Sam (Kenneth Welsh), Max's 63-year-old brother. An aging limousine driver who claims to be the best chauffeur at his firm, Sam is constantly bullied by his older brother. Still, he has a soft spot for his oldest nephew.
Lenny (Andrew Polk), Max's second son. Lenny slithers around with the reptilian ease befitting a pimp.
Joey (Adam O'Byrne), Max's youngest boy who works in construction and hopes to become an amateur boxer. What Joey lacks in brains he makes up for in brawn.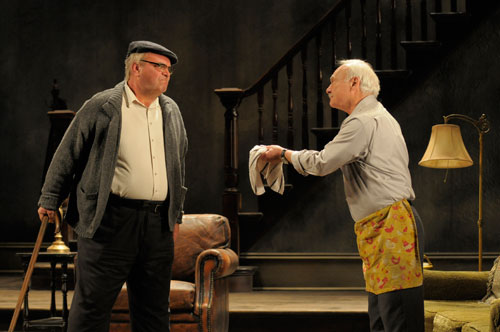 Max (Jack Willis) and Sam (Kenneth Welsh ) in The Homecoming
Photo by: Kevin Berne

Entering this unhappy home in the middle of the night are Teddy (Anthony Fusco) and his wife (René Augesen), who have just spent a week in Venice. Max's oldest son has made a name for himself as a philosophy professor in American academia. He and Ruth live near Chicago with their three sons in what is obviously a strained marriage.

Ruth (René Augesen) and Teddy (Anthony Fusco) in
The Homecoming (Photo by: Kevin Berne)

Whereas Teddy has embraced a life of intellectual sophistication and refuses "to get lost in all of that" low life behavior in which he was raised, Ruth is quite another story. A former fashion model (who was probably also a whore), Ruth embodies the kind of amoral -- and often predatory -- female one finds in characters like Mrs. Lovett and Lulu. She is the life force to which men are helplessly drawn. Yet she can be as deadly as a black widow spider. As Carey Perloff writes in her director's note:
"Pinter took his characters incredibly seriously and conceived of them not as symbols or metaphors but as passionate, sexual, often violent individuals trying to protect themselves and their territory from outside dangers. What fascinated him about human beings was not psychology but behavior -- the complicated and often hilarious strategies we employ every day as we wrestle with desire, betrayal, family warfare, humiliation, and death."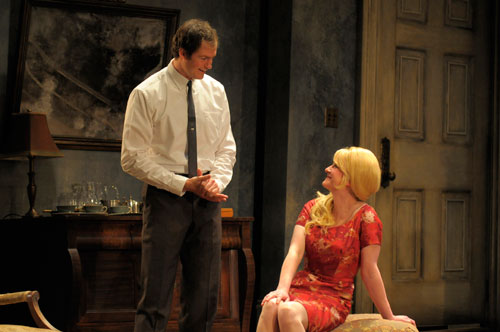 Joey (Adam O'Byrne ) and Ruth (René Augesen) in The Homecoming
Photo by: Kevin Berne

Ruth's effect on Teddy's family is obvious. Max sees her as a potential whore who can turn tricks for Lenny at night and do household chores during the day while providing sexual favors. Joey sees her as a source of maternal tenderness rather than just a warm hole to plow. Lenny knows exactly how to put Ruth to work. But Teddy doesn't seem to care very much whether Ruth stays in London or follows him home to Chicago.
When push comes to shove, Ruth has flirtatious talents and pheromones whose powers can easily overwhelm her in-laws. What's more, she knows how to use her sexual power to get what she wants. Just before the end of the play, Max realizes that all of his careful planning has gone up in smoke. "She's going to pull a fast one on us!" he cries, but it's too late. Ruth is now sitting in Max's center-stage chair and has become the new ruler of the household.
Carey Perloff has done a beautiful job of directing her ensemble so that the strategic silences and cryptic pauses in the script add layers of unspoken context to Pinter's play. Jack Willis, René Augesen and Adam O'Byrne do exceptional work in this riveting production.
Show business families (real and imagined) have long held the public's fascination. Whether following the stage and film careers of the Barrymore and Redgrave dynasties, The Andrews Sisters, The Jackson Five, or The Osmonds (whose seven children included Donny and Marie), audiences have watched family-centric entertainment for decades.
From the Dionne Quintuplets to The King Family Show (which featured 37 members of the extended King family); from The Partridge Family (which starred Shirley Jones as the widowed mother of five children) to the nine members of The Brady Bunch, entertainment brands based on a large family's adventures have been a part of the popular culture.
The phenomenon of a large and musically gifted family as a show business act gained momentum when the Trapp Family Singers (with its seven children) were immortalized by Rodgers and Hammerstein in their 1959 musical, The Sound of Music. On June 11, 1962, when CBS televised Julie and Carol at Carnegie Hall, the following skit (entitled The Pratt Family Singers) brought down the house.
Since then, fertility clinics and reality television have sent large family branding in a new direction. In January of 2009, Nadya Suleman gained tabloid fame as the Octomom. The infamous Duggar Family of Springdale, Arkansas have been the stars of a reality show which is now called 19 Kids and Counting.
When offered the challenge of creating a new work for the 12 actors in the American Conservatory Theater's Master of Fine Arts program for the class of 2011, Peter Sinn Nachtrieb came up with the idea for a play about the fictional Framingham dodecatuplets (a family of corporate-sponsored childhood stars whose fame and cuteness have lost their mass appeal with the onset of puberty). His new play, Litter, raises interesting questions about the lies people may have been told to convince them that they are all part of one big happy family.
Litter begins with the kind of oppressive cheerfulness one expects from a musical group like Up With People or the entertainment staff of a cruise ship or amusement park (the program lists the cast of characters in order of their birth). As the Framingham dodecatuplets rapturously memorialize their birth mother, June, in song, all I could think of was the rowdy fertility anthem from Rodgers and Hammerstein's 1945 hit musical, Carousel, entitled "June Is Bustin' Out All Over!"
The problem is that June wasn't a real woman. June was the corporate code name for the medical incubator that was used to bring 12 human embryos to full term. After funding was withdrawn from the project, the fertility doctors decided to go full steam ahead with their mechanical womb with a view.
Although the Framingham dodecatuplets have no idea that they are not really identical twins (they've always been with each other and slept in the same bed), it's obvious to anyone else that their genetic code is not identical. Sure enough, when #6 (Marisa Duchowny) gets her hands on documents outlining who donated the sperm and egg for each of the dodecatuplets -- and learns the hidden history of the project which brought them to full term -- family bonds that have always been taken for granted quickly rupture.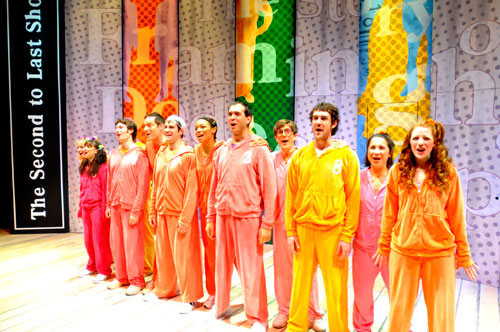 The Framingham Dodecatuplets (Photo by: Alessandra Mello)

With funds from their legal settlement gone and only $40 remaining between them, selfishness quickly takes its toll on the group's cohesiveness. Now in their teens, each dodecatuplet leaves to seek his/her own destiny, returning for a family reunion only after #12 has sawed off her right arm in order to make one of her magic potions.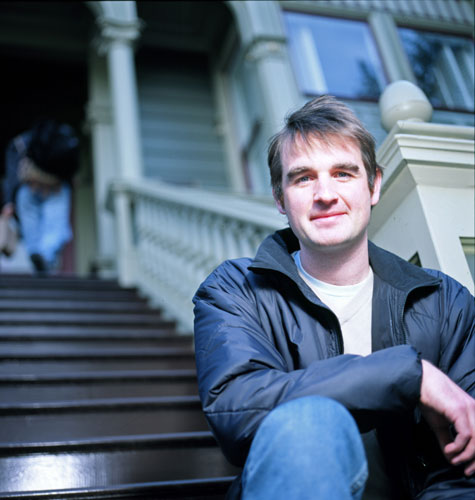 Playwright Peter Sinn Nachtrieb

Songwriters and opera composers frequently create music with a specific singer's voice in mind. Part of the challenge for Nachtrieb was to use the talents of each actor in the class of 2011 as source material to help flesh out each character. As the playwright explains:
"It's been a really hard, unique challenge. When you're writing a 12-person scene, you can't write everyone at once. I write the scene and then I go back and see that I'm missing a couple of people. They're there (but not speaking), so I look for places where they can respond and for what their unique take is. With a 12-character play, there's no time onstage to fully round out the characters, to give them a lot of complications. They all have a journey, and they are all going to bring stuff to it as actors, but I can't get too nuanced in a 90-minute play that's following 12 people. The actors and characters really have become instruments, in a way. They all have emotional colors to them and they all have different points of view, so they do make an interesting song together."
While Litter certainly has some interesting moments, the sheer mechanics dictated by its parameters quickly transform it into an exercise in creating variations on a theme. Nachtrieb tries to ensure that each dodecatuplet gets its fair share of attention. However, the most outstanding part of the evening for me was Liliana Duque-Pineiro's inventive unit set. Standout performances came from:
#1 (Ashley Wickett), the eldest dodecatuplet and self-determined leader of the pack.
#2 (Richardson Jones), the "artistic type."
#5 (Brian Clark Jansen), the hot jock/stud constantly trying to hook up online with horny cougars.
#8 (Dan Clegg), the rebellious child with an English accent who has always hated being one of the Framingham dodecatuplets.
#9 (Patrick Lane), the dodecatuplet who plays the violin and hopes to build a career as a stand-up comedian who specializes in fart jokes.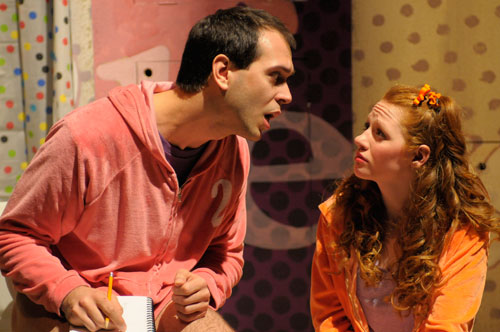 Richardson Jones and Ashley Wickett in Litter
Photo by: Alessandra Mello

Rather than offering any kind of compelling narrative, Litter is primarily a creative exercise for the playwright and his actors. Mark Rucker directed the production with a great deal of zeal, shtick, and toilet humor (yes, Virginia, there were even toilets onstage).
REAL LIFE. REAL NEWS. REAL VOICES.
Help us tell more of the stories that matter from voices that too often remain unheard.