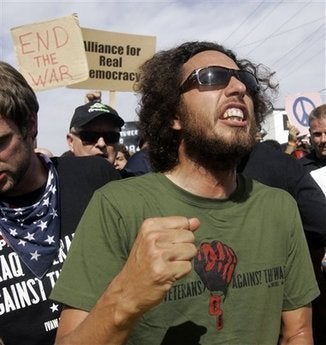 On Wednesday night, Republican delegates fresh off Gov. Sarah Palin's vice presidential nomination speech at the Xcel Energy Center here formed a conga line of taxis, buses and private cars to Minneapolis, where post-convention parties were firing up. At almost the same time, a huge crowd was emptying out of the Target Center after a political show of a different sort -- a concert by the band Rage Against the Machine.
A small fraction of those people, perhaps 200, decided to take over the intersection of First Avenue North and Seventh Street. Traffic snarled, and delegates watched in waiting traffic as riot-clad police pushed the spontaneous, vocal protest up Seventh Street. A delegate from Texas said, "Those guys, again?"
Yes, again. For two weeks straight, both in Denver and in Minneapolis, Rage Against the Machine, a rap-metal band formed in 1991 and known for its big noise and ferocious politics, formed an ad-hoc convention in opposition to both major parties. Although the band has been a significant commercial success -- three of its albums in the 1990s attained multiplatinum status -- radical politics have always been baked into their music.
REAL LIFE. REAL NEWS. REAL VOICES.
Help us tell more of the stories that matter from voices that too often remain unheard.