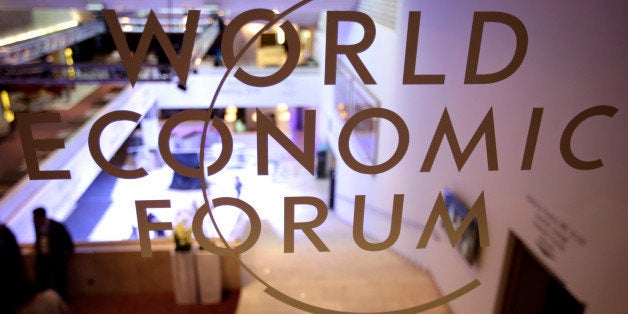 More than 2,000 businesses and political and societal leaders are convening at the annual World Economic Forum in Davos, Switzerland, to consider and promote ways to make the world a better place.
But here's the problem: Half of the world's population -- women -- will be vastly underrepresented at the meeting whose theme is "Reshaping the World."
Only one in seven delegates to the Jan. 22-25 forum are women -- despite the fact that women now represent one at least out of every two members of the population, the workforce and the college graduates in the United States and many other countries.
Change and progress starts with leadership.
Unfortunately, the delegation at Davos doesn't represent real leadership. It represents the continued travesty of gender bias. As Forbes' Dina Medland puts it: "What's the point of meetings between elite male leaders to discuss a world that goes far beyond their boundaries?"
Indeed, the delegation at Davos is in many ways is a reflection of gender bias that permeates society.
Women represent 14 percent of the delegation at Davos, down from 17 percent a year ago. In business, women represent just 5 percent or so of the CEOs of Fortune 500 companies and just 17 percent of the boards of directors of those companies. In government, women account for less than 18 percent of the members of the U.S. Congress.
Organizers of the World Economic Forum have attempted to address gender inequality. Each member organization can bring up to five attendees -- as long as one of the five is a woman. But some companies and organizations only bring four attendees. I'd love to know which companies and organizations they are.
Anne-Marie Slaughter, president and chief executive officer of the New American Foundation, is one of the relatively few women delegates to Davos.
In her opinion, the way for women to succeed in business and society is for society to help men succeed as caregivers.
"Behind almost every female CEO mother is a man who is a primary caregiver," Slaughter writes in a blog posted on the official forum site. "Reports, panel discussions and media reports still focus overwhelmingly on measuring the participation of women in what has traditionally been the world of men. But it is equally important to measure the participation of men in what has traditionally been the world of women."
To be sure, as Slaughter indicates, men must step up and do their duty as fathers, spouses and supporters in order for women to succeed. Clearly, we should find ways to support those men.
But just as clearly, we need to find more ways to support women in business, government and beyond.
To do that, and truly reshape the world, leaders at Davos -- and all of us -- must commit to change the culture of our organizations to be more gender-neutral. We must insist that our companies add more women to their boards and their executive offices.
Claiming that there aren't enough qualified women to fill such positions is no longer a valid excuse in a world where women make up about half of the workplace and more than half of college graduates.
Here's one goal for starters that leaders at Davos should make a priority: The Thirty Percent Coalition -- a group I belong to -- advocates for 30 percent of board seats to be filled by women by 2015.
But before the "leaders" at Davos start advising the rest of us how to "reshape the world," they ought to start by reshaping their own delegation.
That's how real change begins.
Calling all HuffPost superfans!
Sign up for membership to become a founding member and help shape HuffPost's next chapter