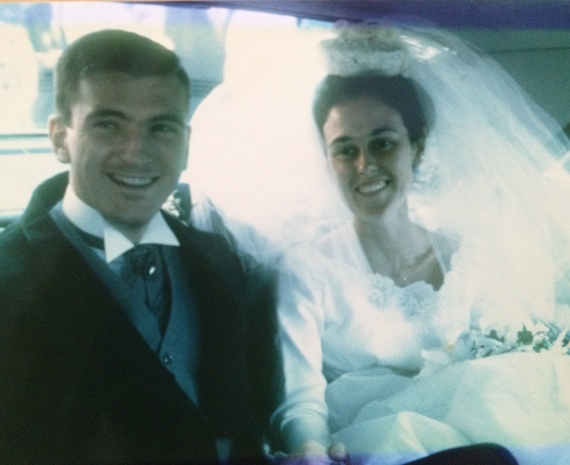 I had my palm read, once, just for the fun of it. Certain I was merely indulging some carnival chicanery, I lay my palm flat in the reader's open hands. Within seconds, she looked up at me and said, "You had a perfect childhood. You absolutely skated through it." She was so right it caught me short of breath.
The architects of that childhood mark fifty years of marriage this week.
I write this as the earth seems intent to to careen off its axis. Friends circulate Yeats' The Second Coming not as dire warning, but sober assessment. The oft-quoted, famously haunting line is: Things fall apart; the center cannot hold.
I tell my parents' story.
As with many great loves, it was by sheer chance that they met at all. Charlie Judge was supposed to be set up with a different girl on a double date with his buddy Bob Hayes and Patricia Cross. But Judy Chadwick had to cover a candy striping shift at the hospital, so in a last minute scramble my aunt Pat substituted her younger sister, Susan. A demure, studious and pretty undergraduate at Regis College, Sue Cross was about the last young woman who would enjoy a screening of Hitchcock's The Birds. But a lanky, freckle-faced fourth child of an Irish working class family had bought tickets to the horror movie, playing in downtown Boston. Sue noticed that her date seemed to have little idea how to get to the theater. It was the first of thousands of car rides to follow in which Charlie was content to home in on a destination by making a series of concentric circles.
Each time I've asked her what she made of their first date, my mother sums it thusly: He made me laugh.
Laughter and levity had not been the marks of my mother's childhood. The middle daughter of Fred and Eleanor Cross had been uprooted endlessly as my grandfather went from one region to another in the employ of Getty Oil. His job was to set up gas stations throughout southern New England, an endeavor that put food on the table but would place him into frequent conflict with local politicians looking for a payoff. My grandfather loathed greed and dishonesty like no one I've ever met. He instilled that ethic in a very young Susan, who one day had disobeyed the family rule not to play in the local creek. When she came home with soaking shoes, claiming that she had stepped in rain puddles, my grandfather took her on a car ride so she could point out the offending puddles. Unfortunately, it hadn't rained in weeks. After they'd circled several blocks, my mother confessed. Her only punishment was the inglorious moment of causing shame to herself, and to a father who she knew had worked a very long day.
You'll have to believe a loving daughter, and every human since who has known Susan (Cross) Judge. It was the last lie she ever told.
Sue Cross was the "new kid" almost every school year until high school. She endured the lonely winters by venturing off alone with her ice skates, in a time when New England lakes and reservoirs froze reliably by mid-December and didn't thaw until March. When I was old enough to watch my mom do a perfect figure eight, she told me about her childhood.
Meanwhile, in Waltham, Massachusetts, another loner in a busy and taxed family was growing up marching to his own drum. Charlie was the youngest of George and Alice Judge, who toiled to provide for their four children but had little spare energy to rein in this spirited boy. He spent most days finding whatever solo adventure was to be had on Prospect Hill. My favorite story of Dad's childhood is the day he set off at 9 or 10 in the morning, and wound up on a stranger's boat heading down the Charles River, not to return til after nightfall. An urban Tom Sawyer, Dad thought nothing about what might befall him and resents not a whit that his parents did not worry about where he was.
Like his future father-in-law, Charlie Judge had a tough time choking down injustice cloaked in authority. This often meant that his dutiful sisters were called upon to defend him. There was the time he threw chalk at the abusive Sister Anna Aloysius, who was yanking his ear as he struggled with long division at the blackboard. My aunt Mary Alice crafted an early version of the insanity defense, saving Charlie from expulsion by explaining that he'd been hit in the head with a rock that very morning by the marauding Bentley brothers.
Mary Alice and Martha not only saved their little brother from countless pickles, they selflessly nurtured him, often made his meals, shaped his character, and in a vestige of the time, postponed their own ambitions so the boys of the family could be assured a college education. Their sacrifices in many respects gave me the father I would come to know. Charlie completed his degree at the Massachusetts College of Pharmacy, his gateway to a trade that would secure for our family a middle class life.
That star-crossed Hitchcock meeting led to courtship, and then to Charlie giving Sue his fraternity pin, and then to engagement. On August 13, 1966, Charles William Judge and Susan Eleanor Cross said their vows at St. Mary's Church in Waltham, a reception to follow at the Holiday Inn. The bride, in a gown borrowed from her cousin, was in this writer's view the quintessence of beauty. The groom, groomsmen, and father of the bride wore morning coats and tails. My mother donned a summer tweed suit and corsage for their farewell photos, as they set off for a honeymoon in Bermuda.
It's a daunting task to try to sum up the fifty years that followed.
By the end of the first four, they were raising a son and two daughters. As best I can tell, my parents had no fixed expectations of us, but defined ones for themselves. Our family was built on their unity of purpose: to raise good people in a loving home, who would never question the emotional ground beneath their feet. The examples confound any effort at distillation, but they flood every channel of my memory.
There was the job offer that would have put Dad at management level in the store chain that ultimately became Costco. But it meant moving our family to New Jersey, and he had promised Mom that the three of us would not endure the displacement she did as a child. We were happy in the Westborough schools, and that was that. Dad recommended a younger, single colleague for the job, who went on to great financial success. Dad never looked back.
There was the year I asked Santa (OK, one benevolent lie) for a "giant Woodstock," i.e., Snoopy's sidekick. No such thing existed in 1979, so after commuting home from work my mother tucked herself away, night after night, drawing a pattern, and sewing yellow felt and yarn into an astoundingly awesome trademark violation.
There were the annual trips to Wellfleet, even in years when it was a budget-stressing extravagance. We would end the week with a ritual my parents dubbed the "Blanket Ceremony," in which the five of us would sit cross-legged under a pitched blanket at Newcomb Hollow at sunset, promising that no matter what, we would return as a family the following summer.
At this juncture I feel compelled to say: I am not even making this up.
The moments of extreme gold medal parenting didn't stop when we "grew up," either. I was a first year student in law school, living in San Francisco, when Dad dropped everything to fly across the country to help me face the end of a long-term relationship. Years later in Boston, Mom hauled half the contents of a Stop & Shop to my crappy apartment and saw me through another heartbreak, sleeping right next to me as sirens and strangers' prattle shook the walls.
How could the Judge kids doubt that the world held love for us? We were raised in a fortress of it.
Though these stories could fill volumes, David, Christine and I would be only some of the contributing authors. Any celebration of Sue and Charlie Judge would by rights encompass all the other young people they helped to raise. A "village" before there was a name for it, the door at 43 Old Colony Drive swung open at all hours of the day. Their children's friends had a home, be it a physical or emotional or spiritual one.
The fortress expanded to include two sons-in-law and a daughter-in-law. In 2003, Charlie Judge met Amit Mehta on a Cape Cod beach, where they tossed a football and talked AL East standings. Dad later smiled at me and rendered his verdict: "That kid has a hell of an arm."

A few years later, my Irish Catholic parents sat in Indian formal wear for a new family portrait. They beamed ear to ear.
And yet, it is a child's hubris that tells this story through the lens of their parenting. The majority of their half century has been a place shared by just two, making their way through life's challenges with an equanimity unique to who they are and to what they believe truly matters. As a friend remarked when I told her I was writing this post, "I can't imagine one without the other."
That interdependence made them each other's strength when the other was vulnerable. It is how they rode the tides of health scares, financial stress, an emptied nest, the realities of aging. Though neither of my parents relish conflict, I remember my father raging as my mother endured a sexist and bullying boss. I remember Mom doing whatever needed to be done when Dad was hospitalized after a car accident. They fought for each other, without fail and without fear. While they championed and trusted and celebrated us, as they now do their five cherished grandchildren, they mark fifty years because they did just the same for the person they married.
It is only now that I can marvel at how they made it look easy, when it wasn't, and isn't. Not long into my own marriage, I learned that while we celebrate the luck of finding one another, the daily work of choosing one another over and over again gets downplayed. No marriage lasts because of the stuff that ends up in the highlight reels. It's the thousands of scenes that were out of focus, the moments we just put our heads down and get through, the film that covers the cutting room floor. Only two people know what is in that room. They have a chance to go the distance if, like my parents did, they keep doing better even when it feels like it would cost less to do worse.
Mom and Dad will balk at the word "perfect," because, like all human creations, a marriage brings mistakes and pain and anguish. It is a charged word, connoting the unachievable state of flawlessness.
But I found the definition that my palm reader must have had in mind, and it fits:

Per-fect (adjective) ˈpərfikt/: having all the required or desirable elements, qualities, or characteristics; as good as it is possible to be.
Through most of my life, I would have said that I became who I am because of how my parents loved me. Now, as a wife and a mother, I see it a little differently. I know who and what I want to be because of how they loved each other.
Things didn't fall apart. The center held.
In a union as good as it is possible to be.
Calling all HuffPost superfans!
Sign up for membership to become a founding member and help shape HuffPost's next chapter