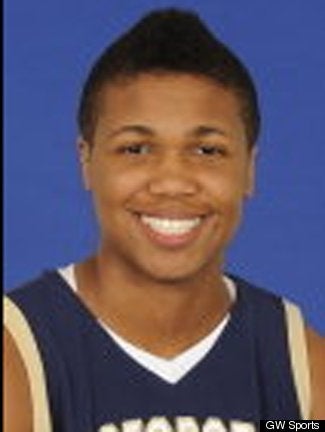 On Monday, George Washington University junior Kye Allums came out publicly as the first openly transgender man to play on a Division 1 basketball team. Allums, who started identifying as a male during his sophomore year, is still biologically a female, and so will be able to continue playing on the women's team -- and to hold on to his scholarship.
Earlier this year, the university changed the roster published on its Web site to reflect Allums's name change, from Kay-Kay to Kye, and future references will use male pronouns.

He noted that he was biologically identical to any other female, but said, "I just would prefer for people to call me a he."
Allums told Outsports that he was pleasantly surprised by the support of his team, and especially of his coach: "Everybody's pretty much accepting of everyone on the team. Everybody is different. We're teammates, we're like family. It's a bunch of brothers and sisters. Everybody brings their life and issues to the family."
In a statement, Allum's coach Mike Bozeman said that "George Washington University women's basketball program, including myself, support Kye's right to make this decision."
For the most part, National Collegiate Athletic Association teams follow conduct outlined by a report released last month by the National Center for Lesbian Rights. On The Team: Equal Opportunity for Transgender Student Athletes, offers guiding principles and policy recommendations for high schools and colleges. The report emphasizes the need for transgender athletes to have the opportunity to play free from discrimination, and warns that an environment that is not friendly to trans students can harm all members of the team.
Has your school made efforts to be a safe space for trans-students? Let us know in comments.

Related
Popular in the Community