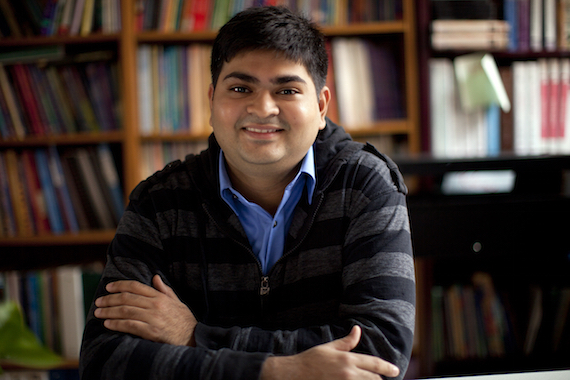 Fahim Farazi, photo courtesy of Julie Hassett-Sutton/Frantic Studio via Global Kids

I went to a zoned school near where I lived. They only cared about people passing classes, graduating, and making sure their statistics were good. One day in my freshman year, I heard an announcement about Global Kids (GK). My cousin went to the same school and we thought, "We are global. We are from Bangladesh. Maybe we could meet other people who are global."
Compared to school, where there was a lot of bullying, I felt really welcome when I first walked into a Global Kids meeting. They were interested in my life. That is very comforting because not that many people are interested in your life or your struggles. Everyone feels welcome. Everyone participates. Even the quiet people tend to find their voices there.
Because of Global Kids, I felt more comfortable to share in class, even with the accent I had. I was always good in history and math, but I would never participate. I was part of the quiet group in school when I started and slowly I turned into someone who was part of every group.
I took part in GK's Human Rights Activist Project. I was chosen to go with six other Global Kids students on a trip to Mexico. There was an International HIV AIDS Conference and also a march against discrimination and homophobia. My friends and I were from many different faiths: Islam, Christianity, Judaism. Not everyone was comfortable participating in the march. I struggled the whole trip over whether to support the march, because on the one hand, it's a human rights issue and on the other, it's a religious belief. One of my friends on that trip in fact came out. I thought, "I'm a hypocrite if I support human rights and then don't support gay rights because that's human rights."
Global Kids did not force me to be part of anything. My opinions were shaped because of the discussions we had from different points of view.
Coming from Bangladesh, you're expected to be a doctor or engineer. But Global Kids challenged me to find other options. My sophomore year I did the Summer Institute at the Council on Foreign Relations. I discovered a lot of career options. Before, maybe you were thinking, "Oh, I want to be a doctor." Now, you're thinking, foreign policy looks like something I might be interested in. Human rights work looks interesting."
I graduated from New York University. While I was there, I created an organization based on the Human Rights Activist Project called Impulse 4 Humanity. It's for early childhood education, and it's in the slums of Bangladesh.
Popular in the Community