The Johns Hopkins undergraduate students behind ShapeU are changing the name of their fitness technology startup to FitMango, according to founder and C.E.O., Seal-Bin Han. I wrote about Seal, recipient of the 2014 Luce Leadership Award, a year ago here.
Seal tells me now that the name change reflects their management team's desire to focus on health clubs and gyms as the company's primary market, as opposed to college campuses and recreation centers.
"We wanted to pick a new name that we could brand easily," Seal said. "The mango isn't ordinary, but it isn't pretentious, either. The color is warm and inviting - it's exactly the vibe that we want to give our users. Also, looking forward, nutrition will be an important part of what we will support and we wanted a name that could aptly reflect both fitness and nutrition."
ShapeU was a web application that matched college students into small groups to work out with professional personal trainers, according to the company's Angel List page.
Instead of automatically designating its users to the recreation centers of their respective universities, the new FitMango platform now intends to integrate with gyms and health clubs all across the country in order to give users -- college students and non-affiliates, alike -- the flexibility of finding or creating their ideal small group session of three-to-five individuals among the many gyms in their network.
"We're strong believers in the small group personal training model," said Han. "One-on-one is unaffordable to most people at a national average of $60-per-hour and you can't benefit from the positive peer pressure environment and the social aspect of group training. On the other side, large class sizes can be even worse, given that you will have little-to-no personal attention with the instructor and many issues with overcrowding."
The newest team member of FitMango, Hannah Cowley, will be in charge of marketing the platform both inside the partnered gym facilities and around the city of Baltimore.
"Reaching out beyond the college market is a bold move, but one we are making with confidence in our vision, our mentors, and, most importantly, our team," Hannah told me. "Our team of talented, motivated people is what has made us successful thus far and what propels us into our bright future. This team inspires me to strive for greater, face new challenges head on, and nurture our idea to reach its full potential."
In the coming months, FitMango plans to launch at Brick Bodies, along with a host of other gyms in the Baltimore, Maryland area, where the company is headquartered. I attended the Brick Bodies gala for mental health last month in Baltimore and was impressed to meet its visionary owner Victor Brick who has embraced our young leaders and entrepreneurs.
"Baltimore has become our home and we're quite fond of it," said Seal who moved there to studying electrical engineering at Johns Hopkins University in 2013. "We've received overwhelming support from the tech community here. You'd be shocked at how many resources are available in this city and how much easier it is to become noticed."
"I don't think Baltimore is a conventional tech city, but FitMango was born in Baltimore. Our home is Baltimore. And we've found such amazing opportunities here," said Jordan Matelsky, the founder and Chief Technology Officer of FitMango.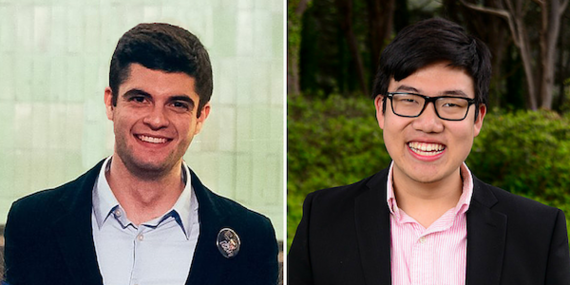 On left, Jordan Matelsky, Chief Technology Officer, and on right, Seal-Bin Han,
Chief Executive Officer. Photos: FitMango.
In September, Steve Case, the co-founder and former Chief Executive Officer and chairman of AOL, visited Baltimore as part of his "Rise of the Rest" tour, where he heard pitches from local entrepreneurs. According to Technical.ly Baltimore, "Han got in front of the Internet legend twice -- once by applying to the pitch competition and once via the startup's connection to Hopkins."
Recently, FitMango raised $200,000 from the Maryland Technology Development Corporation (TEDCO), AccelerateBaltimore, Towson University, Johns Hopkins Technology Ventures, Accenture, and several others.
"We weren't looking to raise a big round," said Seal. "We just wanted to have enough to make it through a well-advertised Beta test in about 45 gyms around the area."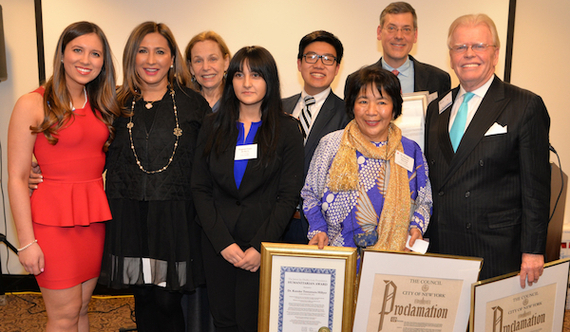 J. Luce Foundation Awardees Alana Galloway, Meera Gandhi, Mitzi Perdue,
Eugenie Carys de Silva, Seal-Bin Han, Dr. Kazuko Tatsumura Hillyer, the
author, and Kevin McGovern. Photo: Annie Watt/Stewardship Report.
The platform is currently available as a web application with a native iOS app expected to release in the coming months.
"A native app is the critical next step," said Tucker Chapin, head of iOS development at FitMango. "People always have their phones with them and an app makes sure FitMango is convenient and useful.
The company will continue to serve college campuses and will run its legacy programs on the ShapeU website until January, where all programs for college recreation centers, health clubs, and gyms, alike, will be available on the FitMango site.
"We're excited to move forward with renewed enthusiasm in our mission to bring a modern twist to health and wellness, and health and wellness to the world," said Matelsky. "We're joining forces with some awesome new people and we are looking forward to expanding the FitMango family."
Each year, The J. Luce Foundation presents our annual Luce Leadership Awards to young leaders working to better humanity who embody the characteristics of honor, intelligence, benevolence, and stewardship.
Seal Bin Han met such criteria in 2014 and was subsequently appointed to the Board of Directors of the Foundation. He continues to exemplify these virtues through FitMango. I can only imagine the places he will go after graduation.
Calling all HuffPost superfans!
Sign up for membership to become a founding member and help shape HuffPost's next chapter