I had a chance to sit down with Reem Acra in her home and at her design studio, getting to know her fascinating history and understanding the important parts of her budding atelier and career.
Reem has dressed numerous starlets from Angelina Jolie to Taylor Swift and Nicole Richie. She was sick in bed when she found out that Jill Biden picked her dress to wear to the inauguration balls.
Reem Acra credits America for making her who she is. Growing up in Lebanon to a father who brought water purification to the people of Beirut during their terrible war and a mother obsessed with textile and design.
Dr. Biden has since worn Reem Acra to two state dinners; Reem was invited to Blair House to visit with the vice presidential couple. Taylor Swift won nine Country Music Awards in a Reem Acra original, while the house only lends clothes to celebrities, they made an exception: Taylor wanted to keep the garment, so they gave it to her. It'll be in the Country Music Hall of Fame.
As a young girl, Reem's mother insisted she have her own seamstress and was taken to the bazaars to buy kilos of fabric. Long before designers were conceived in Lebanon, she learned to drape and understand the behavior of fabric. When she met a Bedouin herder, her mom pushed her to buy a dress, she picked vintage. This was the launching point of a love affair with beading and intricate embroidery. Her peers thought she was "weird." She still has the dress she made for Palm Sunday at the age of seven.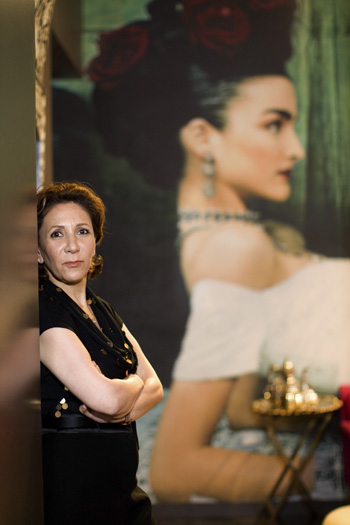 Her career launched when she made a wedding dress for a friend, who was on the fence about marrying her husband. Reem made a bet with her, if she could make a dress in three weeks, then they'd get married. She did, the dress was for a Saudi Princess and lead to media attention and her start.
She's fastidious. From her home to her showroom on 57th Street to her production and design floor on 35th, there isn't a dust bunny in sight and everything is properly marked, packaged and presented with the perfect understanding of aesthetic and light. Reem has a love of dance, Argentinian salsa to be precise and Edith Piaf. Tabouleh is her favorite food. She's soft-spoken with a quiet sense of power and warmth.
At home, Reem has combined two apartments. One has wallpaper imprinted with the picture from her first campaign, a reclining girl, filling one magnificent wall, we took the photo above in front of it. "I'm baby sitting the Buddha" in the dinning room she assures me, "it's not mine, I'm holding onto it for a friend." Acra has a love for Louboutins and Chanel. The hand in the drawing room was discovered in Nashville and often picks up baubles from her world travels.
She just received a picture from her brother on her blackberry, from her brother, who's responsible for the general aesthetic of the brand and has helped design her home and showroom. He's also spearheading the effort to create her store in Beirut. It's a lush ornate wood placard, maybe from an old church. Gold is important to her; it shows up in her collections and surroundings. Her TV is hidden in a gold leaf wall, with cobalt blue panels -- the key baked with gold leaf -- so it'll wear effortless and not show wear. Details are important to her.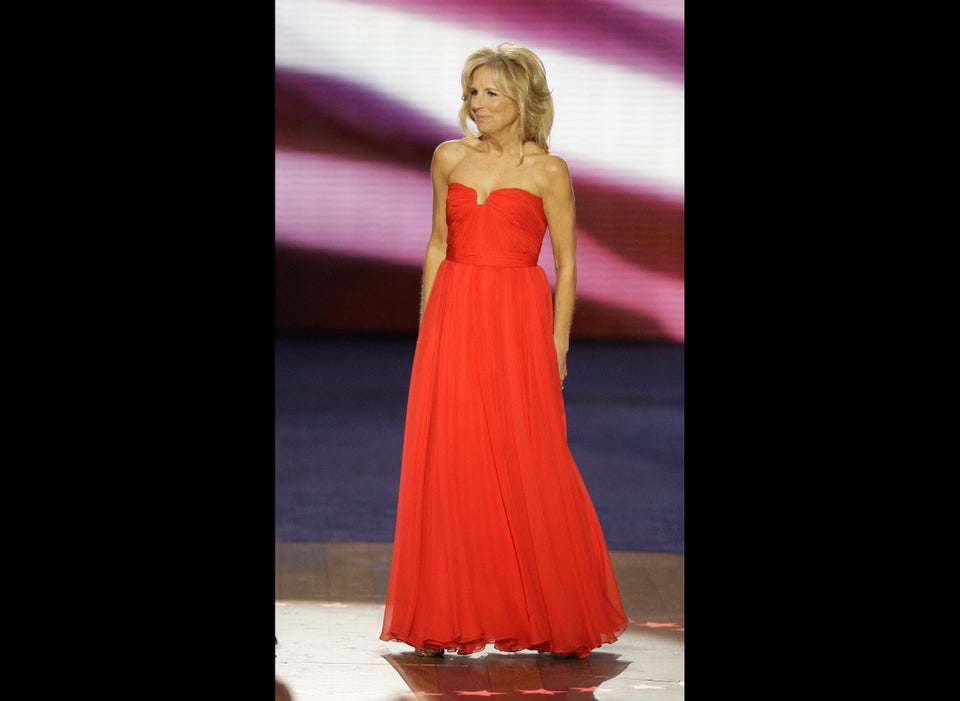 As I was sitting waiting to speak to Reem one more time in her design studio, two dresses whisked by, aimed for celebrity stylists.
She's done very well for herself and believes this is a "testing point" in fashion when we're trying to figure out what the future will look like and how brands behave. She changed her mind about having a runway show again, or a presentation. She's thinking of something intimate in the studio. For the house, celebrity placement is the important because it translates into sales. We spoke frankly about the changes in media and how people absorb information in fashion.
Reem isn't convinced the consumer notices "if it's a picture from a runway show, or just a picture." She doesn't want to burden the atelier with the financial costs of a production and has to insure the security of her business. Buyers don't care about runway shows, so neither does she.
Focusing instead on creating a good design ascetic and clothes with perfect stitching, lining and form. Her dresses have support and contouring built in. So it can be slipped on and feel perfect next to the skin.
Reem feels confident in her work. After September 11th, her bridal business boomed. She designs for herself but with an eye for the consumer and really cares about identifying and reaching her core.
From her upbringing in Lebanon, to dressing the vice president's wife on inauguration night - she's a quintessential American story. Many times, she drove home the point, that without this country, she wouldn't have been able to achieve this success.
Popular in the Community