 I first joined a gym when I was 9 (on my parents' family plan, not in a call-child-protective-services-compulsive-exerciser-preteen way), and have always made fitness a regular part of life. Often that's meant a gym membership in whatever city I live in (I've belonged to more than a dozen gyms in my life!), or it may mean creating a routine I can do in a small apartment, a hotel room, or in the backyard of a house. The point is, there's always some sort of physical activity you can be doing, regardless of your housing situation. When I was young, my mother would do a 20-minute Denise Austin workout video. It was '80s-tastic and while some may scoff at the 20 minutes (which was probably closer to 15 after the warmup and cool down), doing 20 minutes of something is better than zero minutes of nothing. Sometimes a gym, or driving there, is a hassle, so here are a few of my favorite workouts ideas for home or hotel. (If you have some other suggestions, add them into the comments, please!)
A Home of Any Size With Internet
While you don't need a lot of equipment to create your own at-home gym, I've found it's beneficial to have a few items, including an exercise ball, a small ball that I use for Barre3, bands, weights (5 lbs.) and a yoga mat. When I visited my parents once, my mother made me weights by filling empty water bottles with rocks, so there are ways to make do without spending money if you are fantastically frugal like my mother. So supplies don't necessarily need to cost a lot, but you should have some. I also have music handy if I'm not listening to someone giving instructions. For this, I turn to Pandora and usually choose Rihanna as my artist. Once you have your gear, it's time to start and one of my favorite workouts is at MyBarre3.com. Barre3 incorporates toning, pilates, yoga and ballet moves, and leaves you feeling taught and flexible without jarring the joints. The nifty thing about these easy-to-follow workouts is that you can pick a 10-, 30-, 40- or 60-minute session depending on how much time you have to devote to exercise that day. Also, they add new workouts constantly so if you're the type that gets bored easily (me!), you can be newly stimulated.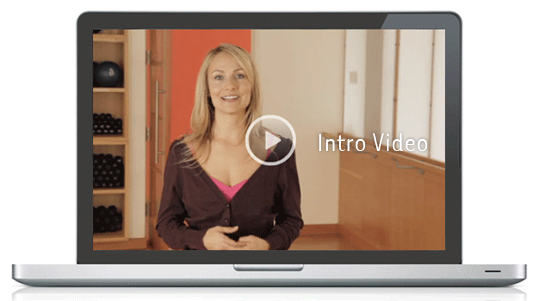 Television and DVD Options
At my last apartment I had On Demand cable, which had an exercise station. I really enjoyed the 10 Pound Slimdowns, which I would do on those days when I couldn't drag myself to the gym that was two blocks away. (Sometimes rain and snow and general laziness get the better of me.) The Slimdowns said they would only be airing for a limited amount of time, but you could buy them online. Or you could do what I did and write down all the moves to use as a guide in the future, no matter where you are. I did them enough to know what my notes are referring to and now I rotate between the upper body and lower body routines a few times a week. You can do this with any workout really, or if you belong to a gym, ask a trainer to create a list of exercises you can do at home. Or tear them out of a magazine -- whatever interests you. It's really about having a set plan in front of you that's easy to follow. There are tons of DVDs out there and it's hard to know which ones to pick. Read reviews online about ones you're interested in to try to weed through all the selection. If you're on the road for work and have a laptop with a CD drive, bring a DVD with you and try to fit a workout in.
A Small Apartment or Hotel Room, Sans Internet
This is where your written (or saved on your computer or smartphone) routines can come in handy. But nevermind if you have absolutely nothing but your own body because you can do plenty with it. Start with a couple minutes of warming up like jumping jacks, jump ropes, punches, skating and then do squats, lunges, tricep dips, pushups and another set of the jumping jacks, etc., followed by more toning work, then more jumping jacks and finish with abs and stretching. Twenty minutes of this and you'll get your heart pumping. I also love to incorporate some yoga stretches at the end of workouts, which also don't require supplies. Not sure how to do any of these moves? YouTube it, rent a DVD, sign up for a one-time beginners class and then take your knowledge with you. Many hotels, including select Hyatt, Hilton, Omni, Westin and Marriott locations, offer in-room fitness options of some sort, so instead of ordering a burger and fries, ask for a workout instead.
A Large Yard or Outdoor Space
At the moment, I live out in the country and have rows of olive trees extending out to the street. (It's as divine as it sounds!) At least a few times a week I do cardio circuits up and down the rows; there isn't a suitable place to run on the road, so this is my alternative. So I jog up one row, then skip with high knees while lifting the opposite arm up high over my head down the next row I, then I jog a row, then sideways shuffles leading left, then jog, sideways shuffles leading right, then jog, then skips and punches, and finally a few jogging laps around the entire olive grove. You can mix in sprints or whatever you want -- there are no rules when designing your own workout, as long as it gets your heart pumping and/or works your muscles. I plan to ask my neighbor if I can run through his vineyard, just to mix it up.
I've also done a routine in the backyard before, with the help of weights and a stability ball. I had a limited membership with FitOrbit.com, a website that develops eating and exercise plans specifically designed for you. I printed all of the fitness routines out so I could refer to them and do them in the yard. They could also be done inside, but just to mix it up with a bit of fresh air is always good when you can do it.