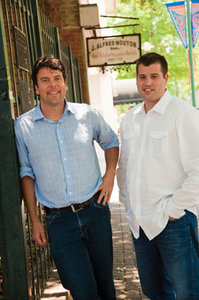 In my Junior year of high school, I cashed in about a month's paycheck to hop on a plane to the Gulf Coast and help rebuild a few houses taken out by Hurricane Katrina. I got to move around from New Orleans, LA to even Bayou la Batre, AL mainly sheetrocking houses as I fell in love with the area. I remember talking to a few locals who explained how the area was rooted in entrepreneurship. Sure, there were big companies scattered throughout the area but it was the mom and pop's, the smaller businesses with big dream that the locals boasted about. While Katrina flattened hundreds of businesses, the storm never wiped out the spirit of the area.
Enter Chris Schultz, a New Orleans native who teamed up with a friend in June 2009 to create Launch Pad and help the businesses rise from its ashes. I got a chance to catch up with Chris a few weeks ago and he was excited to tell me of a second location he and his team were working on in Charleston, South Carolina. What follows is an excerpt of the conversation we had that day.
Brian Kil: How did you come up with Launch Pad?
Chris Schultz: We actually prototyped the concept at my previous office for Voodoo Ventures by renting out 3 of the offices to other people on Craigslist. We called the "Voodoo Pods." One of the guys I rented it to, Barre Tanguis, became a cofounder with me of Launch Pad. At the time New Orleans was going through a tremendous entrepreneurial renaissance post-Katrina, and we felt like the best way to kick-start the community was to all work in the same physical space. So we opened Launch Pad in a building called the IP, where a bunch of other tech companies in town worked.

How is Launch Pad more than just another co-working space? Who is Launch Pad for?
We've always said at Launch Pad, "our members are our magic." And what this means, is the diversity of the community is what has made us so successful. Launch Pad is for startups and creative professionals - the mix of entrepreneurs, graphic designers, creatives, lawyers all leads to an environment of collaboration, support and learning from one another. Since the beginning we've worked to be inclusive, not to be one of the coworking spaces that brands itself is exclusive and high falutin. We expect a lot of our members - just like culture in a company, our members set the tone in the Launch Pad culture, and they take this responsibility seriously. We share in each other's success, celebrate together and strive together. The biggest differentiator in my mind about Launch Pad is we care deeply about the success of our members.

Why was Charleston your latest move?
Charleston is a wonderful place to live, and it's booming. We are deliberately targeting quality of life cities, where people are choosing to live, and bringing their jobs and businesses with them. These markets have similar challenges, and need to be connected to the Bay Area and New York, and we can do that through the Launch Pad network. Charleston has deep culinary and cultural traditions, it's a beautiful city, and it is well connected to New York, with a lot of people splitting time there. That sets up well for the success of Launch Pad. When a city is undergoing a population growth, and many people moving in aren't natives, Launch Pad can serve as the "ellis island" of the community, helping people to establish business and social ties. We've done that in New Orleans successfully, and are excited to become part of the Charleston community.

Where do you plan on expanding next? Why?
Upcoming cities on our roadmap are rising markets like Nashville, Pittsburgh, and hubs like San Francisco and New York. Our strategy is to build a network through which talent and capital flow freely. By connecting markets to the Bay Area and New York, we can build on our success in New Orleans with our SF & NY demo days that helped entrepreneurs connect to investors, customers and partners in major markets.

Are SF and NYC in the works? Is there going to be a flagship Launchpad? What will be unique about it?
Yes, they are in the planning stages at the moment. We will be building a presence in major markets, phase one will be launching several more rising markets. The flagship Launch Pads will have a thriving diverse community, and be design focused with beautiful space that reflects engages the local sensibilities.

What were some of the toughest parts of moving in the direction of quicker growth?
We've had a lot of success in New Orleans, so for a number of years, we doubled down on that and invested our efforts locally. When I moved to San Francisco, it helped me elevate my worldview to think bigger, and create a vision for Launch Pad that is of a national and global scale. Unleashing our ambition was one of the biggest things we had to go through, and now it's just about finding the capital and talent to fuel that growth and execute on our expansion gameplan.

What do you plan to be ultimately in the future?
I believe that Launch Pad will be a connected network of physical workspaces that enable the most talented creative professionals and entrepreneurs to succeed by being connected to the global tech ecosystem. Building on how LinkedIn connected us virtually, and eLance build a marketplace for freelancers, I believe that a digitally and physically connected network will be the key to unlocking the flow of capital and talent and allow markets to grow and collaborate without geographic constraints.

How do you feel about the debate about a tech bubble? How would this network sustain a hypothetical one should it burst?
I think there is a valuation challenge right now for the so-called Unicorns. So much money has been flowing into tech at the late growth stages, and it hasn't been able to find liquidity in the public markets. Is this a bubble, I don't know, but I don't believe it is as likely to "pop" as it is to "deflate." Whatever happens, technology and innovation march on, and in fact with each cycle it is getting more geographically diverse. In many ways coworking is countercyclical. We opened in an economic downturn when a lot of people were out of work, and we created educational programming to help people become entrepreneurs and freelancers rather than searching for jobs. I believe the march towards more interconnected ecosystems, the growth of the technology sector, and the ability to chose where you want to live are inexorable, and these are all dynamics that are driving Launch Pad.

What is the best part about building Launch Pad? What was/is the worst?
Sharing in the success of our members. Launch Pad is like a family to me, and seeing entrepreneurs build successful companies that we play a small part in is extremely gratifying. The most challenging part for me was the time it took to recognize that we are building something special and have the opportunity to grow into other markets. It took leaving my home, New Orleans, to expand my worldview of what Launch Pad is, and that was a difficult process, but I'm glad we're here.
Related
Popular in the Community