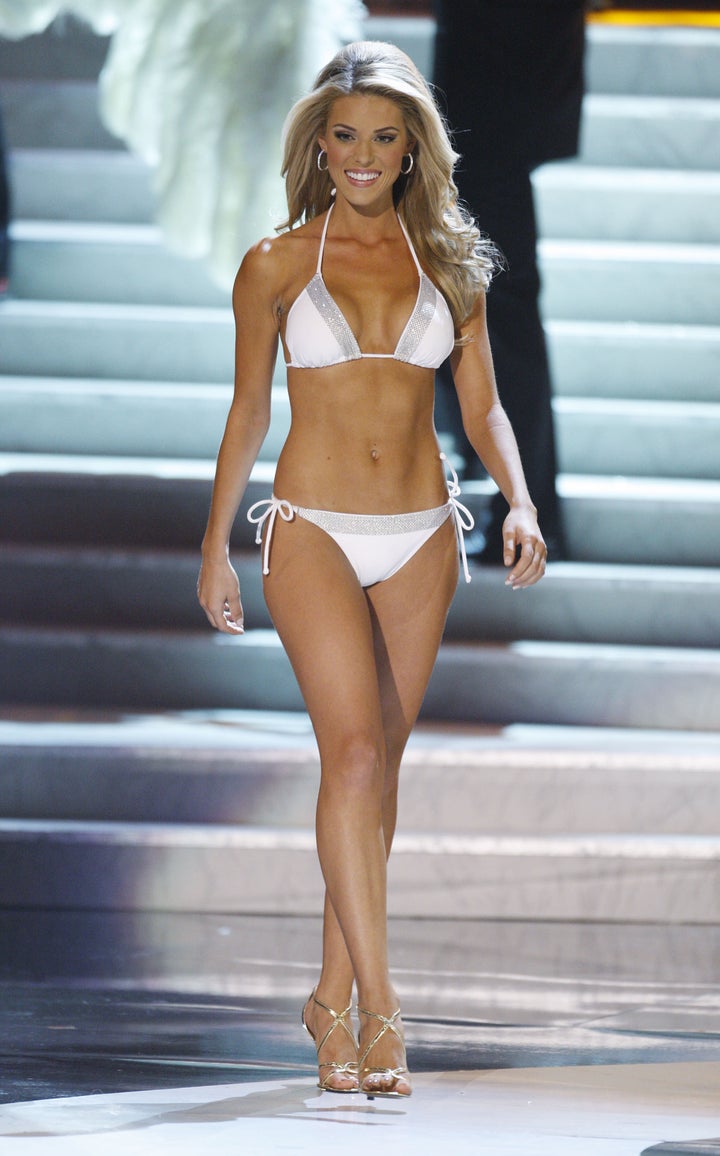 When contemplating the white trash Lollapalooza that is the strange tale of Carrie Prejean, this year's Miss California and first runner-up to the Miss U.S.A. 2009 crown vs. the Coming Storm of Gay Marriage, it's best to acknowledge the bikini-waxed elephant in the room, which is that the National Organization for Marriage (NOM) considers a bleached blonde 21-year-old girl with artificially augmented breasts who's apparently never had a serious long-term relationship in her life to be the ideal spokesmodel for their cause.
There, we've said it. Never mind the easy metaphors, all of which are too obvious. Instead, let's bite right into the Velveeta-stuffed center.
Cue the circus music and send in the clowns.
Only in America would the notion of a nearly-naked fundamentalist Christian beauty queen tossing her processed hair as she parades brand new, pageant-bought plastic breasts across a Las Vegas stage in front of millions of television viewers with all the modesty of a blue ribbon heifer at a county livestock fair (the same fundamentalist Christian beauty queen who would later tell a television reporter that she heard God whispering in her ear as she answered a celebrity-worshipping Internet gossip columnist's question about gay marriage) be treated as anything other than an occasion for high comedy and mirth.
Were these times any other than the politically charged times they are, the subsequent media firestorm set off by Miss Prejean's carryings-on would be similarly laughable. But since these are the only times we have, it's worth noting that there's been a metallic aftertaste of self-serving manipulation to this story from the beginning. Furthermore, there's more than enough of that cynical opportunism to go around, and it encompasses everyone: from Perez Hilton, the Internet gossip columnist who asked her the question in the first place, to the organizers of NOM, to the pastor at Miss Prejean's "home" megachurch, to the Miss U.S.A. pageant, to the media who are covering a story that has legs in every sense of the term, and of course, to Miss Prejean herself.
To recap, for anyone who hasn't turned on a television or computer, or read a newspaper in the last week: on April 29th at the Miss U.S.A. pageant, "celebrity blogger" Perez Hilton asked Miss California if she thought that the equal marriage ought to be extended to gay and lesbian couples across the country.
"I think it's great that Americans are able to choose one or the other," Prejean famously replied. "We live in a land that you can choose same-sex marriage or opposite marriage and, you know what, in my country and my family I think that I believe that a marriage should be between a man and a woman. No offense to anyone out there," she tittered, knowing full well that she was offending millions of people watching and maybe rooting for her. "But," she trilled, "that's how I was raised and that's how I think it should be between a man and a woman."
Some members of the audience booed, surely a first for the Miss U.S.A. pageant. Maximizing the Jerry Springer quality of the situation, a brawl broke out in the lobby after the show with Miss New Mexico's mother, Bianca Matamoros-Koonce, shrieking "In the Bible it says marriage is between Adam and Eve, not between ADAM AND STEVE!"
In short order, Mr. Hilton went on a series of shrill public rants, calling Miss Prejean a "dumb bitch" on his website and dropping the "c-bomb," at a stroke eliminating any chance of being taken seriously as an advocate for marriage equality, and handing the mouth-breathing window lickers of the anti-gay marriage movement their very first swimsuit-clad Martyr Barbie. To his credit, in his seemingly inexhaustible quest for personal celebrity, Hilton was able to leverage his involvement with this story into an additional fifteen minutes of everyone in America knowing his name.
For her part, Miss Prejean's lip gloss was barely dry before she flung herself at the first camera that found her and began claiming that speaking from the heart had "cost her the crown" (a claim that seems dubious in light of later comments from pageant officials which suggest that she was far enough behind in her scores that she was never any real threat to the ultimate winner, Kristen Dalton of North Carolina.) Still, it was a shrewd move on Prejean's part, one that would allow her to later assert that she was a victim of political correctness and a martyr to pandemic liberalism. She claimed to be shocked by the response to her simply speaking her mind.
In one of her first interviews, she seemed to use her sister as a human shield by claiming that Christina Prejan, 22, a second lieutenant in the U.S. Air Force, was "a gay rights activist."
This was clearly news to the heterosexual Lt. Prejean who said she was "surprised" that her sister referred to her by a title that Lt. Prejean "had never given [herself]." Christina Prejean loyally suggested that perhaps her sister had said it in order to showcase how "tolerant" the Prejean family was (a misfire of shock-and-awe proportions, if that was indeed her intent.) Lt. Prejean said she too was appalled by Mr. Hilton's comments about her sister.
Carrie Prejean gave a series of interviews, including one with Greta van Susteren, where Prejean generously conceded that she thought "there should be rights for people, you know, especially in California. I think that people that are homosexual should have some rights, you know, hospital rights, and things like that." On the subject of civil unions, she admitted that she needed "to be more educated on that," and when she had "a better answer" for van Susteren, she'd "get back to [her] on that one." When asked about "hate" comments in response to her stance, she gushed about having received two or three thousand new Facebook Friend requests from others who share her views.
According to a statement from Keith Lewis, one of the state directors for the Miss California pageant, Prejean's first act upon returning to California "was to headline five services at a church that promotes homosexuality as both unnatural and abnormal." Lewis' statement went on to say that the pageant organizers "stand by our concern for her individual image and look forward to a time in the near future when she can put down her personal agenda and assume the responsibilities associated with being MISS CALIFORNIA USA, including promoting our official platform, 'The Beauty of California,' which sole purpose [sic] is to embrace diversity."
Former San Diego Chargers defensive back Miles McPherson, who was active in the campaign to pass a constitutional ban on gay marriages in California last year, founded the church in question, The Rock Church. According to press reports, Prejean has been attending the church for approximately four years, the same length of time she's been appearing in pageants and preparing for her run at Miss U.S.A.
It seems doubtful in retrospect that Mr. McPherson would have been oblivious to the potential media advantages for his organization of having one of his own ascend to the Miss U.S.A. throne, where she could freely promote and disseminate his church's agenda from what must seem to his congregants like a lofty pedestal.
In short order, Miss California appeared to put her stated platform of charitable works on hold and immediately aligned herself with the rabidly anti-gay NOM organization (famously pilloried for their histrionic and widely-parodied "coming storm" television commercials made famous on YouTube) giving interviews such as the one she gave to journalist Rex Wockner in which she asserts that gay people aren't born that way, rather "it develops over time." When Wockner asked her hypothetically if she'd ever have coffee with Perez Hilton, she replied, "Um, I'm not sure if I would have coffee with him. If I did, I'd bring Miles [McPherson, pastor of The Rock Church] with me."
Enter Maggie Gallagher of NOM.
No slouch herself when it comes to pushing her agenda and seemingly never having met a television camera she didn't like, NOM's gimlet-eyed president appeared on a Larry King Live segment this past weekend hosted by Joy Behar alongside actor- turned- fundamentalist- pundit Stephen Baldwin, ex-Miss U.S.A. Shanna Moakler, and the Rev. Nicole Lamarche, a progressive Christian minister who believes in equal marriage (who coincidentally also happens to be a former Miss California.)
Early in the segment, Baldwin, as though sensing his airtime might be curtailed if things heated up between Moakler and Gallagher, addressed an assertion by Lamarche that God was "a God of love" and that marriage should be available to any loving, committed couple regardless of their sexual orientation, by bellowing, "When two of the same sex lie down together, that is SIN!" He went on to elaborate that "God wrote the Bible, so that's what God has to say." Obviously delighted to be part of the Prejean story, even tangentially, he asserted that he too was "being persecuted" for believing in "traditional marriage," though when pressed by Behar for an example of his persecution, he seemed unable to provide one and settled for pouting handsomely whenever the camera was on him.
Then Gallagher waded in. Sounding every bit the lace-curtain, pursed-lipped scold, and looking for all the world like a well-coiffed, portly incarnation of what writer Katherine Anne Porter once described as "one of those Irish Catholic girls born with an ingrained fear of sex," Gallagher upbraided Moakler, who is also the director of the Miss California U.S.A. organization, for her "tone" and the organization's response to Prejean. Moakler fired back, accusing NOM of exploiting Prejean's relative youth and tarring her "with a legacy of being an Anita Bryant."
Moakler is not the first person to make the connection between Carrie Prejean, Miss California U.S.A., first runner up to Miss U.S.A. 2009, and Anita Bryant, Miss Oklahoma 1958, second runner up to Miss America 1959. Both women leveraged their physical beauty to great effect in order to become effective voices for intolerance.
Miss Prejean is an adult, so the fact that she's being used to great advantage by both NOM and the Rock Church doesn't absolve her. Nor, in fairness, does she require absolution. She had an absolute right to say what she said, in the same way that people had an absolute right to take umbrage with it. In the same way that the Miss U.S.A. judges had an absolute right to decide that they didn't want a bigot representing their pageant at the Miss Universe competition later this year.
Lost in the midst of all of the self-serving, hypocritical hand-wringing on the part of Prejean's supporters about how This is AMERICA! and She just spoke her mind! and is now being "persecuted" for it is the resolutely unacknowledged fact that Miss Prejean didn't make her comments as a private person, she made them as a public person in a public forum in front of millions of people, moving them into the public, not private, domain.
No one has silenced her, or denied her the right to her opinions. If she had been as shocked by the response to her stance as she claims to have been, surely the thing to do would have been to hold her head high as first runner up, continue to represent California with grace and dignity, and cleave to her stated charitable platform like a lady instead of hinting, with Machiavellian aplomb, that the judges denied her the Miss U.S.A. crown because she spoke "from her heart."
Prejean claims to represent "all Californians," but her actions suggest that she represents only those who share her views, the views that were shaped by nearly $80 million from outside of California to grease the passage of Proposition 8. Furthermore, the speed with which the well-oiled right-wing media machinery has sprung to life around her does little to support her claim of surprise, suggesting instead a well-developed political instinct and an ability to manipulate and maximize the spotlight in the service of her own agenda.

It's ironic that Perez Hilton, in his naked quest for attention and personal fame, was the only player in this lowbrow soap opera who didn't pretend his role was about anything else. Furthermore, his immediate, gut-level emotional response to Prejean's reply was the only one I believed. The expression on his face caught by the camera when Prejean answered him would be familiar to any member of a minority who overhears the applicable bigotry in a place he, or she, doesn't expect to hear it. He looked like he'd been punched in the solar plexus.
While his later behavior could conservatively be called ungentlemanly, I have no doubt Hilton wanted Carrie Prejean to give a different answer than she did, not because he had an "agenda," but because he wanted her to be kind as well as beautiful. Naïve, perhaps, but I can sympathize.
Carrie Prejean has become a sort of anti-Susan Boyle. In the same way the public was stunned by how anyone as homely as Boyle could release such beauty when she opened her mouth to sing, they were similarly stunned by how someone as physically beautiful as Carrie Prejean was able to release such meanspirited divisiveness when she opened hers to speak. It wasn't just that was a bigot, per se. There is no shortage of bigots. They just usually don't wear tiaras.
The larger question is why we as a society continue to look for moral avatars in beauty queens, professional athletes, politicians, and movie stars---all professions that we know require copious amounts of artifice of one kind or another in order to generate the vision of wholesomeness they sell back to us.
All of the bit-players in this embarrassing pop-culture fart have used it to their advantage, but in the end, NOM is still going to be a widely-lampooned YouTube joke and Stephen Baldwin is still going to be a reality-tv himbo that many gay men used to enjoy watching shirtless, preferably with the mute button pressed. On the upside, Mr. McPherson has an anti-gay marriage Malibu Joan of Arc doll for The Rock Church, the Miss U.S.A. pageant has recouped a publicity bonanza in the wake of flagging ratings. Oh, and Perez Hilton is a little more famous.
In short order, I predict that Miss Prejean may move to Texas, marry an astronaut or a quarterback, publish a Christian beauty book or a heavily ghostwritten memoir (do I hear Tiara of Thorns?) and become the answer to a Trivial Pursuit question in her own right. Are you listening, Saturday Night Live? Either that, or she'll become the next FOX superstar. Nothing about this tale of tiaras and tempests-in-teapots suggests that Miss Prejean doesn't have a clear agenda of her own and the media savvy to implement it.
Anita Bryant remains a lingering symbol of how the cruelest bigotry can wear a pretty face. But at least Anita Bryant could sing for her orange juice. Alas, since there was no talent portion of the Miss U.S.A. pageant, we may never know what gifts Prejan might have brought to the table if she'd been listening to her own voice that night in Vegas instead of whoever, or whatever, she claims was telling her what to say.
Calling all HuffPost superfans!
Sign up for membership to become a founding member and help shape HuffPost's next chapter