The Hawai`i Alliance for Progressive Action (H.A.P.A.) invited all the candidates for Lieutenant Governor to come meet with, and take questions from an emerging corps of new leaders at a special forum on Saturday Oct 28, organized for participants of the Fall 2017 Kuleana Academy. Two candidates responded: Senators Josh Green and Will Espero, bringing with them encouraging answers to a range of questions from the Kuleana Academy participants, as well as from the forum moderator, Hawai`i Public Radio's, Chris Vandercook.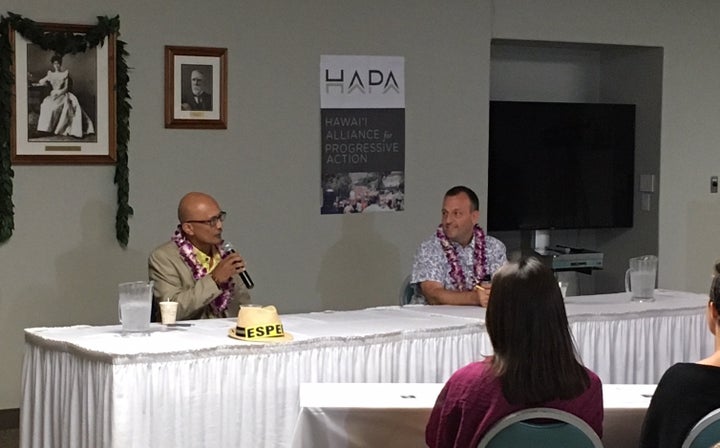 Green arrived in rumpled scrubs, but changed into an aloha shirt. Espero was in a natty suit with his name on the straw hat that sat in front of him on the table throughout the evening. The difference in attire perhaps spoke for the modest distance between their generally progressive positions. Both said they would support the fight to raise the minimum wage to $15, but while Espero expressed skepticism about it becoming law in 2018, Green was impatient for it to happen.
"In truth, a living wage in Hawai`i has to be closer to $22 an hour," said Green, "for people to be able to feed their families and make ends meet." Connecting recidivism, homelessness and lack of access to college to poverty, he made the argument that without a living wage, people were forced into crime out of desperation.
"I go back to the Big Island after this Forum to a 48 hr shift in my other life as a doctor," he said. "I see the effects of poverty in my work. I want to bandage the wounds of the guy who is homeless on the street, and find them a place to stay," he said. "I am tired of waiting. My family is tired of seeing my frustration that things are not getting done. If elected, I will be an activist Lieutenant Governor," he added.
Espero noted that there was something very wrong about "$20 million condos being built while our streets are lined with the homeless."
If there was an area on which the two candidates disagreed, it was in their view of the Special Legislative Session. "I fought against the rapid increase in rail funding during the Special Session, not because I am against rail—I'm not—but because I think we were racing ahead with the wrong priorities," said Green.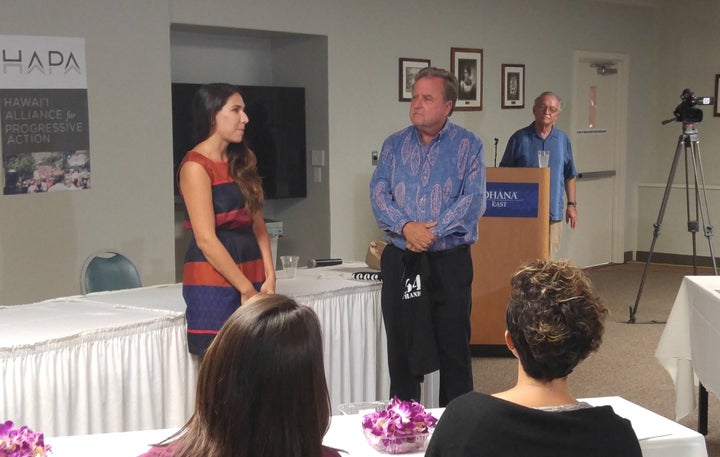 Both candidates are in favor of legalizing cannabis. Espero pointed to the significant potential revenue to the state while Green pointed to the myths about cannabis and the need to rely on science with regard to this issue.
Close the gap between the "haves" and the "have nots
Espero reminded the audience that he had worked on trying to get a state Earned Income Tax Credit bill passed for years. He was emphatic about doing something to close the widening gap between the "haves" and the "have nots" in Hawai`i.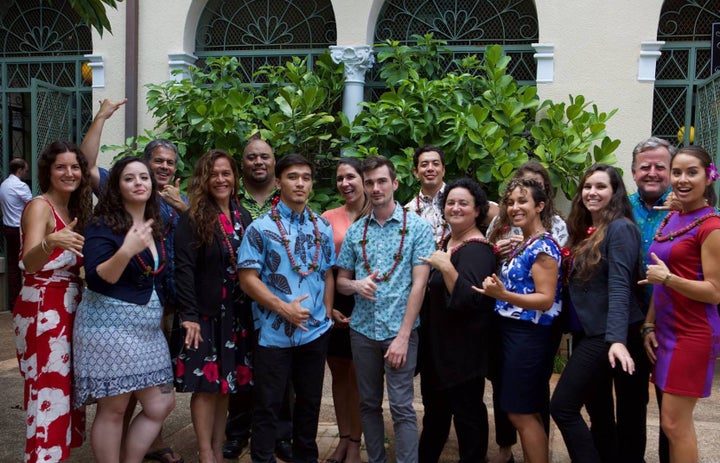 Kuleana Academy participant from Hawai`i island, Zahava Zaidoff appreciated the practical solutions offered by both candidates on subjects that ranged from criminal justice reform to their positions on whether the Thirty Meter Telescope should be built.
"They had different ideas on how to tackle the homeless issue in our state, but it was apparent that both candidates care deeply about it. It was refreshing and helpful to be part of a civil discourse about issues that matter to me as I continue researching so that I can make an informed decision."
"I am grateful to HAPA and Kuleana Academy for creating this opportunity for us to hear from these candidates," she added.
Kuleana Academy participant, Lana Rose Olson from Kaua`i was impressed by both candidates and said she looked forward to election day feeling much more informed about both the office of Lieutenant Governor and her choices on the ballot. "Senator Josh Green and Senator Will Espero are two ideologically similar candidates. Having the opportunity to hear them answer the questions in person gave me a better sense of who they are individually and how they would execute that ideology differently. As a neighbor islander, on Kaua`i, we don't often get that opportunity," she pointed out. "The nuances of thought matter for an office where influence and access to the Governor, as well as acting in his or her stead, are the primary roles of office. The vision of these leaders will help shape the future of our state," said Olson.
"Mahalo to H.A.P.A., the candidates, and 'Ōlelo Community Media for providing a quality experience at the Lieutenant Governor Forum and placing the Lieutenant Governor's race on the radar for more voters," she added.
REAL LIFE. REAL NEWS. REAL VOICES.
Help us tell more of the stories that matter from voices that too often remain unheard.
BEFORE YOU GO