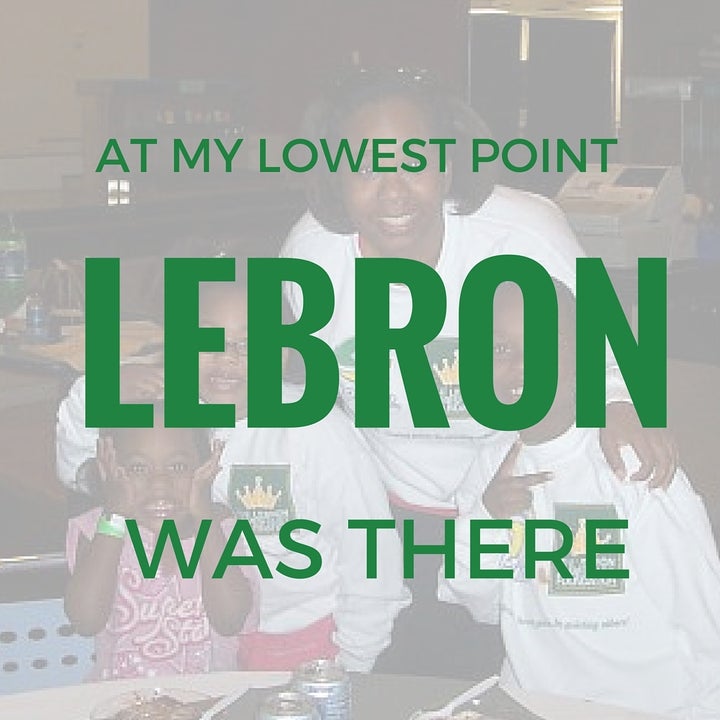 I hear the news and I see the reports. I know that LeBron James is not liked by many because of his arrogance. I know that words have offended many. But not me. Almost a year after my ex-husband and I separated, when I was facing accusations about my parenting from my kids' school, when I had a very limited income, and when I was still trying to move through divorce proceedings with some pride and dignity, LeBron and his mother Gloria had an impact on my kids and me like no other.
Gloria James was 16 years old in 1984 when she gave birth to the man we now know as "King James." As a teen mom, she was forced to raise him alone as his father was not in the picture and her only other support, her mother, died when LeBron was three.
And while you know the rest of the story as LeBron's NBA career skyrocketed, our family is living proof of the positive effects of his life. About 8 years ago, Gloria James came to Dallas and hosted an event for single parents through their charitable organization, the LeBron James Family Foundation. One Sunday afternoon, we were treated to a VIP and full access afternoon at the Dallas Zoo. The event did not feature pretentious workshops about how we needed to read to our kids more, it didn't talk about the importance of nutrition, and definitely didn't tell us what we needed to do to be a better single parent (as if we lost all of that knowledge when the relationship with our co-parents ended.)
Instead, the James family celebrated the good that we do through a day of fun. No lectures, no "what you should have done's," and no arrogance.
That pretentious stuff against single parents is real, y'all. It is an unfortunate truth that far too many of us have had to unnecessarily endure. And even today, 8 years later, I still get the side-eye, snubbed, and spoken to in tones not becoming to me or my family. All because I am a single mother.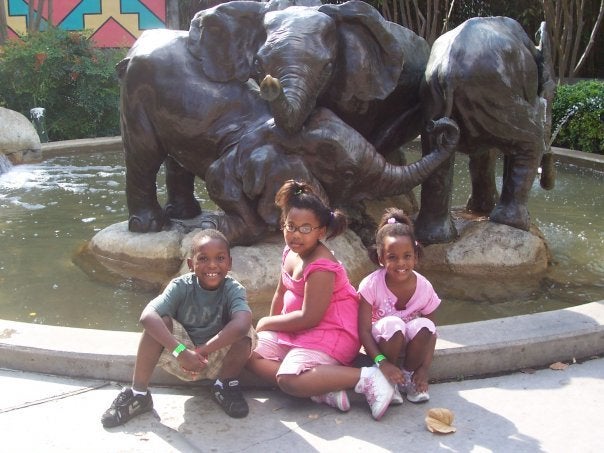 The LeBron James Family Foundation's mission is to positively affect the lives of children and young adults through education and co-curricular educational initiatives. You can read on the organization's website that it promotes the belief that an education and living an active, healthy lifestyle is pivotal to the development of children and young adults. Through a variety of outreach initiatives, the foundation hosts events like the one we attended all over the country, and in particular to the youth of James' hometown of Akron, Ohio.
Our day with Gloria James ended with an incredible meal served family-style for each family. While LeBron wasn't there in person (it was during basketball season), he did record a video offering his appreciation to the attending families with a Walmart gift card valued at $100 for each family.
That gift card filled a gap in my almost-empty pantry and bought the groceries that would feed us for the next week. As a mom, the feeling of pride that I got from being able to walk into Walmart and buy groceries without counting every single penny of the items in my basket was inexplicable.
Here's the deal, y'all. When you are a celebrity, and in particular, a celebrity athlete, you are going to be under fire. You are constantly being handled and shuffled around adhering to a schedule that is not your own. Please understand me when I say that I am not defending rudeness and arrogance in any circumstance. What I am saying is that unlike our personal relationships where we are able to talk to our loved ones when rudeness occurs, we don't have that opportunity with celebrities. We don't get to talk to LeBron about his statements and his actions. If you think about it, his job is to play basketball, and I think he's proven that he does that quite well. So because we don't get to talk to him, we don't know about the other stuff going on in his day to day life, and we can't judge.
When he misses a lay-up or a free throw, or if his defensive moves are crappy, then we can talk. Liking LeBron the basketball player has nothing to do with liking LeBron the humanitarian. I just happen to like and appreciate both.
Here's another fact that is a cause for consideration. Celebrities can't be vulnerable with us. For safety reasons alone, they just can't. And just because we feel like we know them, we relate to their history, and they are in our living rooms at least once a week, they know absolutely nothing about us. If I have a hard time managing my life as a mom and writer, and all of my friends have a hard time managing their lives, what makes celebrities any different? Trust me, they experience heartache, exhaustion, family strife, and illness. Because all of that is part of the human experience, and we are all human.
With that I say to LeBron James and all the other humanitarian celebrity athletes in the world, thank you.
This post first appeared on My Life With Him and Them. Click here to visit the blog and read more tales of Toni's journey as a single mom of three teenagers.
Related