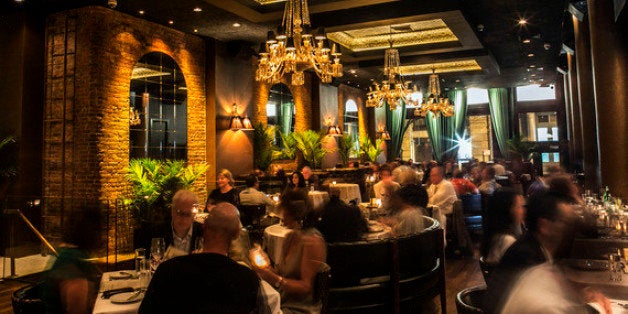 There are a few chefs in NYC with talents equal to those of Floyd Cardoz (below), but none cooks quite the way he does. He uses a wide-ranging flavor palette to tantalize the physical palate, and the results can be stunning. Trained in Mumbai back when it was Bombay, Cardoz apprenticed at the Taj Mahal Intercontinental Hotel, then furthered his global studies in Switzerland before moving to NYC, where he worked under Chef Gray Kunz at Lespinasse, then, with restaurateur Danny Meyer, opened the widely admired Tabla in 1998.
A cookbook, One Spice, Two Spice, was inevitable, marrying Indian spices and flavors to global dishes, and when Tabla closed, Meyer appointed him chef at the downtown North End Grill, while giving of his time to charities that in 2007 won him "Humanitarian of the Year" Award from Share our Strength.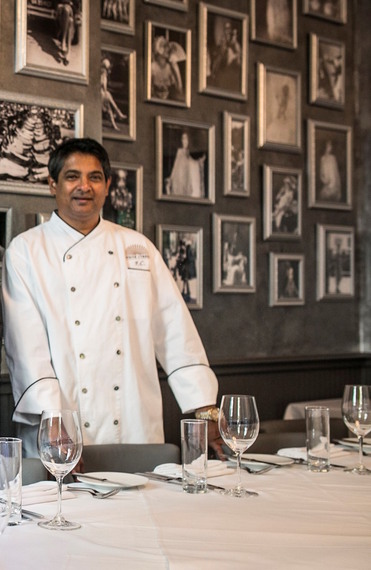 Cardoz's cuisine has always been his alone, but at his new place, White Street in Tribeca, everything seems refined by his long tenure as this country's leading Indian-American chef. The subtleties of his cooking make perfect sense within the context of his experience and background while appearing thoroughly modern without ever struggling to be Modernist. This grand space used to be a Brazilian steakhouse, and the new design retains its stately columns, with gorgeous crystal chandeliers that throw just the right amount of light on white tablecloths and tufted banquettes, some fine artwork and mirrors that open up the room even more. The sound level when I visited on a midweek night was just fine, though I suspect that may not be so no weekends.
Along with chef de cuisine Justin Lawless, Mr. Cardoz offers a rationally sized menu of a dozen appetizers ($14-$29) and ten entrees ($26-$56--this last for roast chicken for two.) Our table began with roasted cauliflower broccoli and pumpkin salad with cider vinegar and maple syrup whose sour-sweet flavors buoyed the vegetables. Sashimi of fluke took on added interest from hackleback caviar and mild uni, with nori, citrus and wasabi, though the strength of latter did nothing for the delicacy of the fish roe and vice versa. The last of the season's Peconic bay scallops were lightly seared and served with orange, fennel and coriander, while tuna poke came with briny sea vegetables, toasted coriander, tamari and the sensuous melting of yolk of a quail's egg.
Still among the appetizers, there was grilled duck breast with a lovely confit of endive, crisp pecans, orange and sauce gribiche, a small marvel of crisp textures and citric tang. Bucatini noodles were lavished with fresh squid ink and mixed with crabmeat and the surprise of coconut milk. But the very best of all was a silky cauliflower soup (below) with a dollop of swirled lemon-flavored yogurt and crunchy cashews.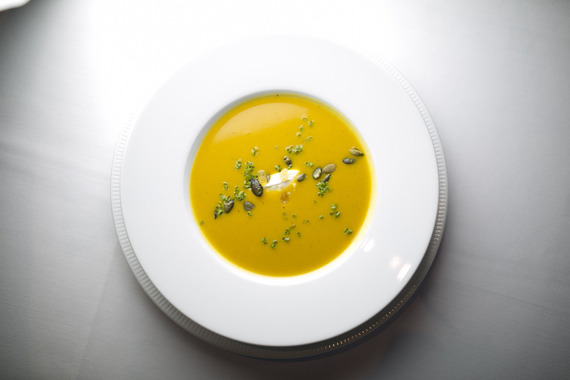 It should be obvious by now that these East-West marriages of flavors and textures are quite new, always subtle, never clashing. They are savory and aromatic, dependent on a deft balance that other Indian food around town so often lacks. The same if true of the main courses like the rice-crusted sea bream with kimchi, shrimp flakes, and a basmati cake in lentil broth; and a duo of lamb with root vegetables, pine nuts, and apricot-mustard sauce--each with such distinctive nuances. Already Mr. Cardoz's glazed short ribs of beef ribeye with oat risotto, horseradish and shoe-string potatoes has become a dish much raved about, and I'll add my
kudos to it.
Alexander Zecena's desserts ($12) stay the course, from a sticky toffee pudding with crème fraiche sorbet to lighten the sweetness, pecan macaroons and a coconut tuile, to a malted milk chocolate and vanilla sundae that becomes something more contemporary with the addition of a chocolate almond cake, roasted white chocolate and caramel sauce.
The wine list at White Street, overseen by the very knowledgeable affable Rebekah Kennedy, is striking for its comprehensive breadth and depth, though it's overloaded with bottles well above $100 and not that much under $80. Wines by the glass are high mark-ups: Au Bon Climat 2011 is $14 per glass, but a bottle will run you $20 in a wine shop. So, too, Ridge Vineyards "Three Valleys" 2012.
There are so many reasons to be excited by White Street, most of all for what Mr. Cardoz is cooking but also for an atmosphere in this neighborhood that awards the guest with spaciousness, color, and hospitality more in the mold of Tribeca Grill than the brash noisiness of Locanda Verde. It's a serious restaurant and very much in the vanguard of global cuisine. Word is Mr. Cardoz is opening a restaurant in India and one day another, more traditional one in NYC, enterprises I hope doesn't take him away from White Street too much. For now, his is a unique restaurant in the city and sure to be copied by lesser hands.


WHITE STREET
221 West Broadway (at White Street)
212-WHITESTREET
http://whitestreetnyc.com