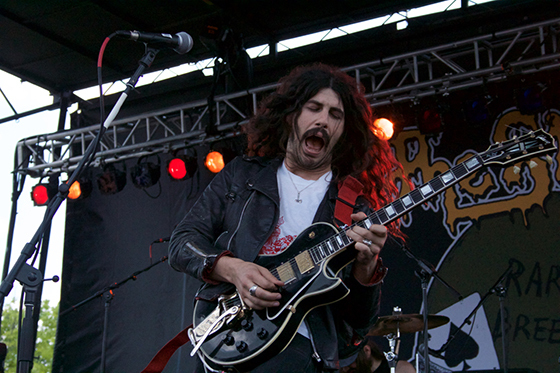 (Photo Credit: Kelly Frazier)
For their 10th anniversary, the Columbus, Ohio-based Rock on the Range was bigger and better than ever, so I traveled down I-75 to US-23 from Detroit to get a taste of what has become one of the nation's best music festivals for hard rock and metal. Bands both new and seasoned from all flavors of rock-n-roll descended on the Ohio town for the three day event and it was a testament to the regional music community we have here in the Midwest and that rock is not dead.
One of the many bands I was able to chat with included the Los Angeles-based psychedelic rock band The Shrine, who's three members Josh Landau (guitar/vocals), Courtland Murphy (bass), and Jeff Murray (drums) formed the band back around 2008 because of general love of rock-n-roll and just to do something more with their lives basically, and music has let them play for audiences across the globe.
Jeff Murray: Josh and Court went to high school together in Santa Monica. I was just a fledgling drummer in Los Angeles.
Josh Landau: Yeah, we both went to Santa Monica High School. I was a punk kid, Court was a metalhead and afterwards, we met at a party and started talking about Thin Lizzy. We kind of met in the middle and started jamming. We met Jeff. There's not a lot of stuff going on in West Los Angeles despite the reputation and all the history and all the rad shit, so it was like really frustrating trying to get something together, to get some rock-n-roll for us and our friends.
How did all of those influences of punk and metal mold together into this band?
Jeff Murray: Its all rock-n-roll.
Josh Landau: They cross over in a bunch of different ways.
With the frustrations of what was going on in your area, how were you able to break out of your locale?
Jeff Murray: Because we were frustrated with everything outside of our area also, so we wanted to take what we were doing further out.
Josh Landau: We got some really good friends in some other good bands locally, but there's not a lot going on so we didn't really have a choice. We had to venture where anybody would have us. We played in coffee shops, in warehouses in downtown LA, and anywhere we could. We took any show we could for a while and met a lot of cool people, then realized a lot of people all over the world, like in Japan, feel the same way. They feel like there's not much going on in their spot, so somehow we can, on a shoestring budget, wing it over there and people want to see us play.
Jeff Murray: Everywhere we travel, we meet bands that are on the same page as us. We always make really good friends with other bands. The whole skateboarding thing is the red thread that runs through everything. When we first started touring Europe, we'd find places to stay by just going to skate parks.
Josh Landau: The thing that drives the band to want to in a band is the desperation to escape normal life.
What are your future aspirations for this band?
Jeff Murray: If you can be as old as Alice Cooper and still be doing the same thing Alice Cooper does, then that's pretty cool.
Courtland Murphy: That's a success story.
When you were first started this band, what were your thoughts about how this band was doing to sound?
Josh Landau: It was a front for a drug operation. (laughs)
Jeff Murray: First it was a restaurant (laughs). It was all about being loud. Josh, at the time, had huge amp stack. Me and Court came over for the first time to jam and we saw all of that and was like we knew we were home. That's where to jam even to this day is in that same studio with the same kind of amp stacks.
Courtland Murphy: No real preconceived notions. We're not going to be a punk band or a metal band necessarily, just jamming to it and see what comes out.
Calling all HuffPost superfans!
Sign up for membership to become a founding member and help shape HuffPost's next chapter