Deep into the international climate talks in Paris, Sylvia Earle and Jane Goodall called on negotiators to protect wild animals and oceans from the ravages of climate change. Speaking at the "Earth to Paris" event on Monday, these two giants of the conservation movement reminded us that climate change threatens not only families and communities, but entire natural systems upon which all life depends. It's time, they said, to "make peace with nature."
Earle and Goodall are busy demonstrating what that looks like. Earle talked about her global campaign to create marine protected areas, and Goodall mentioned the youth-led service projects in her Roots and Shoots initiative.
Much of the media coverage of the Paris climate talks focuses on negotiations between country delegations. That work is vitally important. But here on the ground, it's clear that another powerful force is also shaping the outcome of the talks: civil society.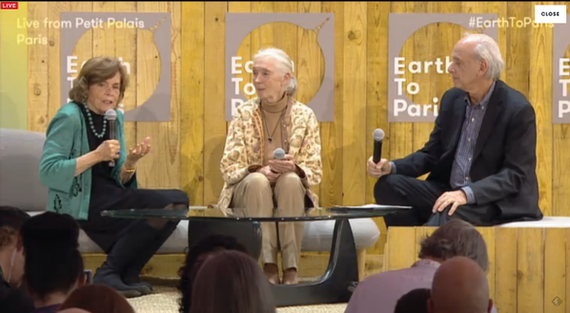 There are legions of people here from all walks of life demanding climate action. Thousands of young people attended the UN Conference of Youth, hundreds of business executives are talking about low-carbon technologies, scores of Latinos leaders from across the Western Hemisphere are calling for cleaner air and forest protections, and countless scientists, artists, Indigenous paddlers and others are making their voices heard.
Tuesday was Gender Day at the talks, a time to highlight women living on the frontlines of climate impacts. Studies show that women are more likely than men to die in natural disasters. Women's voices must be heard. They feel the brunt of climate change, but they are also leaders, and from First Nations communities in Canada to the Marshall Islands in the Pacific, they are building a better future for the next generation.
Their energy is transformative. Groups like these helped push more than 156 nations to arrive in Paris with plans to reduce their carbon pollution and expectations for even more ambitious action.
We have seen it in the United States, where people across civil society--from public health experts to environmental justice leaders to CEOs--have rallied support for the Clean Power Plan to cut carbon pollution from power plants. And where the movement to reject the Keystone XL pipeline and the divestment community are helping break the fossil fuel industry's vise grip on political power.
Many of these groups are busy showing what a brighter, more sustainable future looks like. Yesterday I participated in a panel about promoting resilience. I talked about a community of women working as saltpan farmers in Gujurat, India, who survive on a dollar a day. Most spend 40 percent of their income on dirty diesel fuel to power the water pumps they use to sift salt.
Then NRDC and our partner SEWA launched a project to help women use solar-powered pumps that run cleaner, perform better and generate up to 160 percent savings on energy costs. Now women can make more money and devote more time to other pursuits, including education. One woman said, "It directly doubles my family income and means I can send my children to school."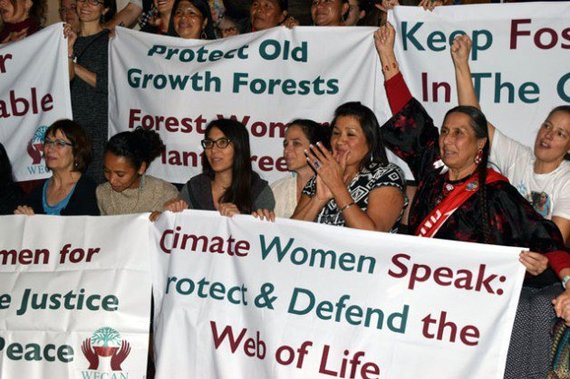 Whether it is salt farmers in India embracing solar power or wind companies creating tens of thousands of jobs in America, people are providing a vision for the clean energy future.
The climate revolution is growing around the world. Today it is in Paris, but Paris is a way station, not a destination, and there will be long years ahead when we will need to accelerate change, unleash solutions, and provide financing. That's the role of civil society: to keep the pressure on, raise the bar high, and hold all those accountable to meeting it.
REAL LIFE. REAL NEWS. REAL VOICES.
Help us tell more of the stories that matter from voices that too often remain unheard.