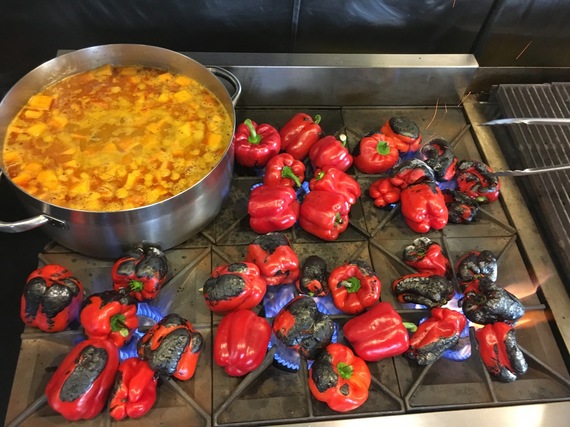 I had only the slightest reluctance about going to Rosemary and Vine, a charming new Mediterranean vegetarian restaurant in Rye, N.Y., but was immediately won over by the tantalizing items on the menu: gazpacho blanco, babaganoush, truffled fettuccine, and a great deal more I was ravenous to try. My hesitancy was based on visits over the years to vegetarian restaurants where the owners' philosophy was writ large and the food just wasn't particularly tasty. (For my own philosophical reasons, which include disregarding ferocious, often vicious polemics, I avoid vegan restaurants entirely.)
What is proudly proclaimed on a sign over the kitchen at Rosemary and Vine is that everything you will eat is made fresh, (exceptions are the thin, crispy Lebanese pita breads and the pastas), which is immediately evident when you taste the food of Consulting Chef Erica Wides as conceived by Lebanese-born proprietors Tania Rahal and Berj Yeretzian. He had left investment banking, of which the world needs less, to open his dream Mediterranean restaurant, which we need many more of; she was in event planning, so it was a natural leap.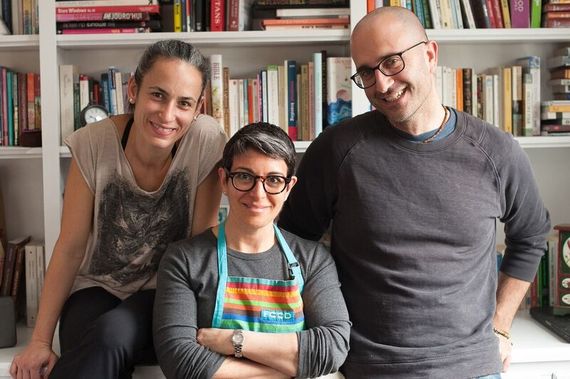 Both wanted to be rigorously true to their Mediterranean roots, and, after some tweaking in response to locals' requests, the menu is now a panoply of well-known favorites and new dishes to be found only here. With nothing on the menu more than $22, you're likely to share everything and take something home, as I certainly did with the potato kibbeh and bulgur layered with sautéed turmeric onions, toasted pine nuts and sauce with greens ($18).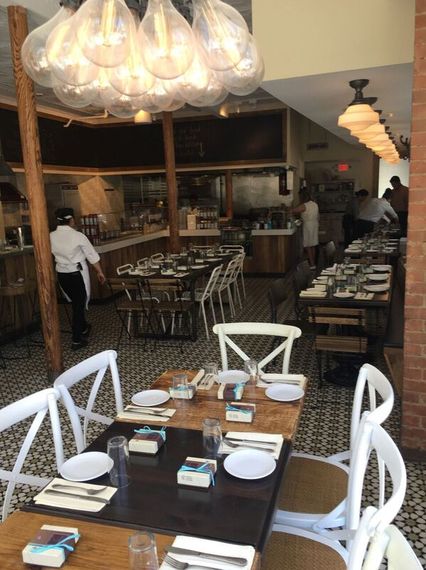 The space is a sun-lit shingled storefront with tall windows on the street and a couple of tables outside; the interior is bright with colors of cream contrasted with barn wood, brick and blackboards, with black and white tile floors beneath a pressed tin ceiling. There is a communal table and an open kitchen that has a small counter bar holding the restaurant's well-chosen wines, all of them available by the glass or bottle, stressing small batch Mediterranean wineries.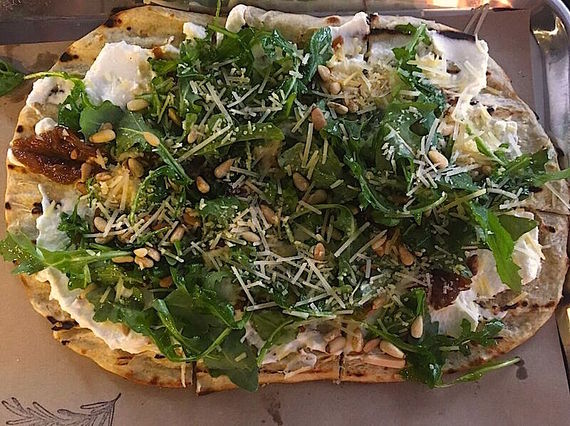 It would be good form to use cloth rather than flimsy paper napkins. The problem for a carnivore at Rosemary and Vine is not finding something you want to eat but trying to decide among so many delectable options. The use of nuts and spices, creaminess and cheese, crusts and other textures add measurably to the enjoyment of foods that might otherwise be one-dimensional.
Gazpacho blanco ($9) is a summery puree of cucumbers, grapes for sweetness, and almonds, garnished with fresh mint and labneh. As you would expect, hummus ($8.50), in various forms, is a stand-out in a Lebanese restaurant, this one based on a family recipe of simmered chickpeas, sesame-rich tahini, garlic and lemon served with warm pita. Grilled country bread is the bed for avocado, charmoula (a Moroccan pesto), chopped parsley, coriander, cumin, feta and mint ($8.50), which makes a good appetizer for two people. The babaganoush ($9.50) has the requisite smokiness in eggplant that has been fire-roasted, blended with spices and garnished with bright red pomegranate seeds that crunch in the mouth, while the lovely, rosy mouhamara ($9.50) is a similarly smoky mash of red peppers, toasted walnuts, olive oil, pomegranate and the delightful addition of molasses. A too-simple plate of roasted beets ($8), with more molasses and pomegranate, was bland.
The pride of tradition about flatbreads in the Middle East causes Tania to wince a little if you call them pizzas, though the offering here called "Ella" ($13), with ricotta, caramelized onions, baby arugula, evoo, parmesan and toasted pine nuts. might pass muster in Naples.
Since every dish is meant to be shared, the main courses are generously proportioned, like the Turkish ragout of eggplant braised slowly with lentils, Anaheim peppers, and that apparent staple, pomegranate molasses, served atop tender quinoa ($15). A hearty Moroccan tagine with chickpeas, zucchini, squash and savory spices ($16.5) gives off the evocative aroma of saffron, while a very good five-mushroom lasagna ($22) that incorporates mozzarella, ricotta, parmigiano and Comté cheeses along with cremini and porcini mushrooms in a rich béchamel is one the best dishes on a menu of stand-outs.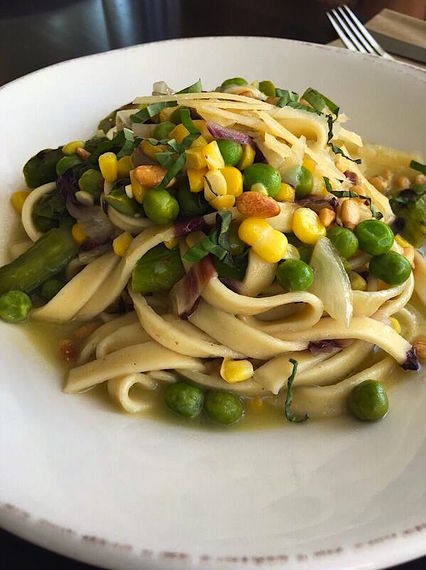 So, too, the housemade truffled fettuccine ($20) is a vegetarian triumph of grilled asparagus, sweet corn, bitter radicchio and fresh basil with truffle butter (below)--a very colorful, lovely presentation of wholly complementary flavors. The only disappointment was falafel ($15), whose little cakes of chickpeas and favas were dry, as, for some reason, they often are.
Of course, they make the desserts here, and I recommend the almond rice pudding ($5.50) made with almond milk touched with cinnamon, or the dark chocolate pudding that uses Valrhona chocolate, coconut milk and toasted almonds.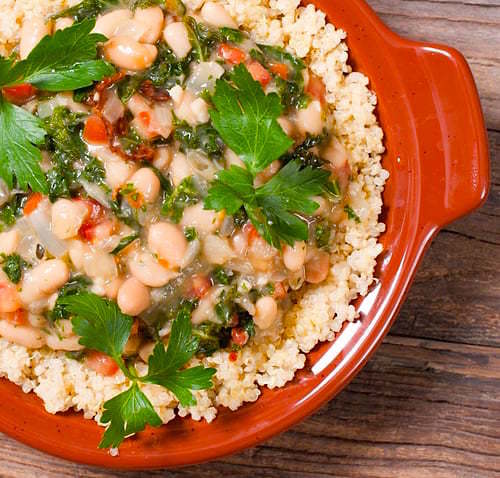 It is surprising to find Mediterranean food of this caliber anywhere in the U.S., and particularly in an affluent suburban town like Rye on a street lined with boutiques, a steak house, and an oyster bar. Indeed, much has been made by the media this year of the superb Mediterranean food at Shaya in New Orleans--an opinion I wholeheartedly share--but in every way I can think of Rosemary and Vine is as admirable, even without meat on the menu. Everything is fresh, in concept, in ideas, in careful cooking, and in the way Tania and Berj, who live in Rye, greet their guests.
ROSEMARY AND VINE
29 Purchase St, Rye, NY
914-481-8660
rosemaryandvine.com