For Neil and Luke Markey, entrepreneurialism is in their blood. But it took nearly a decade, a multi-year stint in the army, and an uninspiring corporate job to push them to where they are today: The two brothers are the founders of ShieldCo, a design company based out of Frederick, Md. that creates 3D, custom metal signage and décor.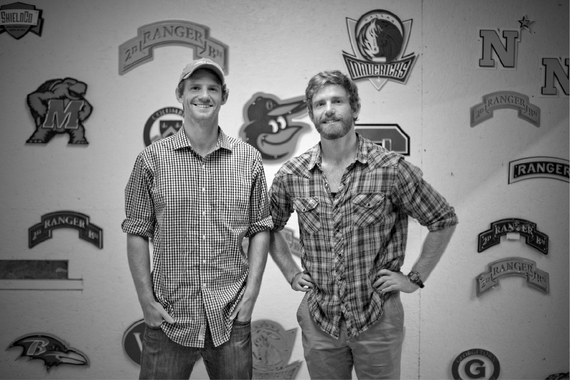 Their father is the owner and founder of Creative Metal Design, a high-end ornamental metalwork shop also based out of Frederick. Neil and Luke grew up around the shop and spent a lot of time watching their father work or helping him with the occasional job. Still, neither brother had entrepreneurship on the brain after graduating from college.
Instead, Neil spent six years in the army before enrolling in Columbia University's MBA program, while Luke signed on as an accountant for Deloitte. But something was missing.

"I had my CPA and I was working with really bright, talented people," says Luke. "But I was doing it more to make the paycheck than anything else." He started fantasizing about a different kind of lifestyle in which he worked with his dad as a blacksmith back home. After a job in New York ended unexpectedly, Luke called up his counselor at Deloitte and told him he needed a vacation. A few weeks later, he'd submitted his two weeks' notice.
Luke started playing around in the shop and eventually came up with a way to make 2D images three-dimensional. Neil, who visited home frequently while obtaining his MBA, observed that the designs were highly unique.
"I saw where it could go," says Neil. "So I said, 'let's give this thing a shot.'"
The Beginning of Brand Growth
On December 13, 2013, the brothers officially founded a corporation. Their first plan of attack was to target academic institutions with the offer of custom signage for sports teams; the brothers obtained NCAA approval at a few schools, scored a small deal with Barnes & Noble, and sold signs in a few retail outlets.
While the initiative was somewhat successful, Neil says, "I don't think we went hard enough. To bring a new product to market, you've really gotta fund it."
At the same time that they were reevaluating their business model, the brothers were consistently getting inquiries from businesses looking for custom logos or lobby signs. So they shifted their focus almost exclusively to business signage and corporate logos.
ShieldCo promises unique value thanks to the brothers' ability to craft diverse signage with aesthetics that range anywhere from an old-school, "artisan" look--courtesy of their father's skillset--to more modern options produced with AutoCAD and laser cutters. Neil handles most of the marketing, sales, and web maintenance while Luke focuses primarily on designing products and running the shop.
"My brother and I have been working together really well," says Luke. "We have a good skillset that allows us to do a lot things. We're making a really first-class product."
Indeed, the quality of their designs accounts for much of the business' growth to date. Referrals consistently drive their business, while website optimization, Adwords, an Etsy store, and local events and displays have all helped grow their brand recognition. It also doesn't hurt that they're working in the same town in which they grew up.
"Our family's been in Frederick for over 300 years," says Neil. "We get lots of support from being where our roots are."
The brothers' down-home approach to business growth is not necessarily something they learned in school. In Neil's MBA program, he felt that the curriculum was geared toward training graduate students to enter large companies or lead startups with millions of dollars in funding.
But while the Markeys are grateful for the lessons learned at Columbia--they credit the university's Eugene Lang Entrepreneur Center with being instrumental in their business' development--they've chosen instead to adopt a bootstrap model of entrepreneurial success.
"You don't rush it," explains Neil. "You let things grow organically. You don't need massive investments to make it work."
This slightly more low-key approach to business growth brings its own unique challenges to the table.
"You need a lot of runway room," says Neil. "A lot of people go out and think you can hit a home run in a year. For us, we got over that and realized it was a long-term project. We try to embrace the small wins, keep our expectations reasonable, and celebrate how well we have done."
For Neil, those metrics for success include getting to work with his brother and dad as well as having the room to be creative. "We're learning to enjoy what we've got, because it goes by pretty quick," he says.
For Luke, those goal posts shift every day.
"You have to constantly find work to do as an entrepreneur," he says. "But if you get too far into that mindset then you can work yourself to death. You need to set some goals for yourself every day so you can look back and say, 'that was a good day'."
Looking Toward the Future
Just as they share the same perspective on their company's growth, the two brothers are united in their vision for its future. In the long-term, they want ShieldCo to function as a full-service design company that offers everything from corporate signage to high-end decorative work, furniture, and woodworking. "We'll be a one-stop shop for nice custom work," says Neil.
Eventually, Luke would also like to expand back into producing collegiate and professional sports team logos. And he wants to continue growing his own skills in the shop.
Personal fulfillment is also a big part of the equation, says Neil. And Luke concurs. "I want to build a life that I don't have to take a vacation from," says Luke. "I want a business that provides me with the lifestyle that I want to live and allows me to feel happy."
That the two brothers are able to undertake this project together is a big bonus. "In any partnership, you're gonna have ups and downs," says Luke. "And being partners with your brother is obviously no different. But we've weathered the ups and downs and we'll continue to weather them together. I wouldn't have it any other way."
Calling all HuffPost superfans!
Sign up for membership to become a founding member and help shape HuffPost's next chapter