More than 66 premature deaths, 104 heart attacks, and thousands of asthma attacks and cases of chronic bronchitis--that is the tragic symbol at the altar of Chicago's decrepit coal-fired plants in the Pilsen and Little Village neighborhoods.
Frustrated by the lack of movement on Chicago's breakthrough Clean Power Ordinance proposal, and the coal-fired plant neighborhood's Alderman Danny Solis inaction, a broad range of concerned residents and organizations are holding a traditional "Day of the Dead" procession this evening in remembrance of the lives needlessly lost to the notorious Fisk and Crawford coal-fired plants.
The Chicago metro area ranked third in the nation for worst health care impacts from coal-fired pollutants in last month's Clean Air Task Force report. It concluded that more than 347 deaths and 584 heart attacks were attributable annually to the Windy City's coal-fired plants. Finding that the "direct link between power plant emissions and human health has been documented in an extensive body of scientific research drawing on multiple lines of evidence, including several rigorous, large-scale epidemiological studies," the report noted:
Adverse impacts are especially severe for the elderly, children, and those with respiratory disease. In addition, the poor, minority groups, and people who live in areas downwind of multiple power plants are likely to be disproportionately exposed to the health risks and costs of fine particle pollution.
Built before the invention of the Model T, and operating on equipment from the Eisenhower era, the Midwest Generation plants were signaled out in an analysis last month by the Environmental Law and Policy Center as costing the city's taxpayers $127 million in health care damages. Totaling nearly $1 billion in the last decade, the report noted these cost estimates "do not include individual coal plants' contributions to more widespread environmental problems, such as global climate change."
Introduced by Alderman Joe Moore, and co-sponsored by 14 aldermen, the Clean Power Ordinance simply calls for bringing the Windy City into environmental compliance in the 21st century, setting pollution limits and transitioning the deadly coal-fired plants to less toxic fuels. National health care and environmental leaders rallied on behalf of Chicago's ordinance as ground zero in the clean energy debate this past summer.
In a cover story for the Chicago Reader last month--Chicago Without Coal: What would it take for the Fisk, Crawford, and State Line coal-fired power plants to close up shop? And what would happen if they did?--investigative journalist Kari Lydersen did an extensive survey of the political machinations and long and twisted regulatory history behind the coal-fired plants. As residents head to the polls tomorrow, she noted the role of Midwest Generation's political contributions:
Pollution control isn't the only place Midwest Generation and its parent company, Edison International, have invested. They've donated generously to Chicago politicians and political parties and local organizations over the past decade--including about $52,400 to Solis's ward organization. .

According to the state Board of Elections, Munoz's campaign fund got about $26,000 from Midwest Generation and Edison International. Blagojevich's received about $157,000, Burke's about $16,000, and Illinois House Speaker Mike Madigan's about $45,000.
Starting at the University of Illinois Chicago quad at 4:30pm, this evening's procession will wind through the city until it arrives at the Fisk Plant in the Pilsen neighborhood. Marking their respect to the dead, participants will be adorn in traditional "Dia de los muertos" costumes and carrying altars.
None so powerful and tragic as the Fisk and Crawford coal-fired plants that will continue to spew toxic particulates across the city.
"The public can't afford the huge health costs from the Fisk and Crawford coal plants in Chicago neighborhoods," said Howard Learner, Executive Director of the Environmental Law & Policy Center, on the release of the organization's report last month. "It's time for Midwest Generation to be socially responsible and clean them up or shut them down."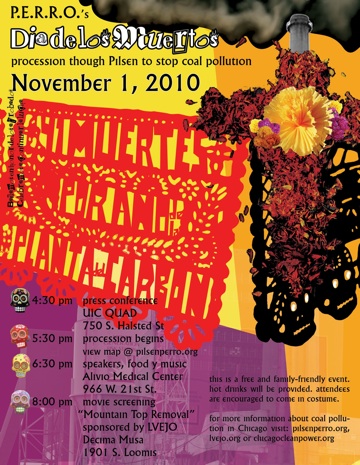 REAL LIFE. REAL NEWS. REAL VOICES.
Help us tell more of the stories that matter from voices that too often remain unheard.