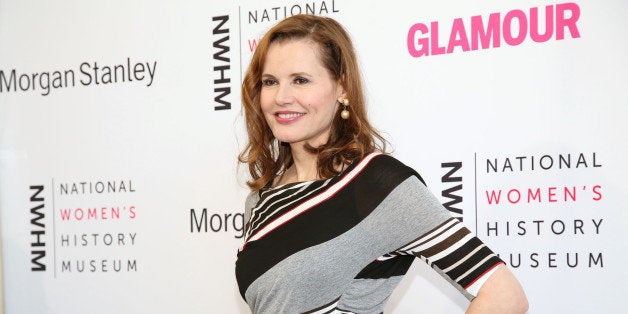 Thelma: But, umm, I don't know, you know, something's, like, crossed over in me and I can't go back; I mean, I just couldn't live.

-- Thelma and Louise
A League of Their Own's Geena Davis, is doing something extremely important this week in, of all places, Bentonville, Arkansas. The Geena Davis Institute on Gender and Media has is supporting her effort to call attention to the unacceptable reality in which women, both behind and in front of the camera, find themselves in Hollywood. Repeat after me, "Nothing has changed for women in the industry since the 1930s!" The recent report by The Women's Media Center documents that women direct only four percent of studio-made films.
After these six days of the Bentonville Film Festival on Gender and Diversity, it appears that things will never be the same. The movement to change things in media is growing exponentially. When one manages to attract both Wal-Mart and Coca Cola, (as well as what is surely the strongest sponsorship of a first year festival ever to be put together -- bravo!), AMC Theaters and Hollywood powerhouse, Jeffrey Katzenberg decides to jet out to rural Northwest Arkansas to be on a panel, something is resonating back in the male-lead industry.
Geena Davis and the festival sponsors have done a really intelligent thing. They know it is abundantly clear that 95 percent of the people controlling household family budgets are women. The spending power of women is in the trillions of dollars and growing. Wal-Mart alone has decided to source $1 billion of their products and services from women-owned businesses.
Women buy the products these sponsors sell, and women buy the majority of movie tickets. Women want to see themselves portrayed onscreen and portrayed realistically. They want to be part of the conversation and in positions of decision-making power. They want their children to grow up respecting women, and their daughters knowing that they can become anything they want to -- it helps to see that on the big and small screen.
It feels appropriate that a woman who plays a female President of the United States would be behind this event, as we now have a few women running for President of the U.S., and one of them has a long history in Arkansas. We also have a President in power who is helping make things better for women, and who was raised by an amazing woman himself: a single mother, PhD anthropologist and pioneer in Microcredit. President Obama is supporting equal pay and family leave policies, which help to equal the playing field for women. And the most extraordinary venue for festival events in Bentonville is the stunning Crystal Bridges Museum of American Art, which houses a collection of magnificent art acquired by Alice Walton, the daughter of Wal-Mart's founder.
The focus at the festival is not only on women, but also on diversity. Inclusion and representation of the true diversity of audiences is becoming more important, yet the people at the top of the most powerful media corporations are almost all older white men. Thus, it was refreshing and telling to see that the panels lined up for the festival included: Women's Economic Empowerment, Women and Advertising, On Control of Her Own Destiny and Gender Equality -- Why Men Matter, with men also playing an important role, such as Gil Robertson, Co-founder and President of the African American Film Critics Association (AAFCA).
Great question and answer sessions followed discussions touching on the reality for women not only in the West, but also in the developing world. Accesses to capital, women-owned businesses, women leaders are all part of the stories that are being brought to the screen by directors who want to see their realities depicted. One of the leading producers of this kind of content, for and by women of diverse backgrounds, is Fernando Szew, the CEO of MarVista Entertainment, who explained how a strong woman who also ran her own business raised him.
Most of his top executives are women, and business-wise, he realized that focusing on women and diversity was also profitable. The numerous powerful global brands sponsoring the festival also realized the power of women, and Geena Davis' brilliant idea of bringing all of them together in Bentonville, right to the heart of real audiences, has started a new kind of discussion -- one woman will be at the center of it and leading.
Film and television allow us to see and feel the experiences of those who are not like ourselves. Media plays an enormous role in creating empathy and understanding. One powerful film, which played during the festival, was director Janet Grillo's Jack of the Red Hearts. Inspired by her own experiences as the mother of an autistic child, Grillo's collaborative effort, inspired by work with those who interact daily with autistic children, was simply perfect.
But, this is not a social issue film -- rather, it's a universal story about learning how to love another person in the way that he or she needs to be loved and understood. It is about becoming a multifaceted human who can feel empathy, and also identify with that which resonates in all of us and unites us.
It was obvious by the audience's overwhelming applause and appreciation for this film that this is a film that should be distributed and seen. This is the kind of film so many of us want to see. This is the kind of film that can make money, but because it is independent (it was shot in only 21 days!), is a perfect match for a festival like Bentonville, which celebrates not only the film itself, but also the women who created it.
The festival also showed films that used comedy to communicate important messages about how women, and the way that they are represented on screen, hurts girls. Now Add Honey, an Australian film starring Portia de Rossi and Lucy Fry, dives right into an issue being discussed at the festival: The dangers of sexualizing girls, and how these female characters become role models for the audiences of girls and young women who see them on the screen.
These disturbing images also affect the ways boys are socialized to think about women and girls. The hilarious moments are juxtaposed with sad realities in the more "normal" lives of a range of women in the film, who also find themselves confronted with issues that many women can relate to -- growing older, feeling competition with younger women for the male gaze, and how to learn to discover their own strengths and to love themselves so that they can open their hearts to being loved by others. Once again, an important theme at the festival -- how men can play a role in helping to shift media towards a healthier portrayal of women -- was underlined in this gem of a film.
The winner of the festival's award will receive distribution by AMC cinemas and Wal-Mart. This in itself makes this festival one of the most important new festivals around today. In fact, this is the only festival to guarantee that the winner will receive theatrical, TV, digital and retail home entertainment distribution. The festival itself is off to a strong start, and is already creating ripples in the industry.
Major press is taking notice of the festival this week, and the gathering of so many important women CEOs and top female staffers representing White House initiatives and non-profit leaders, in the place of one of the world's leading companies. The combination of small town America with power players and money has raised the issues of gender and diversity in media to a new level.
While overwhelmingly positive in the analysis of the impact of the Bentonville Film Festival, women need to remain realistic. Once the festival is over, this movement needs to be brought back to Hollywood, into television decision-making and in board rooms, and discussed by the government in order to make sure that both on-screen and behind-the-screen, that real world change takes place to better women's experiences and quality of life and access to opportunity. The situation has been dire for women in media, and many feel a need to describe the harsh reality of their experiences in what is, for the most part, a sexist industry. Fortune Magazine recently reported on, "Outrageous Sexism in Hollywood Showcased in a New Blog," and, sadly, this kind of "outrageous" behavior is often the norm. Many of us have experienced, or know someone who has experienced, these kinds of situations while working in the industry, not once, not twice, but repeatedly over the years.
With government, industry and non-profits all gathered together in a small town in Arkansas, it was obvious that women were directing the show. From Geena Davis herself, to the female camera operators, directors, producers and festival sponsors and corporate mavens, female small business owners I met at the panels, in the shuttle busses, over coffee and wine, and at the screenings, the Bentonville Film Festival has opened many doors for many people and will hopefully continue to do so for years to come.
Vivian Norris, Ph.D., wrote her dissertation on "Globalization and Anarchy in Cinema: Who Wins and Who Loses in the Entertainment War?" and teaches Global Policy and Communications at Tulane University. Her documentary on the life of microcredit pioneer, Ann Dunham, entitled "Obama Mama", is playing festivals internationally.
Calling all HuffPost superfans!
Sign up for membership to become a founding member and help shape HuffPost's next chapter