On December 12, 2015, Frank Sinatra would have been 100 years old.
In some sense, the numbers don't matter; his legacy is timeless. It feels as though Sinatra has been with us forever, blurring chronology, making us fly with him and his deep, husky voice to a place where you can just listen to the voice, time suspended.
I recently had the chance to meet his granddaughters, A.J. Lambert and Amanda Erlinger, at the Fontainebleau Miami, where Sinatra gave a staggering number of performances. They reminisced fondly over "Pop Pop," and spoke affectionately about how much he loved animals, and was a family man.
The hotel honored Sinatra recently by unveiling a gallery of never before seen stills by photographer Terry O'Neill. A ribbon of 34 black and white images greet you as you enter the lobby, illustrating how significant Sinatra was to the place (Old Blue Eyes gave over 200 performances here, from 1954-1976). Attendees at the unveil included his granddaughters and author Charles Pignone, archivist for the Sinatra family and author of the book "Sinatra 100," a stunning compilation of anecdotes and photographs tracing the singer's career.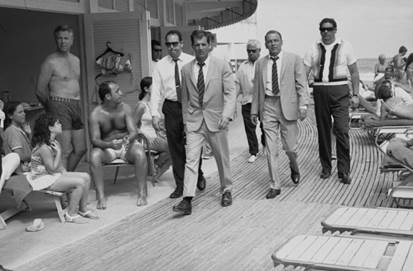 A show at the Fontainebleau for Sinatra meant focus and preparation: the Chairman of the Board wasn't one to wing anything. Terry O'Neill observes, "Backstage, everything was laid out, from his suit and shirts to his aftershave. But he always prepared himself for a performance. He had to be immaculate, how he looked was as important as how he sang."
In this aspect, Sinatra's fastidiousness and obsession with detail is not unlike that of the legendary pianist Vladimir Horowitz, who would even count the number of steps it would take him to reach the stage concert grand.
And while the singer would drink honey and tea to soothe his vocal chords while continuing to perform thrice a week at the hotel, he always made sure that he had a glass of Jack Daniels whiskey onstage. In honor of the centennial, Jack Daniels has released a limited-edition Sinatra Century premium whiskey, spearheaded by Master Distiller Jeff Arnett. The 100-proof premium Tennessee spirit aged in deeply grooved oak barrels is as smooth as the singer's voice, and despite its high alcohol level, is smooth and pleasant with lots of character. Sinatra would have been pleased; my guess is he would have likely dashed off another song to commemorate it.
Fans loved Sinatra so much that his entrances were frequently accompanied by a side dish of swooning groupies, most notably in the Chateau lobby en route to La Ronde Supper club, where he gave most of his performances. Other entertainers doted on him: he would often give performances with other entertainers like Sammy Davis Jr., and these were chronicled by the hotel newspaper Entre Nous which circulated in-house.
The vibe of the Golden Era is still present in the lobby which swirls with a mix of regulars and visitors, and also the famous Bleau Bar which is its own island in between the gold-tiled columns, with a delicious Art Deco afterglow. Here, samples of Jack Daniels Sinatra Select whiskey are served nightly until the singer's birthday on December 12th. It is at this bar that many regulars would have drinks pre or post-concert, and then make their way towards the Edition for more after-hours revelry.
While many places encourage you to look up--as though frescoes were the norm-- Art Deco master Morris Lapidus wanted you to look down. He put his signature black bowtie tiles everywhere in the Chateau Lobby, even towards the famous "Stairway to Nowhere" which alas, Sinatra never performed at.
The hotel became a crowd magnet not only for locals, but for visitors, and one could argue that Sinatra's voice was one of the key reasons for the heady recognition afforded to the name Fontainebleau --even today.
Sinatra also shot several films at the hotel, including Frank Capra's A Hole in the Head (which, ironically, is the tale of a struggling owner operating a Miami hotel; 1959), Lady in Cement (1968), and Tony Rome (1967). This glittering bunch of films added to the hotel's famous Goldfinger rooftop scene, shot in 1964. In other words, Fontainebleau Miami was very much part of the 1960's glitterati, even in the eyes of Hollywood.
It is actually fitting: Lapidus created the hotel to be a stage. "The stage was what I wanted, but not acting. I loved the stage; it was a world of illusions, of dreams, a mirror of all human emotions...I wanted to create a world of illusion by designing the settings against which these emotions were portrayed. I resolved to become a scenic designer."
Sinatra understood this so well.