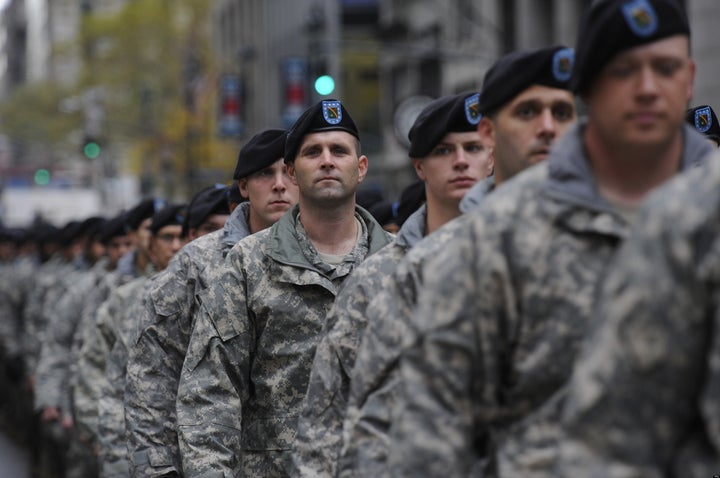 As we mark Memorial Day throughout the nation and at the battlefields across the world, the men and women who gave the ultimate sacrifice will be in our thoughts. Perhaps we will be remembering a son or daughter, a husband or wife, mothers and fathers, brothers and sisters, and other battle buddies who made the ultimate sacrifice.
As the "Ode of Remembrance" poignantly says, these heroes "shall grow not old, as we that are left grow old: Age shall not weary them, nor the years condemn."
Those who fought in the "War to End All Wars," World War I; the Greatest Generation of World War II; the heroes of the Vietnam, Korea and Gulf conflicts and the latest generation of the conflicts in Iraq and Afghanistan; all those who put themselves in harm's way when their nation called -- we will remember and honor them all.
They shed their blood for freedom. Their families live with these sacrifices. And too often we forget that freedom isn't free.
For those of us who served and live every day with our injuries, these selfless heroes will forever be our inspiration.
We honor their precious memory by fighting to expand the freedoms they held so dear and gave their lives for -- the freedoms to ensure that America's paralyzed veterans don't just live free, but live free with dignity, independence and empowerment.
Every day, we fight for quality VA health care and decent veterans benefits. We promote wheelchair sports. We lead the charge to make America more accessible for all people with mobility impairments. We empower paralyzed veterans with the tools they need to secure good careers, at a time when the unemployment rate for veterans with severe disabilities is enormous. We invest in research to find new treatments and a cure for paralysis. We provide our services to all veterans and their families free of charge.
But we must do more for those who have given so much. Through Paralyzed Veterans Mission: ABLE campaign, we aim to enlist all Americans -- companies, citizens and communities -- to help our paralyzed heroes fully live the lives they deserve and to receive what they need most: care, benefits and jobs.
A good example of why we are focusing our attention on these three areas is the issue of careers and jobs. The unemployment rate for veterans with severe disabilities is 85%. Yet we know that with the right help, veterans with disabilities can actively compete in the job market, bringing incredible skills and experience from their lives in the service. In turn, employers get great employees. Through Mission: ABLE we intend to make this grim statistic a thing of the past.
Through all of our work, we honor the memory of that band of brothers and sisters whose ultimate sacrifice we can never repay, whose memories will always be at the forefront of our effort to change lives and build a brighter future for all who served.
Calling all HuffPost superfans!
Sign up for membership to become a founding member and help shape HuffPost's next chapter