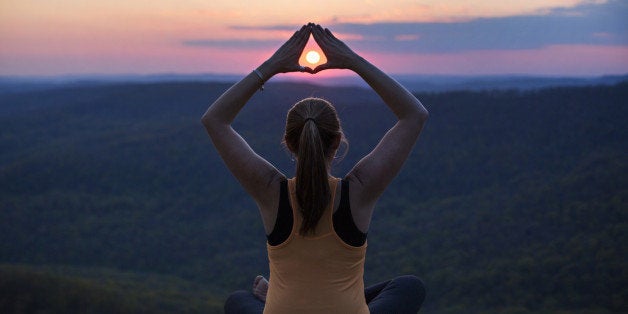 At the heart of kundalini yoga is being able to embrace yourself as an energy being and then, everything else. If you are a student of kundalini yoga and have not yet grasped that embracing yourself as an energy being is important then you are missing the whole point.
Google the word "kundalini" and you'll find no end to all kinds of myths and fears about what Kundalini Yoga really is. It seems, it is quite the mystery. But in my experience, that has been part of the excitement of it.
Kundalini yoga is the unfolding of your inner being. It is the transformation of your inner being that is eventually reflected in the outer. What do I mean by unfolding? Unfolding is the process of peeling away the layers that make us believe we are anything but manifestations of the divine - completely pure.
How does the unfolding happen? It can happen very gradually. It can happen silently without you or anyone else knowing anything is happened. Gradual inner shifts occur and they seem to work with life itself to move you along in your learning about yourself which is equivalent to your unfolding. In other words, life supports the process.
We really must move away from fanciful ideas about Kundalini Yoga being an overly dramatic path and about some external energy that comes into us and moves around and does whatever it wants to do. In my experience it is certainly not that dramatic.
Kundalini energy already exists within us all. It's just an energetic expression of the divine will for us to evolve into knowing ourselves as pure beings. What could be more wonderful than the substance that we and our lives are made of, energy, moving along only to help us realize how pure and beautiful we really are?
Some folks create fanciful ideas and fears about Kundalini Yoga as a result of not knowing or understanding that we are all already energy beings. It's easy to think all sorts of things about Kundalini Yoga if a person thinks we are just humans made of physical bodies. Any person on a yoga path should know that we are much more than that. Each of us has a body made up of only energy. Becoming aware of this is what yoga is really about. It is not about having flexible sexy looking bodies.
The beautiful thing about kundalini yoga is that it embraces and includes all aspects of life. It requires us to embrace that we are energy beings with the ability to express ourselves in different parts of life. We can express ourselves through the physical body, sexuality, vitality, emotions, speech and thought/thinking. Each of these is associated with an energy center known as a Chakra.
It's common to think of chakras as being something new that we haven't experienced yet. This is not true. Every person is using the energy associated with various chakras all the time in some way. Right now to read this you are using the physical level by using your physical eyes, your mental level to think and understand, your emotional level if you are liking what you are reading or feeling some excitement about the topic. Therefore, you are already using various levels of energy and therefore, chakras.
Some of you are doing or have heard about chakra awakening meditations and exercises - those are meant to deepen your awareness of energy associated with each chakra. There should eventually be an experience of energy from these and a growing sense of being more than a physical body. If not, 1) you might not be using the practice as you should; 2) you might need to find a teacher who is already living in that awareness (my kundalini yoga teacher for many years has been Sri Vasudeva) or 3) you should find a group of students with whom you can practice.
This is what kundalini yoga is all about. It's a gradual process of becoming more aware of the energies you use every day and understanding them better as time goes by. It's about learning that you are not just a physical body but so much more.
The biggest lesson I have learned and continue to learn from the kundalini yoga path is that life is harnessing and learning about energy. This is partly why meditation is really very important. My experience is that you cannot really make progress on this path without a daily meditation practice. I've written a few pieces about meditation on Huffington Post which you can find by clicking on my name.
If you are already on the kundalini yoga path, just curious or have any questions or comments you'd like to share, feel free to find me on Facebook (/DeviSawh1111) or follow me on Twitter @DeviSawh.
Related