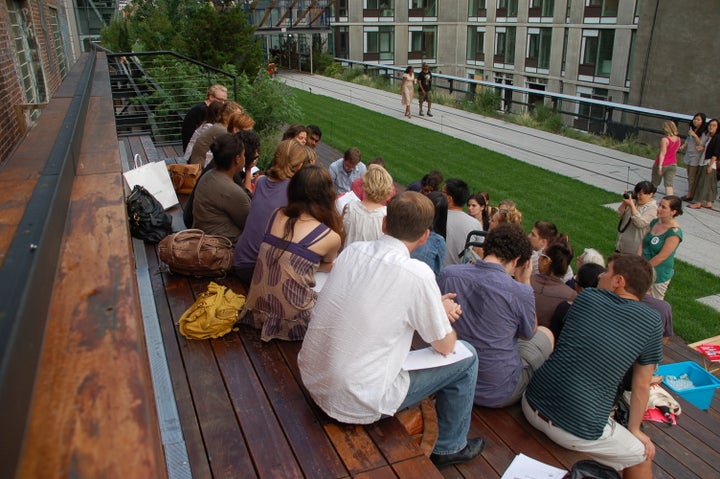 It wasn't a normal book club, but very little is normal on the High Line, this city's elevated railroad-turned-park. Many in the group of about 50 strangers who gathered Thursday night for the first installment of the so-called Architecture and Design Book Club had heard about the event on Twitter, and the location itself was chosen to match the reading: A few chapters of William Whyte's The Social Life of Small Urban Spaces.
Alexandra Lange, the journalist and architectural historian, led the discussion; before she spoke, though, Molly Heintz, one of the organizers from Superscript, introduced the event.
"We don't want this to be an average book club," she said. "We want it to be a public one." All through the roughly hour-long discussion, people walking up and down the High Line joined the group -- some for a few seconds, some for much longer.
The talk itself was wide-ranging, and began with Lange connecting the reading to the location. She raised the idea that the High Line itself is what Whyte called a triangulator: It has the power to bring two strangers together by putting a third object in front of them.
Someone near the outside of the group called the High Line a "plaza on steroids," but another man disagreed, calling it a "street on steroids." At least we can all agree it's on steroids.
And there was some discussion of how the High Line breaks a few of Whyte's rules. The seating on the High Line, designed by Diller Scofidio & Renfro, is mostly immobile, but Whyte called for portable chairs so that groups could assemble or disassemble, and so the sun could be found or avoided.
Heintz said the next installment of the Architecture and Design Book Club may be held at Lincoln Center for the Performing Arts during Fashion Week. The topic of the reading will be -- what else? -- spectacle.
WATCH A Clip From Whyte's Film About Open Spaces In Cities: