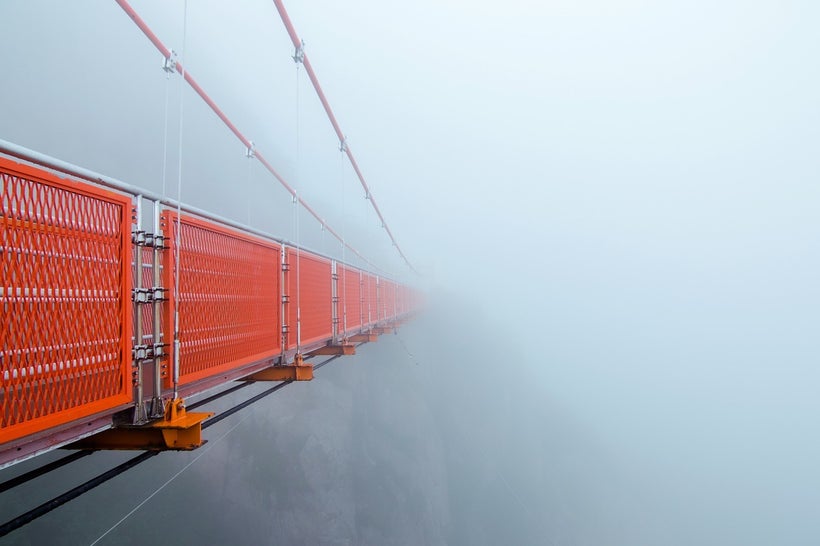 "We may become aware that worldly concerns and distractions keep us trapped in samsara, and we may feel an intense desire to be liberated from it. Then we find ourselves at the meeting point of two paths: one leads to liberation, and the other to the lesser destinies of samsara." Dilgo Khyentse Rinpoche
March 14, 2017, late morning, the first moments of a 36-hour snowstorm. A palpable sense of peace and quiet pervades the environment. The world around me has seemingly come to a standstill save for the snowflakes, some floating, some spiraling downward toward their fate. I contemplate the snowflakes, samsara, liberation, and the meandering path that has led me to this moment in time.
June 1998. I, along with 156 other members of my graduating class, receive our diplomas from Vermont Law School. Two months later, I launch my legal career with pride, ambition and high hopes for changing the world.
September 3, 2000. My son Liam takes his first breath. I had planned to return to the work force soon after his birth, but find myself fully engaged in and consumed by the joys and demands of motherhood. My career is put on hold. The years fly by.
October 2010. Liam's father and I begin the divorce process. Over the months and years, we work through things amicably and peacefully and with our son's best interests at the forefront. I realize I can use my background and skills to help others do the same. My hopes for changing the world are rekindled as I re-enter the job force.
November 2012. My business is born. Over the course of the next four-and-a-half years, I help numerous clients, both individuals and couples, work through the financial, emotional and legal aspects of divorce. When not seeing clients, I read, study, and pursue various certifications and designations to help further my knowledge and my career, and (as I later realize) to feed my ego. I write. A lot. I gain credibility and somewhat of a national following as a writer on divorce-related matters. I am quoted as an expert on divorce in prestigious publications. I invest an enormous amount of time, energy, money, heart, soul, identity, pride and ego, into my business. At this point, in addition to being an attorney licensed in two states, I have become a mediator, certified financial planner, certified divorce financial analyst, and master analyst in financial forensics. Pride takes over the reins as the business takes over my life and framed certificates take over the office walls. My heart and soul unwittingly entered into, and are losing, a battle with my ego. Whatever became of those high-minded ideals, anyway?
September 3, 2016. Today is Liam's 16th birthday. He has just begun 11th grade. Independent, intelligent, thoughtful and respectful, he is beginning to spread his wings, readying himself to fly. He no longer needs me the way he used to. Although this is the natural unfolding of the human spirit, my grieving process intensifies as time accelerates toward the inevitable day when he will flee the nest. I start to look more deeply inward, to reassess my path, choices I have made, my values, my purpose, regrets, accomplishments, and the ego tower that is beginning to collapse around me. In the ensuing months, I realize I have been enticed into, and gotten trapped in, the web of samsara. It is now time to step off this path, to extricate myself from samsara's grip.
February 28, 2017. I finish writing notes from my final client meeting, get up, walk over to the door and remove the sign that bears the name of my business. I look back at the now-empty space that was once filled with framed certificates, bookshelves containing dozens of books on divorce, a filing cabinet containing documentation of lives and hearts turned upside down, a box of tissues and a dish of chocolates—emergency supplies—for both my clients and for me. The certificates, the bookshelves, the books, the filing cabinet and its contents, the tissues, the chocolates, everything tangible, had been moved out the weekend prior. But not so the memories and emotions, either those of my clients or my own; they stubbornly refused to leave. I bid them a silent farewell, saying goodbye to the office, to my business, as I close the door one last time and walk out into the brisk Vermont winter air, feeling a sense of loss, relief, freedom, humility, and—for I am now jobless and directionless—fear. I wonder: Where am I? Who am I? Where will the path lead me? How am I going to pay the bills?
March 2, 2017, the wee hours of the morning. Walking eastward across the George Washington Bridge on a dark, rainy night a little too close to the slick, steely northernmost edge, I lose my footing and plummet through the darkness toward the murky Hudson River below. Spiraling downward, I frantically flail my arms, trying to resist the momentum or find something to grab onto. In one swift moment, I realize that I am helpless, that my actions are futile. I become overwhelmed with grief and despair as my thoughts turn to the fact that I will never again see my son's face nor hear the sound of his voice; I will not be there to witness him grow into the man he is destined to become. "NO…..NO…..NO," I protest. "I TAKE IT BACK. I WANT A DO-OVER. I DON'T WANT TO DIE." With a startling thud, I land in my bed, grief-stricken, terrified, and oh so relieved to be alive, much like Scrooge on Christmas morning.
April 13, 2017, mid-afternoon. Four weeks ago, from this very vantage point, I watched as snowflakes silently drifted from the sky. Today, the sun is shining and the grass is green. A cardinal's nest is safely tucked amongst the lower branches of a cedar tree; a rich metaphor of new life being created, nurtured and protected from harm. I contemplate my life, motherhood, the bridge dream, the prideful path I have traveled, and the still point of humility at which I now find myself. I am paused at a crossroads, one path before me leading to samsara, and the other to liberation. I do not yet know which one I will choose. At this moment, from my perch at the window, the two paths appear strikingly similar. For all I know, they may even be the same.
Soon the cardinal eggs will hatch, baby birds will fill the nest, and, just as quickly, leave it empty. For it is their destiny to spread their wings and take flight, just as it is with my son; just as it is with my soul.
Calling all HuffPost superfans!
Sign up for membership to become a founding member and help shape HuffPost's next chapter
This post was published on the now-closed HuffPost Contributor platform. Contributors control their own work and posted freely to our site. If you need to flag this entry as abusive,
send us an email
.