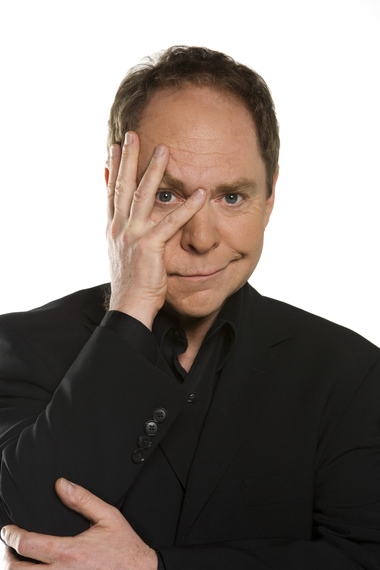 Teller, of the magic duo Penn & Teller, is most famous for not uttering a single word. He has perfected the "silent" character in Vegas' renowned Penn & Teller show with unprecedented success.
Teller was born in Philadelphia and goes by one name, both legally and professionally. For nearly 40 years, he has teamed up with his famous audible half, Penn Jillette. Entertainment Weekly called Penn & Teller the funniest comedians alive. In 2013, they earned a star on Hollywood's Walk of Fame.
Penn & Teller have appeared on numerous television shows throughout their careers, including this year's Wizard Wars on Syfy Network and Penn & Teller: Fool Us on The CW. In recent years, Teller has directed off-Broadway plays and the documentary Tim's Vermeer that both he and Penn executive produced.
For Travelzoo, Teller broke his silence and told me all about magic, his successful career, why he's a master of the selfie and more:
You've been performing at the Rio in Vegas for 20 years, how often does your show change?
The show changes frequently, but in small ways. You know when we were just starting out, people told us "every year you have to have a wholly different show." And so we tried to write a whole different set of material, but this form that we're working in is not something that you can write a whole show every six months on. This form is very difficult. Cause this form is about making something look like a miracle, and that is way harder than playing a tune on a guitar. Our show changes constantly. We just added a new bit about two months ago, we have another two new bits that are going to go in, I think, before the end of the year. So when you come see our show you'll always see stuff that you, a mixture of old favorites and new things. Lots of our patrons come back again and again and again, multiple times over the years, and they're always delighted to find some of their old favorites mixed in with some brand new stuff.
Do you have tricks/illusions that you've always done and would never take out of the show?
There are certain audience favorites that, I think, people would miss. We've been doing the double bullet catch for now probably 20 years. And it's considered by most magicians to be the most baffling trick in magic. It's pretty thrilling. It uses a Colt python .357 magnum revolver. It's tense, and our presentation is funny and ironic as well. So that's been in our repertoire for quite awhile, and it's unlikely to go out because it's such a good trick and such an audience favorite. Another thing that we've done for a very long time is my signature piece, which is called "Shadows." And it's a piece in which I cut a rose to pieces by cutting its shadow apart. It's only two-and-a-half minutes long, so it's very easy to slip into almost any show, and audiences seem to count on seeing that.
Have you ever broken your "silent character" during a performance?
Not accidently (laughs). We've often done little jokes where I'll call Penn aside and you'll hear me swearing at him. I mean, I worked silent before I ever knew Penn. At the time I was rebelling against every bit of magic that I saw being done around me. Magicians really only had two approaches: either they would constantly yap or play loud music. So, why don't I just see if I can come out, with no music, no yapping, and just do stuff. Communicate very directly with the audience by my actions. So when I met Penn it was a perfect meeting, right? Perfect combination of somebody who had approached the problem from the exact opposite end. By being loud, fast and funny, I had avoided all the clichés. The way I had avoided the clichés was by being quiet, sneaky and stealthy -- it's my natural mode.
Why do you greet guests in the theater lobby after every performance?
Because we love it. It started off when we were working at a theatre in Philadelphia that had no backstage area. So the only place we could be before or after a show was in the lobby. And the audience would come out and talk to us. We just thought it was wonderful. The real question is why doesn't everybody do this? We have people absolutely from all over the world. It's really informal, there's no lineup. We bash out of the theatre before the audience gets there, we stand around, they come up and do whatever they want. They want an autograph; I always have a Sharpie on me. If they want a photograph, I'm a master of the selfie.
In addition to the act at the Rio, you've been a film/theater director in recent years. Would you ever walk away from magical performance to pursue that full time?
I don't think so. First of all, I don't need to. Penn is very understanding, and I'm very understanding of him. When we have separate projects we allow each other the space to do them. And sometimes that means losing a month of our show at the Rio, but the Rio is a really good place, and it's run by Caesars and Caesars understands that, it contributes to the audience that comes to our show. The thing we did together, Penn produced and I narrated, was Tim's Vermeer. That movie was short listed for the Oscars; it was actually nominated for BAFTA. But that movie that Penn and I did took us five years. I co-directed two Shakespeare plays: Macbeth and The Tempest. I also really love performing, and I love creating new material with Penn. We're such different people that we sit in a room and agree (laughs). You know, we never agree about anything. That's what enables the stuff that we do to be more like an adventure and less like an exercise.
Other than performing, what's your favorite thing to do in Vegas?
There's lots of cool stuff to do in Vegas. I'll tell ya a couple things I recently done. Uh, there is a fantastic zip line. I've done that and loved that. I took a whole bunch of friends. Recently I took a group, I've got this core group of adventurous people. We did the Richard Petty driving experience; that's amazing to do in Vegas. Vegas is ... we have set up the most glorious stationary carnival, fun fest you could ever possibly want. They're constantly adding attractions to it.
Here at Travelzoo, we are all about travel, so where was the last place you traveled?
The last place I traveled was yesterday, I actually was in Death Valley for a couple days at the Furnace Creek Resort. Fantastic! I mean, first of all, Death Valley is, you know, it's a famous site for places where they've shot movies, even from the silent days on. But the moon and the stars are perfect. And in the middle of that, in 1927 I think, some developers from Los Angeles decided they would build a resort and so they built this Furnace Creek Inn, which is all 1920s Californian architecture. Winding interesting place. You go from your car to your room through an underground tunnel. It has a warm spring-fed gigantic swimming pool. It's a gorgeous luxury resort. And yet because it has this 1920s feel to it; it doesn't feel like a theme park, it feels like a real place. It's a one-hour forty-five minute drive from Las Vegas. It's a nothing drive, and yet you feel like you're in a totally different world. Probably the biggest thing that I did was I did a cruise in the Galapagos about three years ago.
Penn & Teller magic show performs at the Rio All-Suites Hotel and Casino in Las Vegas; be sure to stick around in the theater lobby after a performance to meet them.
REAL LIFE. REAL NEWS. REAL VOICES.
Help us tell more of the stories that matter from voices that too often remain unheard.