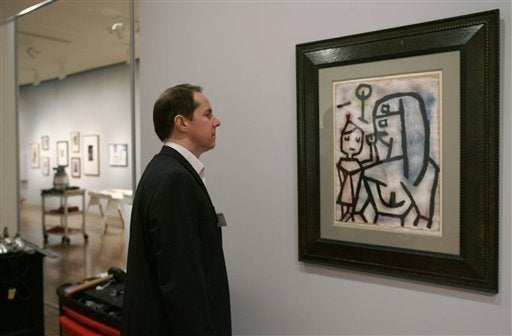 Although he's not yet 40, filmmaker Spike Jonze is the subject of a retrospective at New York's Museum of Modern Art that starts this week.
Titled Spike Jonze: The First 80 Years -- a name Jonze playfully coined -- the mid-career retrospective will feature films he directed and co-produced, including Adaption (October 9 and 10), Being John Malkovich (October 10 and 12) and Jackass: The Movie (October 16 and 17). There will also be screenings of his music videos for Bjork, Fatboy Slim, Beastie Boys, The Notorious B.I.G. and others; documentaries on Al Gore, Maurice Sendak and others; and commercials.
The centerpiece of the retrospective will be two special programs: On Oct. 8 Jonze will appear with author Maurice Sendak, whose children's classic, Where the Wild Things Are, Jonze has adapted for a movie that will be released on Oct. 16, and on Oct. 15 there will be an evening of skate videos, by Jonze and others, that Jonze will attend, and where No Age, the Los Angeles indie rock group popular with skateboarders, will perform.
Joshua Siegel, associate curator in MoMA"s film department and organizer of the retrospective, said that if "you watch Jonze's work in its entirety, there begins to coalesce a running sensibility. His films are intelligent puzzles, they also celebrate slapstick comedies, the physical cinema, with skate-boarding, dancing. And there are some daredevil films, the skateboard videos, that belong to the Douglas Fairbanks tradition. They celebrate acrobatics, a certain kind of grace, the way he shows people moving balletically."
Jonze's shorter films that will be shown during the retrospective include profiles of the often-hilarious sides of presidential candidate Al Gore and Fatlip, the musician, and a new film with Kanye West, We Were Once a Fairytale, that parodies celebrity. These will be shown Oct. 9 and 18, with some of his music videos. Jonze's 2008 documentary, Heavy Metal in Baghdad, which portrays the Iraqi underground metal band Acrassicauda, will be shown October 14 and 17.
In addition, the 1979 film The Black Stallion will be screened on Oct. 11 and 16. Jonze said, "As soon as we started working on the script for Where the Wild Things Are, The Black Stallion was the first movie Dave Eggers (who adapted Sendak's book with Jonze) and I watched. It was our aspiration to capture what Carroll Ballard (The Black Stallion's director) had: a boy on an island finding his way with wild creatures and the camera trying to tag along -- not to get in the way, but to capture the beauty of it all."
The Oct. 8 program, called "In Cahoots: Maurice Sendak and Spike Jonze," will feature a new documentary on Sendak by Jonze, a short film with and by Jonze called Maurice at the World's Fair, and clips from Where the Wild Things Are. These films will be shown again Oct. 11.
To celebrate Jonze's latest film, NYC & Company, which markets New York City as a travel destination, and Warner Brothers Pictures have teamed up for a Wild Things Week in NYC (http://www.nycgo.com/wildthingsweek#) Oct. 12 to 16. This will include events at the Brooklyn Children's Museum and Staten Island Children's Museum, plus readings at various branches of the New York Public Library, including a celebrity reading, with Max Records, Catherine Keener and Forest Whitaker, who appear in the new film, on Oct. 13 at the New York Public Library at 455 Fifth Avenue.
Calling all HuffPost superfans!
Sign up for membership to become a founding member and help shape HuffPost's next chapter