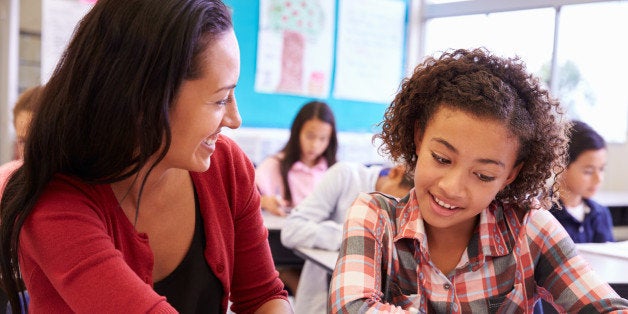 What do sports and education having in common?
Quite a bit, if you ask our latest Inspired2Educate honoree Marjorie Masse, who currently works as a math interventionist at Westford Public Schools in Chelmsford, Massachusetts.
In Marjorie's Inspired2Educate submission, she writes of the inspirational story of Mrs. Smith, a gym instructor who had a profound effect on her as a second-grader -- one that continues to this day.
She credits Mrs. Smith for fanning her love of sports to ignite a lifelong passion for math and science -- a passion that ultimately developed into a career of teaching in both K-12 and at the university level the subjects that once vexed her the most.
From a very early age, Marjorie remembers having trouble reading and writing, which led her to express her energy and talents in the classroom in other ways. "I was unsure why doing cartwheels from one desktop to another was a bad thing. I was the only one of my friends who could pull that off," she said.
Instead of taking disciplinary measures, the school physical education teacher took Marjorie under her wing. "I am one of the lucky ones," Marjorie said. "Someone saw me as worthwhile. Someone understood that in all kinds of minds there is capability. Someone tried and cared deeply about a student who couldn't read or write ... yet!"
While Marjorie helped to stack gym mats in piles of ten and played on the gymnastics equipment, Mrs. Smith patiently taught her about math and science -- on Marjorie's terms. "I was finally good at something at school," she said. "Up on the beam, I practiced while Mrs. Smith talked about fractions, gravity, momentum, and muscle cells. She spoke of history and maps. I jumped and twirled, and began to know that the world was interesting."
Marjorie eventually taught herself to read and write, and after high school walked into the Pennsylvania State University campus financial aid office asking for assistance enrolling to study science. "I told [the financial aid officer] that I didn't really know how to read, I had no money, and I'm on welfare -- but I'd like to go to college," she said. And go to college she did, majoring in microbiology and graduating with a Master of Science.
Marjorie's first experience teaching in a formal classroom came just after graduation, while she was working as a lab technician at a local university. Her supervisor noticed her innate ability to connect and communicate with others, and encouraged her to help teach a lab to undergraduate students. The experience led her to pursue a teaching certificate and then, ultimately, to acquire a master's degree in education.
Marjorie has experience teaching in both higher education -- she previously taught math and science fundamentals to future teachers -- and in K-12, where she now works as a math interventionist helping young pupils gain the confidence and self-reliance they need to succeed at whatever they want to do in life.
"Teaching is an interesting sport," Marjorie said. "You're a coach." She notes that many of the lessons and inspirations she brings into the classroom come from her experience in the gym, on the soccer field, or on a gymnastics mat.
For example, she encourages her students to practice until they master a new skill or lesson. She encourages them to approach math problems with confidence. And if they encounter failure -- either on the field or in the classroom -- she is the first to tell them that it's important not to let that failure define them.
"As a teacher, I need to come back every day knowing I can be better than yesterday," she said. "And I need to model that for my students, so they know that they can have a bad day and that's okay as long as they come back in tomorrow trying to be better."
Looking at her career, Marjorie remembers all of the different teachers whose collective influence set her on her present path. "Over the many years, it's taken a lot of Mrs. Smiths in my life to help me realize that I was a good thinker. But it started back there in the gym," she said. "It started with her recognizing me and showing me that I was valued. In my classroom, I can only work with a child on their math skills if they trust me, if they know that I value them, if they know that they're a valued member of this school community."

When asked what she would tell someone interested in pursuing a career in education, Marjorie emphasizes that it's a line of work for someone who wants a career "where you never have to stop learning and where you know that you're doing some good in the world, even if you don't get to see it right away."
Referring back to her love of sports, she said, "You are going to have days where you're on top of your game, and you're going to have days where you're not. And that's okay. But what I love about teaching is the way it keeps you young and motivated to always keep learning."
Kermit S. Randa is chief executive officer of PeopleAdmin, the leader in cloud-based talent management solutions for education and government. He has twenty years of executive experience leading firms in the software industry.
REAL LIFE. REAL NEWS. REAL VOICES.
Help us tell more of the stories that matter from voices that too often remain unheard.