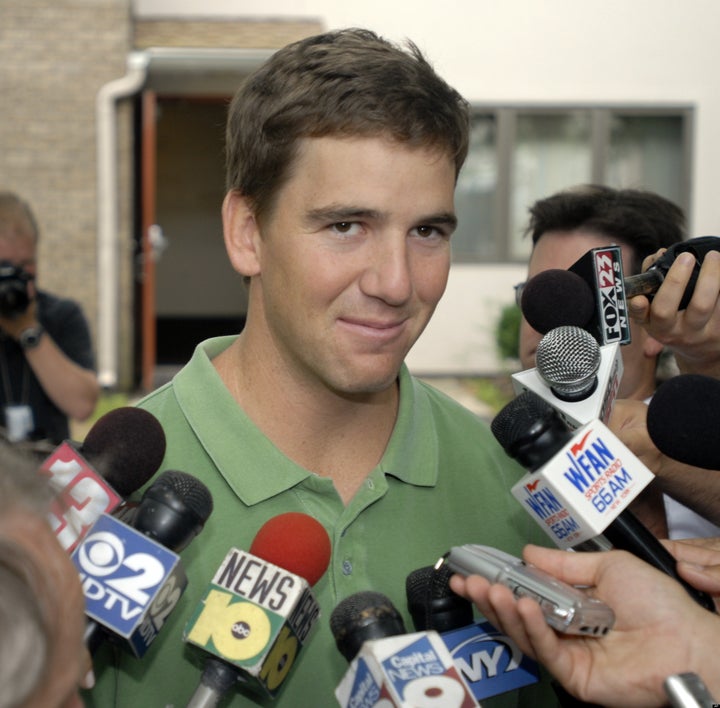 We will apportion due credit to the Giants and their players in a bit, but let's first pause to appreciate the suckitude of the Raiders. Regardless of how good the Giants are -- it's early, but they look as good now as any Giants team we've seen -- it's impossible to clinch a game just 16 minutes into without a uniquely bad opponent. More than anything, the Raiders of this era are characterized by mental errors; indeed, such boneheaded plays helped the Giants to take a 28-0 lead one minute into the second quarter.
1) On the Giants first drive, the Raiders committed two penalties: an offsides that turned a 3rd-and-7 into a much more convertible 3rd-and-2, and a pass-interference that nullified a third down stop (highly questionable if Eli and Smith would have connected without the penalty). Their drive thus extended, the Giants went on to score a touchdown.
2) On the Raiders ensuing possession, they turned a 2nd and 3 into a 2nd and 8 with a false start penalty. On third down of that series -- a 3rd and 6 -- they failed to convert with JaMarcus Russell missed a gaping running lane in front of him elected to throw the ball downfield, which is always a low-percentage play for him. (Russell went 8 for 13 today to raise his completion percentage to 42 percent.)
3) The Giants got the ball back and scored, and at 14-0, it seemed nearly certain that they were about to run away with the game. But Kareem McKenzie gave the Raiders one last chance with a personal foul penalty -- bad job by CBS not showing the replay -- that led to a 3rd-and-24 for the Giants. The obvious play call was a screen, which is exactly what the Giants dialed up ... and gained 55 yards. If the Raiders didn't expect a screen, shame on them. If they did expect a screen and still couldn't prevent a 55-yard play, shame on them again. The Giants scored a couple plays later to go up 21-0.
4) On 3rd down of the Raiders ensuing series, the Giants overloaded the defensive left side with a blitz from two defensive backs: Terrell Thomas and Aaron Rouse. Teams fail to pick up blitzes all the time, but in the Raiders' case, this missed assignment resulted in Terrell Thomas coming clean and forcing a JaMarcus Russell fumble.
Clearly, there's a massive talent gap separating the Giants and Raiders, as well as some other teams in the league (the Chiefs and Bucs among them). But if not for these mental mistakes, the dominoes wouldn't have fallen like they did, and the game wouldn't have been over as quickly as it was.
What's to like (in no particular order):
Tom Coughlin: He went for it on fourth down, and he used Bradshaw in that situation instead of Jacobs. Would he have done that last year? Probably not, and give him credit for the change. Tom can be conservative to a fault, but as with his demeanor change in 2007, he proved Sunday that he's capable of coming around.
Kevin Gilbride: He knew the Raiders would gang up against the run -- when the Giants ran early in the game, the Raiders stacked eight men in the box -- so he opened up the offense and allowed Eli to blow the game wide open. The Giants had 340 yards in the first half. Absolutely staggering.
Bill Sheridan: The architect behind the Giants third straight game the defense has annihilated their opponent. Regardless of who those opponents were, that's extremely impressive.

The Offensive Line: Last year, the run-blocking made a habit of dominating games, so it's nice to see they're still capable of doing so. The protection was just as good: Giants quarterbacks were not sacked, and were only hit once.
Eli: Perfect quarterback rating, and three of his eight completions came on beautiful throws: On the bomb to Smith and touchdown to Manningham, Eli displayed his much-improved touch. On the touchdown to Nicks, he showed his am-strength, timing, and command of where his receivers are.
The following quote from Mario Manningham about the pair's beautiful touchdown shows Eli's strides as an accurate passer and respected leader.
"I wasn't surprised. It's Eli. He puts balls on point, he knows what to call, he knows how to put us in good situations."
David Carr: Hey, 9-for-14, why not? Carr continues to convince us that he could win games against most teams in Eli's absence. Jeff Hostetler he is probably not, but he's not Jared Lorenzen either. It was also nice to see the team rally around him by maintaining their level of play when he replaced Eli.
Ahmad Bradshaw: At this point, is there any case to be made that Jacobs is better? On 1st-and-goal from the 5 on the game's first drive, three Jacobs runs netted four yards, including a run for no gain on third down. Jacobs and his physicality thus duly established (sarcastic), Bradshaw was summoned to score the touchdown. He punctuated it with his new signature spike, which is refreshing because it hearkens to a time when players could show their exuberance by simply jumping up and throwing the ball down really hard.
Bradshaw touched the ball 12 times and had 165 yards, including 110 yards on 11 carries. What's so remarkable about Bradshaw is his sense of timing in setting up his blocks and then accelerating. I've made this point before, but he reminds me of another undersized Giants running back with a knack for exploding through the hole at the right time: Joe Morris.
I saw Morris at Giants Stadium yesterday, and told him that Bradshaw's beautiful 19-yard touchdown run -- during which he waited for the seam to develop, flew through it, and then outran a safety to the outside -- reminded me of Morris' 49-yard run against the 49ers in the 1986 playoffs. He agreed. Then we then got to talking about Bradshaw's back injury (which doesn't seem like much of a concern now). I asked Morris if he ever had a similar injury, to which he replied: "I don't know. Nobody ever tackled me from behind."
The Defensive Line: The Giants sacked Russel six times (although two of those sacks came from blitzing defensive backs), forced three Russell fumbles, and held the Raiders to 2.4 yards per carry.

Lawrence Tynes: This is mostly sarcastic, but not completely. Making three easy field goals is no gimme for any kicker in the league, especially Tynes.
Corey Webster and Terrell Thomas: Raiders receivers caught 1 pass for 2 yards!
Mathias Kiwanuka: His sack/forced fumble was a great example of his athleticism and closing speed. A lower-profile, but perhaps more impressive moment occurred on the last play of the game, when 'Nuke ran down Justin Fargas from behind, stopping a potential double-digit run for a two-yard loss.
Justin Tuck: Eight tackles, six of them solo and of them for a loss, two sacks, and one quarterback hit. Knock on wood here, but if Tuck stays healthy and maintains his level of play for a few more seasons, the Giants will have gone 20 years with a dominant, complete player at left defensive end.
Sinorice Moss: Part of the problem of being tagged as a perpetual bust is that you try to do too much in the few chances you get. I've always felt that Sinorice was trying to make too many jukes, too many plays, and not letting the game come to him. Yesterday was another instance: All the Giants needed in that situation was a non-catastrophe, but Sinorice needed to make a play.
Another thing about Sinorice: He really looks too small to be an effective player, especially because his speed doesn't seem to be as great as advertised. It looks like defenders have an easy time slowing him up or tackling him with minimal blows. I don't think he has much of a future here -- Tom needs to get Hixon back returning punts and kicks.
Brandon Jacobs: Because he was called upon to run out the clock for most of the second half, his yards per carry average (21 carries for 67 yards = 3.2) probably overstates how ineffective he was. Still, it's pretty clear that those who have advocated for more Bradshaw at Jacobs' expense can now rest their case. By the end of the year, it's not out-of-the question that Jacobs can move further down the depth chart if Danny Ware proves more effective. We know that big backs have a short shelf life: Maybe this really is it for Jacobs.
Calling all HuffPost superfans!
Sign up for membership to become a founding member and help shape HuffPost's next chapter