Throughout the years, debate has engulfed UT's statue collection, a symbol of the University's racist past, and an embodiment of its continuing difficulties in creating a welcoming campus to students of color. According to the Atlanta Black Star, descendants of Confederate soldiers believe they should be able to erect statues to honor fallen soldiers and even more moderate historians at UT have proposed contextualizing the construction of the whole memorial, ostensibly praising national unity after the Civil War, with commemorative plaques. The Fort-Worth Star Telegram's Bob Ray Sanders argues Davis' humility after the Civil War gives him redeeming value. UT's student government has voted asking the administration to remove the statue.
What is the intent of the statues? To honor an ignoble part of our history, or merely the Civil War's fallen?
To answer these questions, readers must look past the Littlefield Fountain, that famous statue of WWI triumphalism, to a little-read but prominent inscription on the memorial's left wall: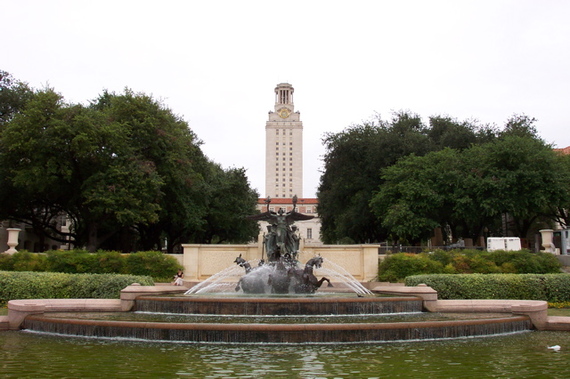 Photo of Littlefield Fountain taken from Wikipedia Commons
To the men and women of the Confederacy, who fought with valor and suffered with fortitude, that States Rights be maintained, and who not dismayed by defeat nor discouraged by misrule, builded [sic.] from the ruins of a devastating war a greater South. And to the men and women of the nation who gave of their possessions and of their lives, that free government be made secure to the peoples of the Earth, this memorial is dedicated.

The Gift of George W. Littlefield, Solider in the Confederate Army, Leader in Texas Industry, Regent of the University
This dedication ought to raise important questions on the part of young students who unload from buses, welcomed to UT's campus by Little Field Fountain on tour weekends. An inscription that both honors those "not...discouraged by misrule" by a union simultaneously praises "the men and women of the nation" who sacrificed their lives to preserve democratic governance in the First World War. This inscription is a contradictory and erroneous attempt to conflate the freedom defended overseas, with the "state autonomy" that maintained slavery, and later, Jim Crow, at home.
When I talked to UT English Professor Coleman Hutchison, who focuses on American Southern literature, he argued the continued dedication to the Confederacy amid an array of options as a conscious (and unfortunate) choice. Referring to Texas' time as a Lone Star Republic, Coleman emphasized that secession was not a "one time gamble" in Texas like in the rest of the South. He observed that Texas, unlike its other Southern counterparts, has a "six-flag ethos" that allows it to toss ideas like secession around without immediately tying such positions to slavery.
Hutchison pointed out that the statues came along at a time when the South was looking both to prove itself as a patriotic force in a post-WWI nation, and trying to preserve and enhance feelings of Southern pride. From Hutchison's point of view, this tension stems from the Confederacy's Civil War status as not just an internal rebellion, but a state in its own right that considered itself to be fighting a second War of Independence.
The University's complacency on the Jefferson Davis statue in particular may reflect an unwillingness to deal with racial tensions officials could see as one more divisive issue causing problems for their funding base and their business model: A model stretching back to ideas about a competitive and industrialized South. Littlefield and James S. Hogg, a populist Texas governor, emphasized a rejection of Old South agrarian economic models in favor of New South modernization. Although the New South system believed "racial harmony" contributed to this advance, it still rested on the inferiority of the black community. This heritage causes problems for UT's diversity mission. According to the University of Texas' statistical handbook, only 3.8 percent of the university's population come from African-American communities, down from 4 percent in 2013-2014. In the university's vaunted business model however, New South names still hold sway (an Endowed Presidential Scholarship is named after Alice Duggan Gracy, a Littlefield descendant. One of the main auditoriums on campus as well as a Social Work foundation, are named for Hogg).
"The entire iconic view [from the South Mall] of the university is punctuated by an embrace of its Confederate past." says Hutchison. However, given the University already downplays its Southern connections, he fears that removing the statues entirely would inadvertently close a natural gateway to discussing UT's residual racial issues, both historic and present, with reticent students. He argues that education about the statues and discussion about racial issues on campus should be mandatory for future students.
Proponents of the University more generally point out its advocacy before the Supreme Court on affirmative action, statues of Congresswoman Barbara Jordan, Martin Luther King, and Cesar Chavez, in an attempt to show that the university is balanced.
Debates over Federalism and Southern exceptionalism aren't merely historical. Readers may recall that Greg Abbott, our governor, deployed state troops late last month in response to fears of a national invasion of Texas by the United States' first African-American President. Perhaps readers recall recent bungled attempts by the Texas Legislature to pass a preemptive law that would prohibit the enactment of any favorable Supreme Court ruling on gay marriage, echoing segregation fights of old. Stale "states' rights" rhetoric and tendencies to fear "misrule" are well and alive in Texas. That large inscription passed by thousands of students a day does not just remember, but endorses, those tendencies.
Instead of promoting these outdated values, the University should vigorously reeducate its students, if not by removing the statues, at least rededicating them in a way as to tell the story of the tragedy of needless blood spilled, not of a "glorious past" that existed only in the minds of those who refused to let go.
Related
Popular in the Community