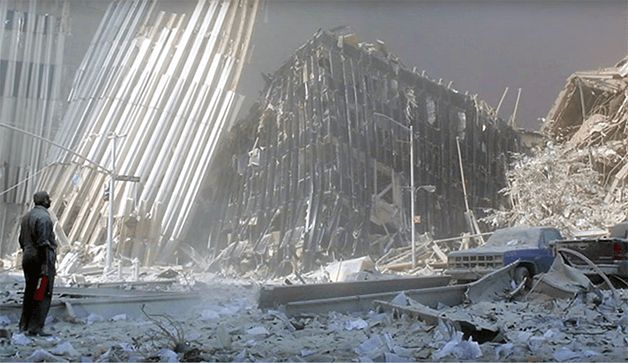 Because it was such a clear and gorgeous morning, I opened the window when I got to my office at 125 Barclay Street in Lower Manhattan. When I returned several days later, everything was exactly as I left it -- except for the 3-inch layer of dust and debris covering every surface.
Fortunately, I wasn't there for the collisions and the chaos -- and neither were most of the 800 or so people working at AFSCME District Council 37. New Yorkers were voting that day -- or supposed to be. Most of our people were out knocking on doors and getting people to the polls. I left the office early that morning and headed to Brooklyn to visit some polling sites where we had staff and volunteers.
I wasn't in the car long before I got the call that something -- maybe a helicopter? -- had rammed into the North Tower of the World Trade Center. A few minutes later, the office called back: No, it appears it was a small plane. At that point, I ordered everyone to leave the building immediately. And we pulled the car over in time to look across the river to see the second plane hit. Like everyone else, I knew at that moment this was no accident.
Members of AFSCME -- the American Federation of State, County and Municipal Employees -- raced to the front lines on September 11, 2001. One of the first of the first responder fatalities was Father Mychal Judge, the Fire Department Chaplain and member of AFSCME Local 299. He died in the lobby of the North Tower, but not before administering last rites to several people. We lost several members that day, and others have died in the ensuing years from illnesses contracted from breathing in toxins.
But on that day and in the months of clean-up and recovery that followed, our union and its members answered the call. We had hospital nurses dealing with unspeakable trauma and triage; social workers providing grief counseling; emergency personnel, many coming from as far away as Connecticut, to lend a hand at Ground Zero, crawling around and clawing through the rubble.
Leonard Benjamin, a mortuary care technician with Local 420, had the task of picking up human remains. "If we found a whole person," he said, "I guess that was more of a blessing."
Halloveen Brightly of Local 1549 wasn't on-site at the World Trade Center. But as a police communications specialist, she was the last voice many officers heard: "I hope that whatever they needed from me at that last time, that I gave it to them."
I was able to get to Ground Zero a few days after the attacks to talk with and thank AFSCME members helping New York dig out of the wreckage. The scene was pretty shocking -- to all the senses. At one point, I asked Jim Tucciarelli, President of Local 1320 (Sewage Treatment Workers), about the foul odor. "That's the smell of death," he explained.
Although our building at 125 Barclay was still standing, it was uninhabitable. But in exchange for letting federal authorities use our lobby as a communications hub, we were able to get into our offices and access computer files that allowed us to continue providing services to our members.
For the next several months, we were spread out throughout the city, taking over the national union's regional office in Queens, using space donated by other unions and leased from other organizations. It was a challenge, to be sure. But at a time when our members had shown greater valor and resilience than ever, we would stop at nothing to continue supporting them.
Public service workers were the heroes of the most terrifying, catastrophic day in American history. Their work was both remarkable and unremarkable -- unremarkable because it's what they are trained to do, what they sign up for, what they do on a smaller scale every day.
Confronting crisis and desperation, with little time to spare or margin for error, they rise to the moment. They summon courage under the most harrowing circumstances. They are calm when everyone is panicked. They are at their best when things are at their absolute worst.
Lee Saunders is the President of AFSCME, the nation's largest public services employee union. From 1998 to 2002, he was based in New York City as administrator of AFSCME District Council 37.
Popular in the Community