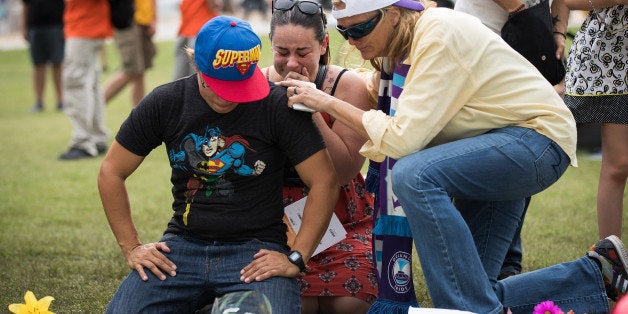 I spent mine talking about the final text messages a young man sent his mother from inside Pulse night club in Orlando. He typed out 'Mommy' in his pleas for help. I wanted to walk off the set, get in my car and drive far away.
We can't talk about it. That's the conclusion I've come to, and I came to it long before this latest horrific tragedy in Orlando.
Sandy Hook did me in. When 20 first graders are slaughtered in their classroom and nothing is done about it, you know we've lost our minds.
Arm everyone. Confiscate guns. It's the democrats/republicans/his/her/their fault. It's mental illness. It's religious extremism.'
You know what? At this point, it's our fault. It's our fault for listening to hollow promises made by people who have no intention of doing anything. It's our fault for believing the spin from this side or that side. It's our fault for becoming desensitized to mass shootings.
Be honest, were you shocked when you heard a gunman had entered somewhere and started shooting? I wasn't. I'm ashamed it took the number 50 to stagger me. This kind of desensitization goes against my beliefs, against who I am as a human being.
Can you hear it? The machine is revving up. The candidates and pundits and paid hacks will slam the right and left-muslims-Obama-anything slammable. Devastated families will bury their dead and unlike the rest of us who will shake it off and move on, their grief and loss will be without end.pulse
We are like my 9 year old who plugs her ears and sings "La la la la la la la la," to drown out what her big brother is trying to say to her. Where has that gotten us? I'll tell you where, because I'm exceptionally adept at directions. It's gotten us to the largest mass shooting in U.S. history.
Where do we go from here? I have no clue. Should we try to turn around or take a detour or a short cut, or keep going? The problem is that all roads to sanity are blocked by people so busy running their mouths and pointing their fingers that others have plenty of time to pull the trigger and take more innocent lives.
I don't care if you love guns or hate guns, if you own a hundred or wouldn't let one in your house -- I think we all agree that we don't want our children and mothers and fathers murdered at school (Sandy Hook) or at the work Christmas party (San Bernardino) or in class at college (Virginia Tech) or at a night club (Orlando).
It's Groundhog Day, with a body count.
I'm not going to write 'love must win over hate' or that we need to 'put aside our differences and work together.' Those incredibly important and true words ring hollow in my jaded ears.
That poor mother in Orlando forced to read the last terrified moments of her son's life. 'He's coming. I'm gonna die. Mommy I love you....'
You good with that? Yeah, me either.
Popular in the Community