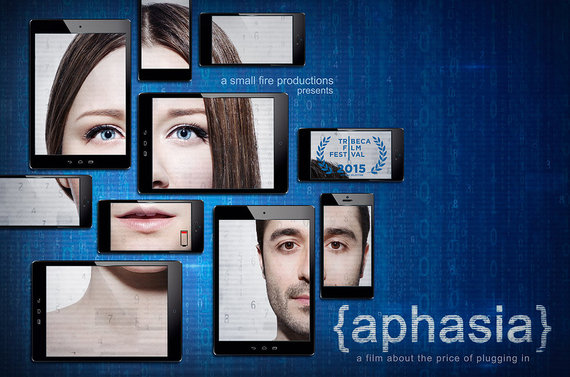 "The filmmakers respectfully ask the media to not discuss the film's ending" is a sentence included in the press notes for Luke LoCurcio's twelve-minute short "Aphasia." Now since aphasia means the sudden inability to communicate, whether through speech, writing, or even sign language, while not losing one's intelligence, and there's only one main character in the film, unless you can't put 6 and 7.2359 together and come up with 13.2359, you will probably have already guessed the finale. If not, I have no doubt you watched Titanic and was caught off guard that a ship sinks and Leo dies. You probably also pondered why Frozen isn't set in Miami Beach.
To keep the secret from those of us with a slightly higher IQ or a dictionary app on our iPhones, I would advise the creative powers involved to immediately rename their entertaining product "Apricot" or "A Dating Film without Ashton Kutcher."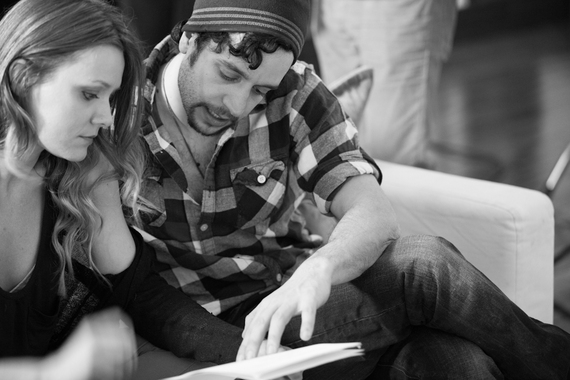 Director Luke LoCurcio confers with screenwriter/star/co-producer Robin Rose Singer on the set of "Aphasia." Photo by Ian Kaplan.
An exploration of life in an extremely tech-savvy world, the succinct screenplay by Robin Rose Singer wants us to be aware . . . very aware . . . that all the technological advances today that separate us from cavemen and poor people are also nibbling away at our souls and our ability to socialize in any meaningful manner, so much so that cuddling might soon become a historical artifact.
The tale begins with Emily (a winsome Ms. Singer) coming home, turning on her TV, ordering sushi, drinking a glass of water, comparing an online show star to a football on social media, and then making a date with a gent. Next Emily takes a selfie while holding her guitar, stands in front of her closet only in panties, exits a subway stop in a garbage-strewn part of New York, and meets her guy (Looking's Frankie J. Alvarez). My lips are dutifully sealed as to what occurs next.
Beautifully shot by Shawn Greene, with top-notch production design by Anna Kathleen, and an appropriate digital score by Bumi Hidaka, "Asphasia" incisively makes its director's points that "technology [might] outpace human beings themselves" and even though "we have the world at our fingertips . . . our devices [might be] causing us to selfishly live in a fake world."
(By the way, funding for "Aphasia" was raised utilizing modern technology.)
Calling all HuffPost superfans!
Sign up for membership to become a founding member and help shape HuffPost's next chapter