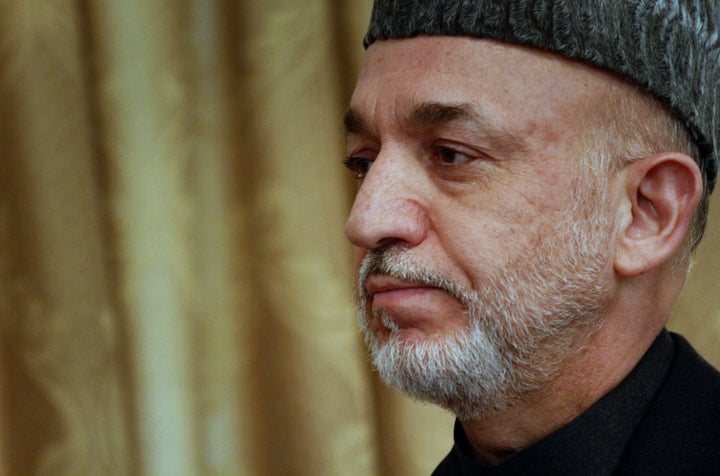 What is going on with Hamid Karzai? The Afghan leader has not only been lashing out repeatedly at the West and accusing foreigners of being responsible for "massive fraud" in last year's presidential election -- statements that White House Press Secretary referred to as "genuinely troubling" -- but also apparently threatening to join the Taliban if he continued to receive significant outside pressure. (The AP suggests that Karzai is making the statements in order to save face at home; Karzai himself told CNN that his statements were meant to "make sure that we all understand as to where each one of us stands.")
Peter Galbraith, a former UN envoy to Afghanistan who was vocal about his belief that widespread fraud had been committed in last year's election, said on MSNBC's "Daily Rundown" this morning that Karzai's recent behavior "raises questions about his mental stability" and suggests he's "slightly off balance." (Galbraith, it should be noted, was one of the foreigners recently singled out by Karzai regarding the alleged fraud.) According to Galbraith, diplomats in Kabul have grown concerned about Karzai's behavior and report that he is "prone to tirades" and "can be very emotional." Galbraith even went so far as to say that some palace insiders have claimed that Karzai "has a certain fondness for some of Afghanistan's most profitable exports."
When pressed by Chuck Todd to clarify what he meant by the obvious drug innuendo, Galbraith avoided substantiating the accusation, only saying, "He's got his own substance abuse problem. There are reports to that effect."
5:00 PM ET -- White House suggests it could cancel Karzai's visit. Karzai's recent anti-Western statements could cost him his upcoming meeting in Washington, CNN reports. At today's White House press conference, Robert Gibbs said that Karzai's "troubling and untruthful remarks" have called into question the purpose of meeting with the Afghan leader in May.
"We certainly would evaluate whatever continued or further remarks President Karzai makes, as to whether it is constructive to have that meeting," Gibbs said.
1:30 PM ET -- Is Karzai 'too big to fail?' Slate's Fred Kaplan weighed in yesterday on the subject of Hamid Karzai's increasingly erratic behavior in a piece whose headline cut right to the question of the hour: "Has Karzai Gone Crazy?" Kaplan suggests there isn't probably much that can be done about Karzai's recent antics, because the Afghan leader has come to realize that he can act with relative impunity given how much the US and other countries have invested in the war and how central it is to their idea of security.
It's like the old joke: If you owe the bank $1 million, the bank owns you; if you owe the bank $1 billion, you own the bank. We're the bank, and Karzai's the one in unfathomably deep debt, but he's calculating that we won't foreclose precisely because of this relationship (a politico-military equivalent of "too big to fail"), and he's probably right.
Nonetheless, Kaplan argues that even if we can ascertain the realpolitik behind Karzai's recent belligerence and his sense of invincibility, the question of whether we can ever truly move forward with him remains:
Karzai's latest remarks raise a more alarming question still: Is it possible for Western governments to work by, with, and through an Afghan president who denounces them at every turn, even to the point of characterizing them as imperialist invaders, thus affirming the main talking point of the Taliban and al-Qaida?
10:30 AM ET -- A major blow for the Taliban. At least 27 Taliban insurgents were killed in fighting Tuesday in what the Associated Press described as a "major blow for Taliban influence in the region."
NATO and Afghan forces launched an operation in Badghis province before dawn, with troops inserted behind Taliban lines to trap the militants, the regional Afghan corps commander Gen. Jalandar Shah Behnam said. Fighting continued well into Tuesday afternoon, he said.

In addition to the 27 Taliban bodies collected, one Afghan soldier was killed and five wounded, he said. One U.S. soldier was reported wounded.

There was no immediate comment on the fighting from NATO command in Kabul, but Behnam described the targeted area as one that had emerged as a Taliban stronghold in the past three years, from where the militants fired at supply aircraft and kidnapped members of Afghan and foreign engineering teams.
REAL LIFE. REAL NEWS. REAL VOICES.
Help us tell more of the stories that matter from voices that too often remain unheard.