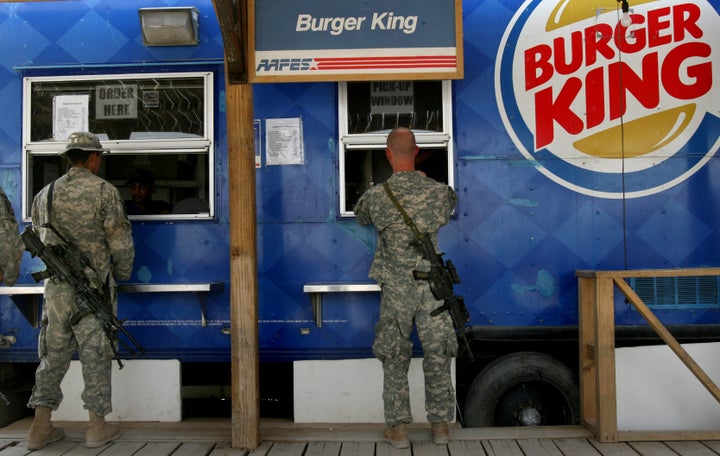 We are blogging the latest news about America's war in Afghanistan and Pakistan. Email us at AfPak [at] huffingtonpost.com. Follow Nico on Twitter; follow Nicholas on Twitter. See archives of 'At War' here.
With reporting by Faiz Lalani.
President Obama orders withdrawal from Afghanistan...of fast food. President Obama has begun withdrawing fast food restaurants from the battlefield in Afghanistan, reports AOL News. Major fast food outlets like Orange Julius, Burger King, Pizza Hut, and Dairy Queen will be shut down in U.S. bases in the country in preparation for the troop surge. Nonessential luxuries are being cleared to refocus resources on combat operations and forward bases. The BBC noted that General Stanley McChrystal, the commander of U.S. and NATO troops in Afghanistan, "expressed concern that burger bars, pizza restaurants and other stores... served as a distraction to the military mission."
5:45 PM ET -- Gates want to export drone tech to allies. According to Reuters, the U.S. is interested in exporting drone technology to its allies, Secretary of Defense Robert Gates told a Senate hearing yesterday. Although the Missile Technology Control Regime--an informal pact between 34 nations designed to limit "the spread of unmanned delivery systems that could be used for weapons of mass destruction"--prevents the U.S. from exporting drones that can carry bombs, Gates wants U.S. allies to be able to acquire the technology. Washington recently announced plans to transfer surveillance drone technology to Pakistan, but Pakistan has asked for Predator drones--used by the CIA in the Afpak region--so that it can arm drones with Hellfire missiles.
5:15 PM ET -- Despite new rules, civilian casualties remain high. Despite new rules meant to reduce civilian casualties, the number of Afghans who have been killed or injured by U.S. and NATO troops firing from convoys and military checkpoints has remained the same, reports The New York Times. Since last June, U.S. and NATO troops have killed 30 Afghans and injured 80, and, according to military officials, "in no instance did the victims prove to be a danger to troops." General Stanley McChrystal, the top NATO commander in Afghanistan, has called on troops to exercise restraint, believing that civilian casualties undermine local support for NATO's presence.
"There are stories after stories about how these people are turned into insurgents," Sergeant Major Hall [a senior NATO soldier] told troops during the videoconference. "Every time there is an escalation of force we are finding that innocents are being killed," he said.

One such case was the death of Mohammed Yonus, a 36-year-old imam and a respected religious authority, who was killed two months ago in eastern Kabul while commuting to a madrasa where he taught 150 students.

A passing military convoy raked his car with bullets, ripping open his chest as his two sons sat in the car. The shooting inflamed residents and turned his neighborhood against the occupation, elders there say
5:00 PM ET -- Pakistan refocuses its relations with U.S. beyond terrorism. The Council on Foreign Relations' Senior Fellow for South Asia, Daniel Markey, comments on the "strategic dialogue" between Pakistan and the U.S. that took place this week. The Pakistani delegation arrived with a 56-page book listing demands. Many of the items on Pakistan's list--such as aid and military hardware--are aimed at addressing Pakistan's goal "to resolve strategic challenges posed by India." The Pakistanis shrewdly left their chief spy in Islamabad, hoping to shift the focus of U.S.-Pakistani relations away from counter-terrorism efforts to broader economic and strategic cooperation. The Obama administration too has played smartly, writes Markey, by not outright denying any of Pakistan's demands and by listening. Pakistan's insistence on a civilian nuclear deal, for example, wasn't treated with scorn, even though Pakistan stands little chance at such a deal. Instead, the administration kept a "let's keep talking" approach.
4:45 PM ET -- Fred Kaplan dismisses insurgent overtures for peace. Fred Kaplan at Slate is skeptical of the prospects for peace in Afghanistan anytime soon. He probes into the recent overtures from the insurgent group, Hezb-e-Islami, and decidedly concludes that "the evidence from all sides suggests this war will go on for a while." Hezb-e-Islami leader Gulbuddin Hekmatyar has quite the past--put charitably--as "his record of terrorism, savage human-rights violations, and duplicity" demonstrates. Kaplan doesn't believe that Hekmatyar is serious about peace, and even if Hekmatyar is serious, Kaplan argues that he has little to offer. While the Hezb-e-Islami is based in northern Afghanistan, the brunt of the Taliban insurgency rages in the south, where Hezb-e-Islami has no influence. It is too soon to tell if Operation Moshtarak worked and to judge if the offensive in Kandahar will successfully rout out the Taliban, Kaplan insists.
3:15 PM ET -- In interview, Taliban dismiss peace talks, dismissive of Al Qaida, other militants An Asia Times Online interview with a senior Taliban leader in Karachi sheds light on the murky politics of Afghanistan. The Talib, using the pseudonym "Abdullah," dismisses the possibility for reconciliation with Karzai's government and denies that the captured Taliban leader Mullah Baradar was negotiating with Kabul. Abdullah told the reporter, "[w]hy should we surrender? Recently, they [NATO] attacked Marjah [in Helmand province in Afghanistan], but within days the Taliban took back control of some areas of Marjah and Nad-e-Ali...there is no reason for us to start [talks]." Although he admitted that the Taliban had spoken to Saudi intelligence chief Prince Muqrin about peace talks, he said the talks collapsed after the Obama administration pursued a troop surge.
Oddly, the former Taliban government official was dismissive of Al Qaida, the Pakistan Taliban, and other Pakistani groups attacking Pakistani authorities. Abdullah termed their resistance to the Pakistani authorities (its army) as illegitimate resistance and branded them as unreasonable.
"There is a weird situation in North Waziristan [tribal area in Pakistan]. If you spend just 20 days there you will talk the way they talk and you will start declaring certain Muslims as heretic and issue decrees of murder and assassination. This is not the Islamic way. The Taliban cannot accept that."
2:30 PM ET -- Money can't buy love, says Pakistan. Even as the U.S. triples its civilian aid to Pakistan, opinion polls and media coverage in the country continue to paint the U.S. in an unfavorable light, notes Reuters. Richard Holbrooke, special envoy to Afghanistan and Pakistan, said that "[p]ublic understanding in Pakistan of what the United States is doing is just not where it should be" and that Pakistanis mistrust the U.S., believing that the U.S. is only concerned about the war in Afghanistan and Pakistan's nuclear arsenal. Washington hopes to boost Pakistani public opinion of the U.S. by cementing a "permanent and wide-ranging" relationship with the country. U.S. officials believe that close government-to-government cooperation on development and aid matters will eventually trickle down to more public support for stronger American-Pakistani relations.
1:30 PM ET -- Pentagon asks for $33 billion more for Afghanistan war. The Pentagon is asking for $33 billion in supplemental funding on top of the $708 billion it requested from Congress for the 2011 budget, reports the Christian Science Monitor. Secretary of State Hillary Clinton and Defense Secretary Robert Gates appeared before the Senate Appropriations Committee yesterday to submit their request for supplemental funding for the war in Afghanistan. Clinton had asked for separate funds totaling $4.5 billion for the State Department. Most of the $33 billion will pay for military operations in Afghanistan and the training of Afghan security forces. Lawmakers questioned the two about the length of the wars in Iraq and Afghanistan, expressing concern that the wars could become a long-term burden on the U.S.
12:15 PM ET -- ABC joins McChrystal on foot patrol. ABC News joined General Stanley McChrystal as he patrolled the streets of Bula Mughab, Afghanistan. The town in western Afghanistan, jokingly called a "Taliban Vacation Spot," has not been a priority for U.S. troops and there are few foreign troops stationed in the area. A man ABC News spoke to complained that there was no security -- "U.S. troops go one way, the Taliban comes in from the other way. What security are you talking about? I'm scared of both you and the Taliban," he said. And just as McChrystal walked around the bazaar, gunshots could be heard. Insurgents were apparently targeting NATO helicopters with AK-47 rifles. McChrystal cautioned that restoring stability to the area would take months, even years.
11:00 AM ET -- 61 suspected militants killed in Pakistani airstrike. According to The Associated Press, Pakistani military airstrikes targeted Taliban militants along the Afghan border yesterday, killing 61 suspected militants. A "religious seminary, a mosque and a school were targeted," local residents said. The seminary belonged to the Tableeghi Jamaat, a non-violent and popular Islamic missionary group. The site was suspected of hosting Taliban leaders, according to Pakistani intelligence officials.
10:30 AM ET -- Obama admin clarifies justification for drone strikes. State Department legal adviser Harold Koh outlined the Obama administration's legal rationale for conducting drone strikes in Afghan and Pakistani territory on Thursday, reports NPR. Koh told a gathering of international legal experts that the U.S. "may use force consistent with its right to self-defense under international law" and, since Congress made the conflict with al-Qaida and the Taliban official after 9/11, these strikes were justified. Although Koh has been critical of the Bush administration's tactics in the war on terror, other lawyers present, including Notre Dame law professor Mary Ellen O'Connell, criticized Obama for following the same "conception" of the war on terror as the Bush administration.
Earlier in the week, Ken Anderson, professor of international law at American University told a congressional panel that the Obama administration risked war crimes charges if it did not clarify its legal rationale for the drone strikes in Afghanistan and Pakistan.
Support HuffPost
The Stakes Have Never Been Higher
Related
Popular in the Community