We are blogging the latest news about America's war in Afghanistan and Pakistan. Email us at AfPak [at] huffingtonpost.com. Follow Nico on Twitter; follow Nicholas on Twitter. See archives of 'At War' here. Additional reporting by Faiz Lalani.
Pakistan to give up Baradar. AP is reporting that Pakistan will turn over the recently captured Taliban second in command, according to an Afghan government official.
Pakistan has agreed to transfer Baradar to Afghan custody, according to Zemeri Bashary, a spokesman for Afghan Interior Minister Hanif Atmar, who was in Islamabad meeting with FBI and Pakistani officials. "Pakistan has agreed to hand Mullah Baradar over, but there is going to be consultations with judicial authorities," he said.

Pakistani Interior Minister Rehman Malik said Islamabad was expecting a formal request from the Afghan government to hand over Baradar -- which could allow U.S. officials to conduct their own interrogation of him.
1:00 PM ET -- Half of Afghanistan Taliban leaders arrested? The Christian Science Monitor is reporting that Pakistan has recently arrested 7 of the 15 member of the Afghan Taliban's senior leadership, including the group's head of military operations. The website cites Pakistan officials as the source of the information.
In total, seven of the insurgent group's 15-member leadership council, thought to be based in Quetta, Pakistan, including the head of military operations, have been apprehended in the past week, according to Pakistani intelligence officials.

Western and Pakistani media had previously reported the arrest of three of the 15, but this is the first confirmation of the wider scale of the Pakistan crackdown on the Taliban leadership, something the US has sought.
Read the Monitor's story here.
12:50 PM ET -- The Real 'Hurt Locker'. AP takes a look at the US troops in Afghanistan that are part of the bomb disposal squads that perform the duties memorialized in the Oscar-nominated and critically-beloved film (it has my vote for best picture).
[Staff. Sgt. Joshua] Rickert and his team work for the Explosive Ordnance Disposal, or EOD, unit of the U.S. Air Force. Soldiers summon these men by radio when they find concealed bombs, a deadly threat to NATO forces fighting the Taliban. On Tuesday, Rickert's metal detector squealed when he ran it over a patch of earth at a chokepoint between two mud walls, a natural avenue where troops on patrol might choose to walk.

It was an IED, or improvised explosive device. Rickert saw parts of it poking above the soil.

"We're going to blow that right there," he said. Kneeling, Rickert laid down a brick of C4 explosive. He activated the one-minute fuse. Then he straightened up, weighed down by his flak jacket, helmet and other gear, and walked away -- not hurrying, but fast enough.

Soldiers nearby stuck their fingers in their ears. The blast threw up black smoke. Rickert walked back to make sure the job was done.
PHOTO of Rickert and his team at work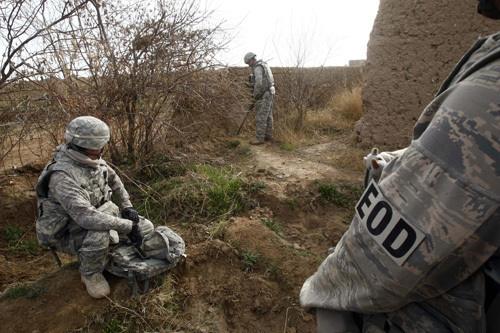 12:45 PM ET -- The problem with night raids. HuffPost blogger Jonathan Horowitz wrote yesterday about the ongoing anger among Afghans over the US's use of night raids. Horowitz argues that the raids are one of the main reasons that Afghans continue to distrust the US. "The military insists that conducting operations at night is necessary because it gives them the element of surprise. Afghans say it increases the chance for confusion, chaos, abuse, destruction, civilian casualties, and community fury," he writes. He goes on to cite 6 recommendations recently made in a report by the Open Society Institute and The Liaison Office for how to reform the practice.
With all these problems and more, the study concludes that night raids remain counterproductive to some of the top goals the international community has set out to achieve in Afghanistan, namely increasing stability, garnering greater local trust and support, and strengthening the rule of law in Afghanistan. Night raids, the report said, are even overshadowing the military's pro-civilian successes, such as the reduction of airstrikes that kill innocent men, women, and children.

While it may be necessary for forces to conduct night raids in certain scenarios, military planners need to do a better job at preventing the mistakes that too often accompany the raids.
Calling all HuffPost superfans!
Sign up for membership to become a founding member and help shape HuffPost's next chapter