We are blogging the latest news about America's war in Afghanistan and Pakistan. Email us at AfPak [at] huffingtonpost.com. Follow Nico on Twitter; follow Nicholas on Twitter. See archives of 'At War' here.
With reporting by Faiz Lalani.
Why was Baradar captured? What was initially hailed as a turning point in American-Pakistani relations is now viewed by analysts in a less optimistic light. Previously, it was thought that Mullah Baradar's capture signaled a strategic, anti-Taliban shift in Pakistan's national security doctrine. Reuters now reports that General McChrystal thinks that the arrest of the Afghan Taliban's second in command in Karachi had less to do with Pakistan's cooperation and more to do with an "internal tribal feud."
From Reuters:
A theory in some intelligence circles, however, is that Baradar was captured only after he had already effectively been expelled from the Taliban after an internal tribal feud, leaving behind a more radical rump Taliban leadership.

U.S. and NATO commander General Stanley McChrystal said it was not entirely clear why Pakistan arrested Baradar now, but that an internal Taliban feud was one plausible explanation.
If the speculation that Baradar was purged is true, then it could signal a definitive change in the character of the Afghan Taliban. Taliban hard-liners may have effectively begun a campaign to purge ethnically or politically unreliable members. Baradar, who comes from the same tribe as Afghan President Hamid Karzai (the Popalzai tribe), had earlier indicated a willingness to join Karzai's peace talks. The purges may reflect the creation of a more ideologically hardened and Islamist Taliban insurgency.
6:30 PM ET -- Fallen U.S. Marine. Marine Lance Corporal Nigel Olsen of Salem, Utah, was killed this week in Afghanistan. Below is a photo from the AP of Marines carrying the transfer case containing his remains at Dover Air Force Base Today. Read a notice of Olsen's death in the Salt Lake Tribune here.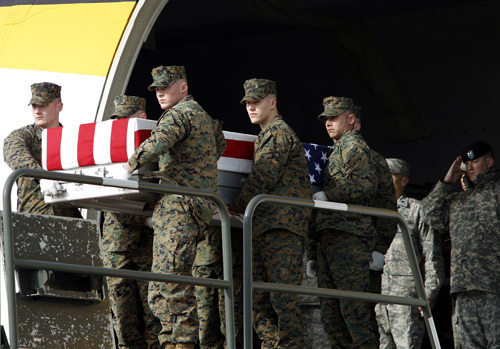 6:20 PM ET -- British soldier in Afghanistan who went AWOL jailed. Joe Glenton, a soldier-cum-activist, was jailed today for nine months in Britain for going AWOL. A court martial in Essex sentenced him after he pleaded guilty, despite suffering from post-traumatic stress disorder. Glenton served in Afghanistan for seven months in the Royal Logistics Corps, and later fled to Australia to avoid continuing his service. He moved back to Britain in June 2009 with his wife--also his lawyer--to confront British authorities. Glenton became a hero to the anti-war movement by refusing to go back to Afghanistan.
The London Times has an in-depthprofile of the ex-soldier.
5:20 PM ET -- Former NATO chief worries about weaker NATO alliance. Former NATO secretary-general Lord George Robertson criticized Western countries pulling out troops from Afghanistan, saying that "[t]o get out when the job's half-done is I think the wrong thing to do." Speaking to Canwest News Service, Robertson said that Canada's scheduled withdrawal from Afghanistan next year imperils the mission. Canada's withdrawal, followed by the Netherlands' departure, signal a growing crisis in the NATO alliance. Worried that Al Qaeda could thrive again in Afghanistan if NATO puts less troops on the ground, Robertson blamed weak political leadership for allowing public support for the war to decline in Western countries. Canada's Prime Minister Stephen Harper has stated that he will not ask Parliament to extend the deployment of Canadian troops in Afghanistan, and last month the Dutch coalition government collapsed over the country's continued participation in the war effort.
5:10 PM ET -- IED attacks threaten NATO troops in Marjah. After completing a major offensive, U.S. and Afghan troops in Marjah are still facing improvised bomb attacks at a rate of between 4 to 6 bombs a day on average.
From the Daily Times:
"There are many improvised explosive devices in Nad Ali and Marjah which have been placed by the insurgents," [NATO spokeman, Gen. Eric Tremblay] told reporters. On an average day there were "anywhere between four and six (IED) strikes," Tremblay said, adding: "Not every strike is causing casualties."
1:30 PM ET -- McChrystal now responsible for almost all foreign troops in Afghanistan. The BBC reports that General Stanley McChrystal is now in charge of nearly all NATO forces in Afghanistan, except for a few Special Forces. As leader of the 121,000 foreign troops in Afghanistan, McChrystal will use his new expanded authority to pursue his civilian-centric counterinsurgency strategy.
1:20 PM ET -- Pentagon accountants anger Pakistani military. According to Dawn, over $400 million in reimbursement claims made by Pakistan for 2008 have been rejected by the Pentagon. While Pakistan filed for $1.4 billion in claims, it only received reimbursements of $997 million because of "over-billing" and "inadequate substantiation." The funds, allocated to Pakistan's military from the Coalition Support Fund, are intended to pay for Pakistan's expenditures on troops and equipment for military operations. Senior Pakistani military commanders complained that they were "peeved at the 'penny-pinching' CSF reimbursement procedures" and that the sacrifices of their troops were being disregarded.
1:10 PM ET -- Does new offensive in North Waziristan mean Pakistan is more cooperative with U.S.? Pakistani tanks rolled into Miram Shah yesterday in North Waziristan, where the Taliban-linked Haqqani network operates. Writing in Foreign Policy, Imtiaz Gul believes that the new force movement indicates that Pakistan is preparing for a new offensive in North Waziristan by sending "five brigades of the Army and around the same number of paramilitary Frontier Corps troops [to gear up for] some mop-up and surgical operations in the area." The U.S. has long pressed Pakistan to take on the Haqqanis, who are responsible for attacks on NATO troops in Afghanistan, including the recent spate of attacks in Kabul. Gul contends that the new planned offensive, the success of recent drone strikes, and the capture of Mullah Baradar all reflect more cooperation between Pakistan's Inter-services Intelligence and the CIA.
1:00 PM ET -- NATO's new night raids policy. A report from the Associated Press revealed parts of NATO's new policy regarding night raids in Afghanistan. The steps, meant to reduce complaints from Afghans, are important to Gen. McChrystal's counterinsurgency doctrine (COIN), which aims to improve Afghans' perceptions of NATO troops. The new directives require that Afghan troops accompany NATO personnel when they conduct night raids and that NATO limit the use of night raid as much as possible.
From the AP:
"Despite their effectiveness and operational value, night raids come at a steep cost in terms of the perceptions of the Afghan people," according to excerpts of his directive. ..."In the Afghan culture, a man's home is more than just his residence. ... Even when there is no damage or injuries, Afghans can feel deeply violated and dishonored, making winning their support that much more difficult," [the new orders said.]
12:50 PM ET -- Pakistani workers killed in Kandahar; Pakistan blames India. On Thursday, four Pakistani and one Afghan construction workers were shot dead by gunmen on motorcycles, according to Agence France Presse. The shooting occurred in the Panjwai district of Kandahar province, where the Taliban insurgency is strongest. The Taliban, however, did not claim responsibility for the attacks. The Pakistani Ministry of Foreign Affairs has asked Afghan authorities to investigate.
Meanwhile, Islamabad has been quick to point the finger at India, with The News reporting that "[t]he Pakistani authorities have credible information about the involvement of Indian agents in the Kandahar incident and the government would furnish evidence to important world capitals at an appropriate time."
India and Pakistan frequently accuse each other of destabilizing Afghanistan, and their competition for influence in the country further complicates the diplomatic and political dynamics of the Afghan conflict.
12:15 PM ET -- U.S. to spend $250 million to spread its message in Afghanistan and Pakistan. The growth and proliferation of news media in Afghanistan and Pakistan has opened up a new battlefield for the U.S.-- strategic communications. Reuters reports that the State Department will spend $250 million this year on communications in the two countries to help better articulate America's goals in the region. In a part of the world where conspiracy theories abound, American diplomats hope to clear up misconceptions about the U.S. Including more local reporters in briefings and issuing press releases in local language are other ways the U.S. seeks to convey its message to Afghans and Pakistanis.
10:30 AM ET -- Holbrooke interview reveals huge challenges ahead in Afghanistan. In an interview with the Financial Times, Richard Holbrooke, the Unites States special envoy to Afghanistan and Pakistan, said that securing Afghanistan remains a daunting task. He was uncertain about how Afghanistan would eventually turn out, saying that the key to assuring security there was to transfer control to the Afghan security forces. But training the army and the police forces was in itself a huge challenge, he added. With drug addiction, illiteracy, and high attrition rates rampant in Afghanistan's security forces, Holbrooke questioned the competency and readiness of the forces to takeover from NATO. He also spoke about President Karzai's recent decision to assume complete control over the appointees to the independent Electoral Complaints Commission, remarking that countries that have put boots on the ground to help rebuild Afghanistan were legitimately concerned about the move.
On the question of whether he believes that Pakistan has turned the corner, and become a reliable ally in the battle against the Afghan Taliban, Holbrooke said that he was "agnostic."
"Everyone has asked the same question. How do you know? Have we turned a corner? I'm not prepared to make those judgments, and you'll have to ask the Pakistanis that," he said. "I'm an agnostic at this point . . . as to whether this was a policy change [by Islamabad] or a serendipitous collection of discreet events."
9:50 AM ET -- Militants attack Pakistani troops in tribal areas. Reuters reports that a force of about 200 militants attacked a military checkpost in the Mohmand district of Pakistan's tribal areas Thursday. The militants, armed with automatic rifles and rockets, stormed the post, killing at least one soldier. 30 militants are said to have been killed in the attacks. This comes just two days after the Pakistani Army said that it had made significant progress battling militants in nearby Bajaur.
9:30 AM ET -- 'Time to talk' to the Taliban. Kai Eide, the head of the UN mission in Afghanistan, said Thursday that "it's time to talk" to talk to the Taliban. Eide is calling for a political solution to the war against the Taliban. Hamid Karzai will host a jirga--a tribal gathering--this spring to reach a national consensus on how to reintegrate the insurgents and bring peace to the country, an effort that Eide backs. He also addressed concerns about President Karzai's controversial presidential decree, allowing him to appoint all the members of an election watchdog panel.
AP reports:
[Eide] also said he would continue his push for electoral reform following Karzai's decree last week giving the Afghan the authority to appoint members of a formerly independent Electoral Complaints Commission.

The panel, which monitors election fraud, was previously dominated by U.N. appointees, who uncovered massive fraud in last year's presidential election. Eide said he met with Karzai on Thursday morning to ensure a fairer ballot during parliamentary elections this fall.
Eide was previously criticized by his former American deputy, Peter Galbraith, who said that Eide was not aggressive enough in curbing fraud during Afghanistan's 2009 presidential elections.

Calling all HuffPost superfans!
Sign up for membership to become a founding member and help shape HuffPost's next chapter