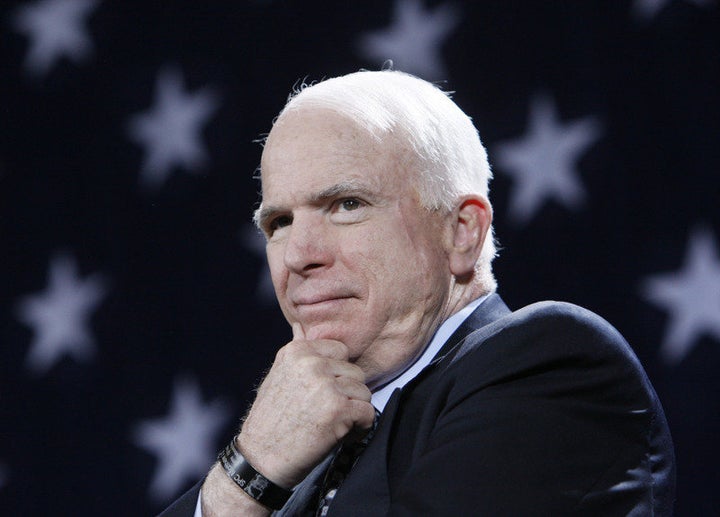 Inside an intense White House meeting over the financial crisis on Thursday, where nearly every key player came to an agreement on the outlines of the bailout package, Sen. John McCain stuck out. The Republican candidate, according to sources with direct knowledge, sat quiet through most of the meeting, never offered specifics, and spoke only at the end to raise doubts about the rough compromise that the White House and congressional leaders were nearing.
McCain's reluctance to jump on board the bailout agreement could throw the entire week-long negotiation into a tailspin. Sen. Chris Dodd, after leaving the White House, suggested on CNN that the tenuous process could be derailed by what he viewed as McCain's political motives.
"What happened here, basically, if you want an honest appraisal of the thing, we have been spending a lot of time and I am tired. I have spent almost seven straight days at this in trying to come out with a workout plan for our economy a rescue plan," said Dodd. "What this looked like to me was a rescue plan for John McCain for two hours and took us away from the work we are trying to do today. Serious people trying to do serious work to come up with an answer."
According to the source with knowledge of the White House gathering -- which featured both presidential candidates, congressional leaders and the President -- virtually ever key figure in the room, save McCain and GOP Sen. Richard Shelby, were in agreement over a revised version of Treasury Secretary Hank Paulson's plan.
Towards the end, McCain finally spoke up, mentioning a counter-proposal that had been offered by some conservative House Republicans, which would suspend the capital gains tax for two years and provide tax incentives to encourage firms that buy up bad debt. McCain did not discuss specifics of the plan, though, and was non-committal about supporting it.
Paulson, however, argued directly against the conservative proposal. "He said that he did not think it would work," according to the source. At another point in the meeting, President Bush chimed in, "If money isn't loosened, this sucker could go down" -- and by sucker he meant economy.
ABC News reported that, following the meeting, Paulson "walked into the room where Democrats were caucusing...at the White House and pleaded with them 'please don't blow this up.'" But this story isn't incomplete, according to sources.
Democrats stayed talking in the Roosevelt room and Paulson approached them. After his comment, Speaker Pelosi and Rep. Barney Frank shot back that the real problem was with House Republicans. Paulson replied, "I know, I know," as he got down on one knee to lighten the mood. Pelosi joked back, "I didn't know you were a Catholic."
After the White House meeting, Shelby, the top Republican on the Senate Banking Committee, restated his long-standing opposition to the bailout, and suggested that a deal was not, as reported earlier in the day, imminent. But Shelby's no. 2 on the committee, Sen. Bob Bennett, supports the compromise principles, as do other top GOP House and Senate leaders.
Dodd himself was incensed that the hard work he and others had put in could be undermined at the last minute.
"We were told it came out of the Republican House. We were told at this one point that this was maybe John McCain was floating the idea that Hank Paulson was considering it," Dodd said of the proposal, which he did not elaborate upon. "And of course Barney Frank and I, along with Republicans from the House and the Senate, had spent three hours this morning working on a different core. We were told for the last seven days it was the core issue to give the Secretary authority to move with the crisis, but simultaneously protect the taxpayers and accountability and deal with foreclosure issues all of the things the president mentioned last evening were going to be important as well."
Obama himself did not directly take McCain to task at his post-meeting press avail, but suggested that his methods were not helping the process.
"What I found and I think was confirmed today when you inject presidential politics into delicate negotiations it is not necesary as helpsful as it could be," he said, according to Politico's Carrie Budoff Brown. "When you are not worried about who is getting credit and who is getting blamed you tend to move forward more constructively."
UPDATE: CBS News reports that McCain's alternative proposal includes "fewer regulations and corporate tax breaks":
Popular in the Community