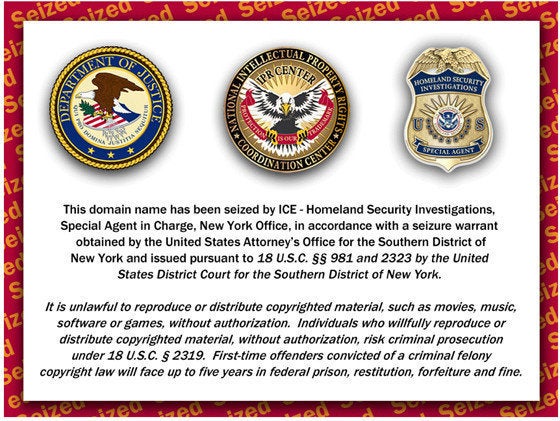 UPDATE: Several additional websites have been seized by U.S. authorities. Read more here.
--
The sports streaming website ATDHE.net has had its domain seized by ICE Homeland Security Investigations.
A spokesperson from ICE confirmed that it was a legitimate seizure and that there is an ongoing investigation into the matter.
According to a description on Mahalo, ATDHE "specializes particularly in live sports, but also features general programming from networks such as ABC, CBS, NBC and FOX. The website, although popular, has come under fire as to any copyright restrictions it may be violating in operating the service."
ATDHE's website currently contains the following image: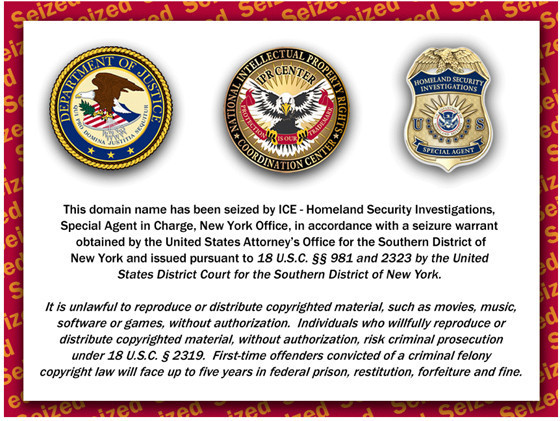 The term "ATDHE" was trending on Twitter late on Tuesday as users tweeted their disappointment and concern over discovering the website was no longer up and running. "scary stuff when govnmnt [sic] can just take your domain," tweeted Jason Calacanis. Others suggested that the website had responded to the closure by opening up at a different domain address: ATDHE.me.
"For the record, ATDHE.net appears to have moved to ATDHE.me and is working fine," tweeted @Amgodd.
NOTE (2/6/2011): One reader advises that users should be wary of using ATDHE.me as it may not be an official replacement, noting it is a "fake site which tries to install malware." Though neither have been confirmed as the official accounts for ATDHE, AtdheNettv and AtdheNET have tweeted that ATDHE is back online at http://atdhenet.tv/.

Popular in the Community