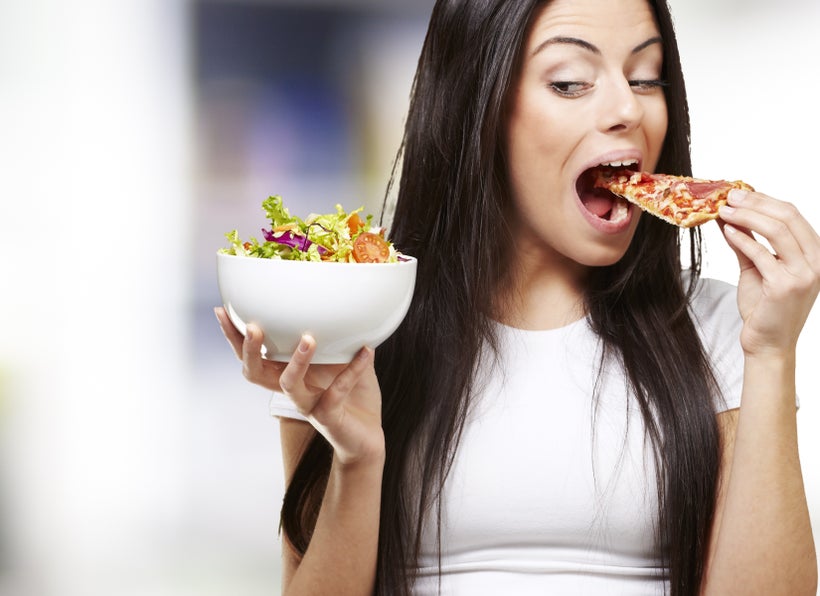 I think we all know that feeling when you cross the line between eating just enough and eating way too much.
You're uncomfortable, lethargic, and desperate from relief both physically and emotionally.
Don't worry! I am going to give you 3 of my best tips on what to do right now if you've eaten too much.
1. DO NOT Resort to a Quick Fix
Yes, of course when we're uncomfortable we want relief fast, however resorting to a quick fix never actually solves the problem.
I hear horror stories of people putting themselves through extremely intense workouts or deprivation diets (or worse) the day after eating too much.
When you think about it, we have a very interesting relationship with the spectrum of structure vs freedom. If we have too much rigid structure, we crave freedom. Then we binge and fly off the wagon, all the way to the other end of the spectrum, to unabashed freedom!
Then we freak out because we have TOO MUCH freedom, feel like we're failing, crave structure, and swinging all the way back to the other end of the spectrum again, thinking that rigid structure is what we must need in order to succeed.
And we just continue this cycle again and again.
I promise, this is not the answer!
If your goal is long-term health and dream body (and life) sustainability, then why go to massive extremes?
The minute you tell yourself you can't have something, it just makes you want it more.
Maybe not the day after a binge, but eventually the more you deprive yourself of things, the more you set yourself up for rebellion.
Give yourself the gift of looking at this from that broader view. Ask yourself:
What is the lifestyle I want to create for the long-term?
Who do I want to be 6 months or a year from now?
Then plan backwards and set up sustainable, realistic goals accordingly.
The truth is, one meal, a one week vacation, a holiday celebration, or whatever you're feeling bad about related to eating too much, in the grand scheme of things, is not that big of a deal.
Yes, you may be uncomfortable, disappointed, angry, or frustrated with yourself right now.
But extreme behavior is not the answer.
So what do you do instead?
2. DO Ease the Physical Discomfort in a Nurturing Way
In order to create some physical relief for yourself, I have two options that will be nurturing for your body…
Lay down on the ground, on your stomach, in cobra pose. Place your hands on the ground, and extend your arms straight, stretching out your stomach.
Breathe into your lower belly and focus on getting oxygen into your system. The more oxygen you can get into your system, the better off your digestion will be.
Oxygen is a very important part of the digestive process, and most people actually breathe very shallowly, not getting their body what it needs to work like the well-oiled machine that it truly can be.
Breathing deeply and getting the digestive process going will help tremendously in relieving the discomfort.
Another option is to go for a walk, preferably outside in fresh air, again, while breathing deeply.
This will not only again aid in digestion, but it will also help to distract you and put your mind at ease so you stop obsessing over (and Googling) what to do after you ate too much!
3. DO Learn From This
You and I know that even though food tastes really good, it's not really about the food.
It's time to do some soul searching to discover what is really going on that is causing you to overeat in the first place.
Ask yourself questions like:
What triggered me to eat too much?
Was I in my head worrying about something beforehand?
Was I was eating to comfort myself or stuff my emotions?
Did I not plan well enough ahead of time so that I didn't show up to the event really hungry?
Did I drink enough water throughout the day (sometimes dehydration feels like hunger)?
What can I do to set myself up for success, so that next time this doesn't happen again?
Answering these questions can be a game-changer in breaking the chain of overeating and yo-yo dieting.
There is no better time than now to begin feeling amazing in your skin!
REAL LIFE. REAL NEWS. REAL VOICES.
Help us tell more of the stories that matter from voices that too often remain unheard.
This post was published on the now-closed HuffPost Contributor platform. Contributors control their own work and posted freely to our site. If you need to flag this entry as abusive,
send us an email
.